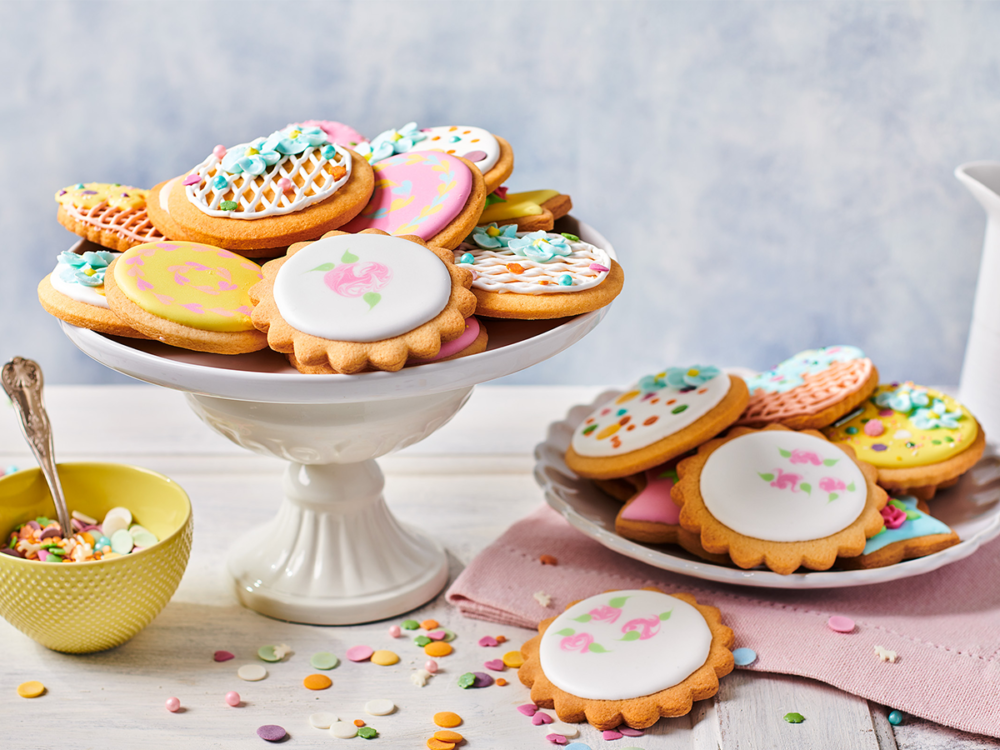 Royal Icing cookies
It is always a party when you can decorate cookies! Decorate these cookies with Royal icing and get in a creative mood!
2 hour and 30 min. preparing
What you need to make your royal icing cookies:
Ingredients
500 g FunCakes Mix for Cookies
900 g FunCakes Mix for Royal Icing
FunColours Gel Yellow
FunColours Gel Pink
FunColours Gel Light Beige
FunColours Gel Baby Blue
FunCakes Confetti XL Pastel
FunCakes Sprinkle Medley Unicorn
1 egg (approx. 50g)
110 ml water
Necessities
FunCakes decorating bags
Wilton Tip #003 Round (multiple)
Wilton – Wide Glide – Rolling Pin 50cm
Wilton parchment paper
PME Model Tool Needle
Cookie Cutter Ring Cartel
Patisse Cookie Cutter Heart
Patisse Cookie Cutter Round
Prepare 500 g of FunCakes Mix for Cookies according to the instructions on the package. Wrap it in cling film and let it set in the fridge for at least 1 hour.
Preheat the oven to 180°C (convection oven 160°C).
Roll out the dough on a floured work surface to a thickness of about 2-3 mm and cut out several sizes of cookies. Place on a baking tray lined with parchment paper and bake in the center of the oven for about 10-15 minutes until golden yellow. Let them cool down on the counter.
Prepare 900 g FunCakes Mix for Royal Icing according to the instructions on the packaging and cover it with a wet tea towel when you don't use it, this is against drying out and it is important that you do it!
Divide the icing over several cups and color it with the color gels. Always cover with a wet tea towel. Dilute a number of containers with colored icing with water to yogurt thickness. Add a little water drop by drop until you get the desired consistency. The 10 second rule applies for this. Your icing should be so thin that if you let it run off your spoon it will give a smooth mirror in your container in 10 seconds. If this happens after 7 seconds, you add some stiff icing and it takes longer than 10 seconds, add some drops of water. If your icing is too thin, it will drip off your cookie.
Make cups of icing in different colors and different thicknesses. You start by filling in the cookies with thin icing. For this you put the icing in a piping bag with # 3. Use a needle tool to direct the icing to the edge. You can immediately sprinkle some confetti or medley on this and let it dry.
Tip! You can also let the filled cookies dry for a few hours and then spray them with a thicker icing for a 3-D effect. The cookies have to dry for 24 hours.
Just a little while before you can enjoy your cookies. Don't forget to share your creation:
#funcakesbyme