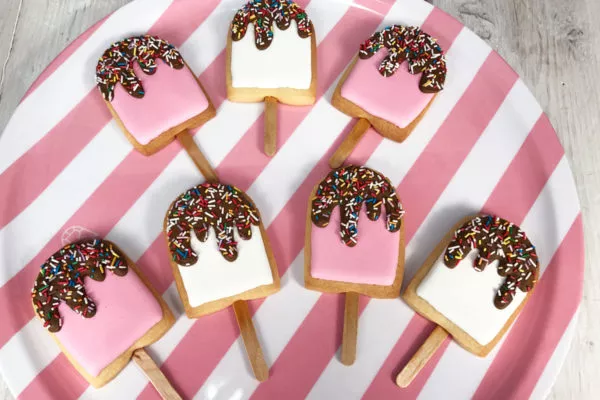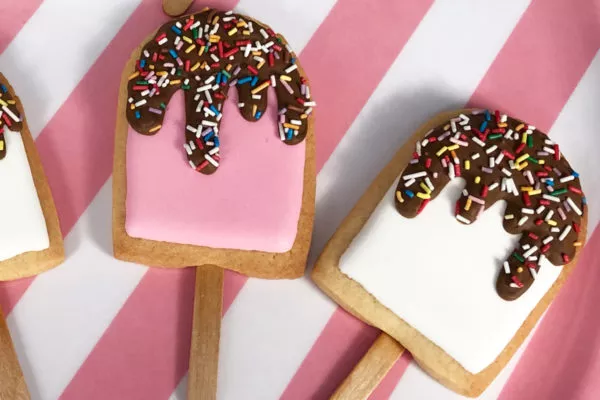 Popsicle cookies
Summer is coming and that means a lot of ice cream! You can easily make these ice creams from home together with your family or friends. Do you also get a summer feeling here?
What you need to make your popsicle cookies:
Ingredients
500 g FunCakes Mix for Cookies
450 g FunCakes Mix for Royal Icing
FunCakes Sugar Strands Colour Mix 80g
FunColours Gel Pink
FunColours Gel Brown
150 g unsalted butter
70 ml water
1 egg (aprox. 50 g)
Necessities
FunCakes decorating bags
FunCakes Magic Roll-Out Powder
Multiple Wilton Tips #003 Round
Multiple Wilton Standerd Adaptor/ Couplers
Wilton –Wide Glide- rolling pin 50 cm
Wilton parchment paper
Silikomart Popsicle Sticks Mini
Knife
Clingfilm
Cocktail sticks
Prepare 500 grams of FunCakes Mix for Cookies as indicated on the package, wrap the dough in clingfilmand allow to set in the refrigerator for at least an hour.
Preheat the oven to 180 ° C (convection oven 160 ° C).
Knead the dough from the fridge well, roll it out on a with Magic Roll-Out Powder dusted work surface to a thickness of 2-3 mm and cut out popsicles. Place the cookies on the baking tray slightly apart and bake the cookies for 12-15 minutes until golden brown. Let the cookies cool on a cooling rack.
Prepare 450 g of FunCakes Mix for Royal Icing as indicated on the package. Divide it into 3 portions. Color 1 portion pink and 1 portion brown with the FunColours gels. Dilute the white and coloured icing with a little bit ofwater to yogurt thickness. Be sure to add the water drop by drop.
Leave this under a wet towel for about 15 minutes so that the air bubbles can come up. Then pierce the air bubbles with a skewer and pour the icings in decorating bags with an adaptor and tip # 003.
Line the cookies with the thin pink and white icing, help the icing to the edges with a cocktail stick. Allow this to air dry for 2 hours before continuing. Then make a 'chocolate' drip on the pink and white cookies with the brown icing. Sprinkle the coloured sugar strands over the brown icing immediately after. Let them dry overnight, to make sure they are dry and crispy.
Just a little while before you can enjoy your cookies. Don't forget to share your creation:
#funcakesbyme