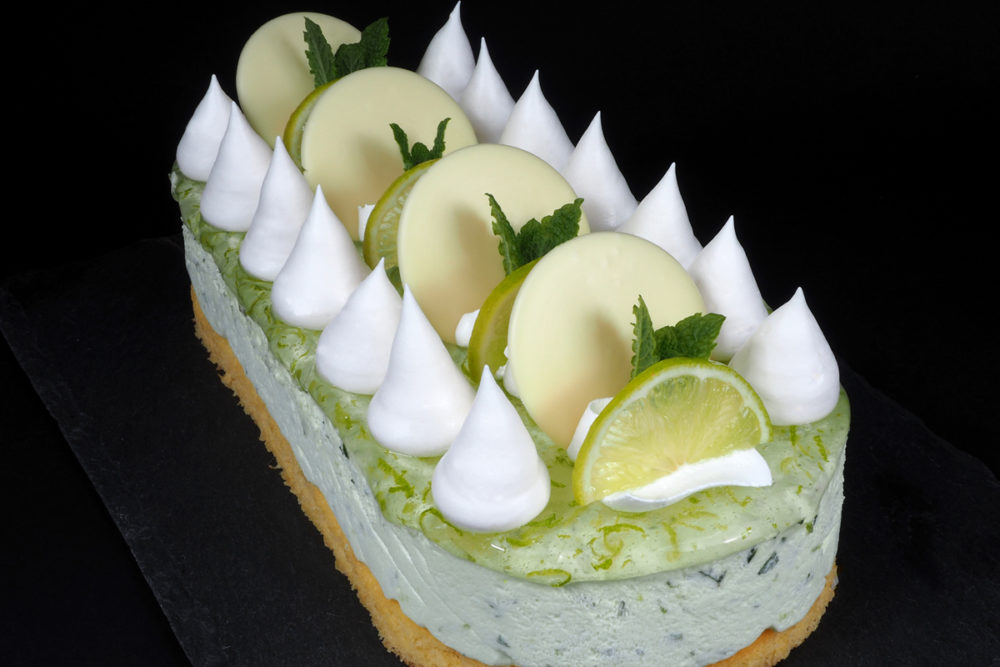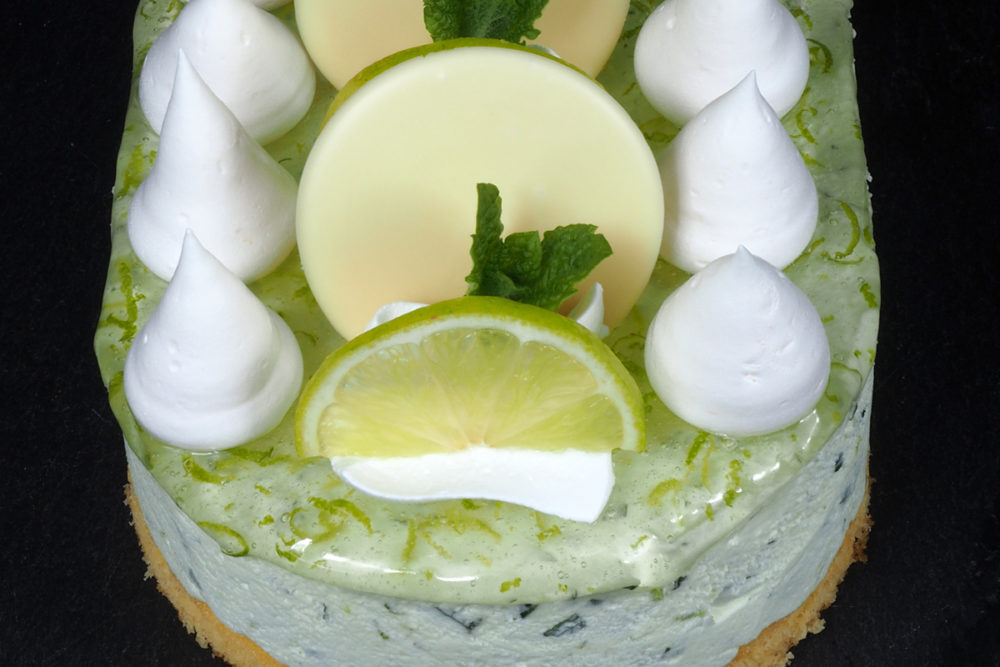 Mojito bavarois cake
Take a bite of this delicious mojito sundance, close your eyes and imagine yourself on a tropical island.
1 hour and 30 min. preparing
1 hour and 20 min. cooking
What you need to make your mojito bavarois cake:
Ingredients
250 g of FunCakes Mix for Cupcakes
75 g FunCakes Mix for Enchanted Cream®
100 g FunCakes Mix for Bavarois – naturel
375 g FunCakes Glaze topping
100 g FunCakes Chocolate Melts – white
20 g FunCakes Egg white Powder
FunCakes edible colouring gel – leaf green
500 ml whipped cream
170 ml water
140 gram crystal sugar
125 g unsalted butter
80 ml white rum
50 ml milk
40 ml fresh lime juice
5 limes
3 eggs (approx 150 g)
10 sprigs mint
Necessities
FunCakes decorating bags
FunCakes baking paper
FunCakes acetate foil
Wilton decorating tip #125
Wilton decorating tip #1A
Wilton cooling grid
Patisse baking frame
Preheat the oven to 180°C (convection oven 160°C).
Prepare 250 gram FunCakes Mix for Cupcakes as indicated on the package. Spread this over a baking tray covered with baking paper to a thickness of 1 cm, and a bit larger than the baking frame. Bake this for 15-20 minutes until golden brown and then let it cool on the cooling grid.
Chop the leaves of 8 sprigs of mint fine. Grate the zest of 4 limes. Place the baking tin in the slice of cake and put it together on a tray that fits in the freezer.
Prepare 100 gram FunCakes Mix for Bavarois with 80 ml white rum and 40 ml freshly squeezed lime juice. Beat 500 ml whipped cream and add the bavarois mix together with the mint and the lime zest. Colour the mix with a bit of green edible colouring gel.
Put acetate foil on the inside of the baking tin, add the bavarois and put it in the freezer for at least a day. Prepare the glaze topping with the zest of 1 lime and the juice of a half lime and spread over the frozen bavarois. Put it in the fridge so that it can thaw gently.
Preheat the oven to 130°C (convection oven 110°C).
To make the meringues, heat the crystal sugar in the oven for 10 minutes. Make sure that it will not caramelize. Put 20 grams of egg white powder together with the 120 ml of water in a bowl, stir it intensely and set it aside for 10 minutes. Beat it on a high setting with a mixer until frothy, add the warm sugar slowly and gradually. The meringue foam is ready when you can draw nice white peaks. Place the mixture with decorating tip #1A in a decorating bag and pipe small tuffs on a baking tray covered with baking paper. Bake this in the oven for an hour till it's dry. Heat the white chocolate in the microwave and pipe nice big caps on a piece of baking paper. Put in the fridge for 15 minutes.
Tip! If necessary, tap gently on the table so the chocolate caps can flow out and flatten.
Prepare 75 g FunCakes Mix for Enchanted Cream® as indicated on the package. Put this in a decorating bag with decorating tip #125 and make a zigzag movement with the cream along the length of the cake. Decorate with some lime slices, mint leaves, the chocolate slices and the meringues.
Tip! Some meringues remain, eat them mmm…
Just a little while before you can enjoy your cake. Don't forget to share your creation:
#funcakesbyme