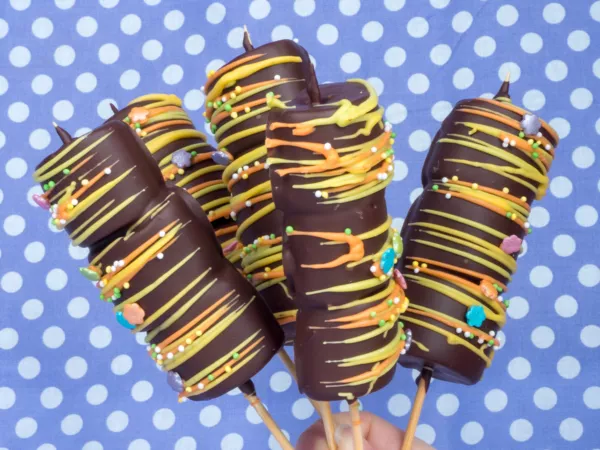 Marshmallow treat
Need a treat? You're in the right place here. An easy, yet delicious treat is made with marshmallows, chocolate and Deco Melts! Dip your marshmallows in the chocolate and decorate it with the colorful Deco Melts.
What you need to make your marshmallow treat:
Ingredients
500 g FunCakes Chocolate Melts Dark
50 g FunCakes Deco Melts Orange
50 g FunCakes Deco Melts Green
50 g FunCakes Deco Melts Yellow
FunCakes Metallic Flower mix
FunCakes Nonpareils - Spring
Bag of round marshmallows
Necessities
FunCakes decorating bags
Skewers
Prick 3 marshmallows on each skewer, make sure they connect. Melt the pure melts in a bowl in the microwave. Spoon the melted chocolate over the marshmallows, let the excess chocolate drip off and place it on the baking tray. Let the chocolate set in the fridge
Melt the Deco Melts at max. 500W in a bowl. Stir the melts well every 15-20 seconds. Stop heating as soon as the melts have almost completely melted (small pieces still visible). Keep stirring until the melts have melted completely smooth.
Fill three decorating bags with the melted chocolate, cut a small tip off the bags and drizzle it over the skewers. Sprinkle the musket and flowers over it.
Just a little while before you can enjoy your treats. Don't forget to share your creation:
#funcakesbyme