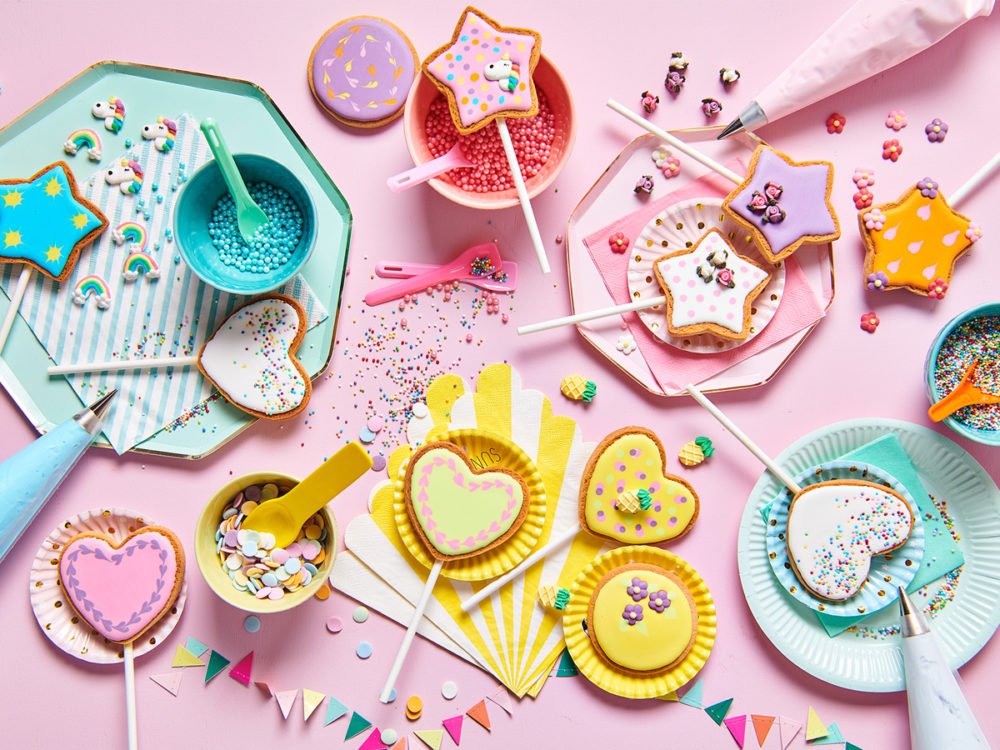 Lollipop cookies
Pop your day with the lollipop cookies and celebrate your birthday with the delicious en perfect cookies!
What you need to make your lollipop cookies:
Ingredients
500 g FunCakes Mix for Cookies
450 g FunCakes Mix for Royal Icing
FunCakes Edible Funcolours Gel Set
Funcakes Nonpareils Discomix
FunCakes Sugar Decorations Roses with leafs
FunCakes Sugar Decorations Little flowers
FunCakes Sugar Decorations Unicorn & Rainbow
55 ml water
1 egg (ca. 50 g)
150 g unsalted butter
Necessities
FunCakes Lollipop Sticks
FunCakes Decorating Bag
FunCakes Magic Roll-Out Powder
Wilton -Wide Glide- Rolling Pin
Wilton Parchment Paper
Wilton Decorating tip #003
Wilton Standard Adaptor
PME Cutter Heart set/6
PME Cutter Star set/6
PME Modelling Tools, Scriber Needle
Cookie Cutter Ring Pro Ø 7 cm
Several bowls
Prepare 500 grams of Funcakes Mix for Cookies as indicated on the package. Wrap it in plastic foil and let it rest in the fridge for at least an hour.
Preheat the oven to 180°C (convection oven 160°C).
Knead the dough well and smoothly. Roll out the dough on a workdesk dusted with magic roll-out powder to a 2 – 3 mm thickness. Cut out various shapes using the cutters.  Place the stick on the cookie dough and take a small piece of dough tostick this over the stick using a bit of water. Bake the cookies in approx. 10 – 12 minutes. Let the cookies cool down completely before decorating.
Prepare 500 gram of FunCakes Mix for Royal Icing as indicated on the package. Divide the icing into small quantities over different containers and colour it in the colours of your choice. Dilute each container of coloured icing with a few drops of water until it has yoghurt thickness. Put decorating tip #003 in a decorating bag and fill with the icing. Repeat this for every colour.
Start filling the cookies from the outside edge and work towards the center. Use the needle tool for any imperfections. You can create hearts by covering the cookie with one colour. Then you immediately make dots with another colour on the icing. You will see that the dots fall nicely into the icing. After you finished the dots you go through the the dots from top to bottom, so you get a heart.
Sprinkle some suger decorations or the nonpareils discomix on the icing. Let the cookies dry in the open air.
Just a little while before you can enjoy your cookies. Don't forget to share your creation:
#funcakesbyme