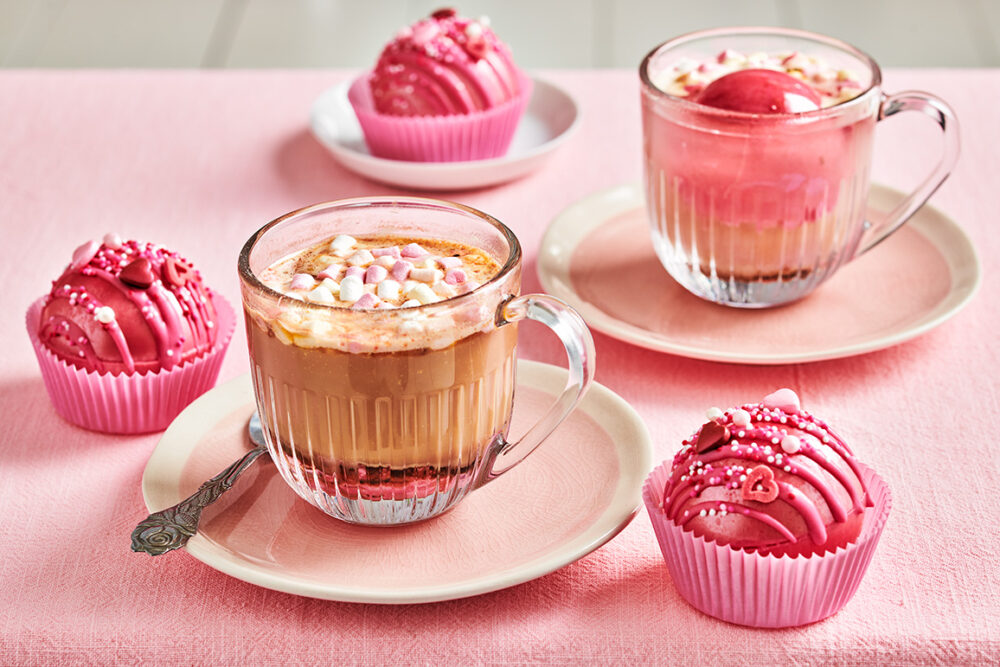 Latte bombs
It is the time of cozy afternoons with a cup of latte macchiato on the couch. A moment which you can also turn into a creative one by making a latte macchiato bomb! We already knew about hot chocolate bombs, but more and more often we see tea and coffee bombs. And making them yourself will do your decorating heart good.
1 hour and 30 min. preparing
What you need to make your latte bombs:
Ingredients
450 g FunCakes Deco Melts Pink
FunCakes Sprinkle Medley Love
FunCakes Nonpareils Lots of Love
FunCakes Micro Marshmallows
Latte macchiato instant coffee
Necessities
FunCakes Decorating Bags
Silicomart silicone mould Half spheres Ø7cm
Melt the FunCakes Deco Melts Pink according to the instructions on the package. Coat the half spheres with a layer of melted FunCakes Deco Melts and let it set in the refrigerator for 10 minutes. Repeat this 1 or 2 more times.
Carefully remove the spheres from the mold. Smooth the edges of the bottom spheres by brushing them over a heated plate. Fill them with a the latte macchiato instant coffee and the FunCakes Micro Marshmallows.
Brush the other half spheres over a heated plate and stick it directly on top of the other. Put the remaining Deco Melts in a decorating bag, cut a small tip off and drizzle this over the balls. Decorate immediately with the Nonpareils and the Love Medley.
Just a little while before you can enjoy your treats. Don't forget to share your creation:
#funcakesbyme