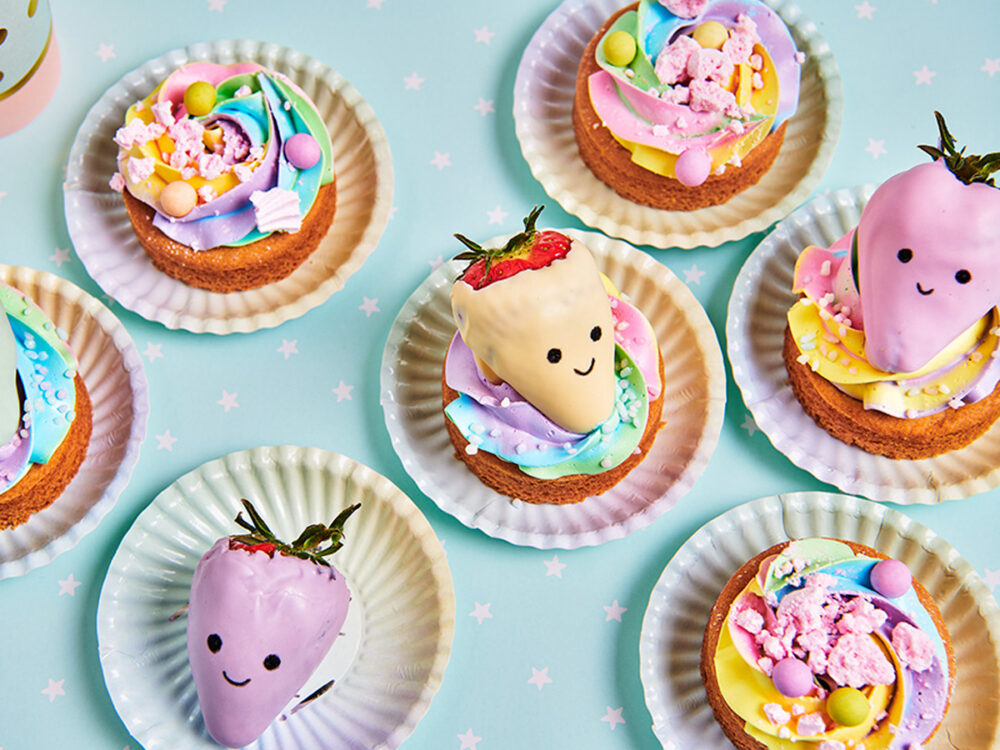 Kawaii strawberries with chocolate
Forget about ordinary chocolate-dipped strawberries! We're about to take this treat to a whole new level of cuteness. Brace yourself for our Kawaii campaign, where happiness meets chocolate and fruit gets a whimsical makeover. Give those fruity delights a big ol' smile, and you'll find yourself floating in a sea of kawaii awesomeness. Get ready to dip, decorate, and dive into the most adorable chocolatey adventure ever!
What you need to make your kawaii strawberries with chocolate:
Ingredients
400 g FunCakes Deco Melts White
150 g FunCakes Deco Melts – Lemon Flavour
150 g FunCakes Deco Melts – Mango Flavour
150 g FunCakes Deco Melts – Green Apple Flavour
150 g FunCakes Deco Melts – Raspberry Flavour
FunCakes Food Pen Black
Strawberries
Put all the different flavours of FunCakes Deco Melts in bowls and divide the 400 g white Deco Melts over the colours, this way you get pastel colours. Melt the Deco Melts according to instructions on the packaging in the microwave.
Dip the strawberries in the Deco Melts, let them drip for a while and place them on a dish lined with parchment paper. Leave to set in the fridge. This will give them a nice hard coating and shine.
Use the FunCakes Food Pen Black to give the strawberries a face.
Just a little while before you can enjoy your treats. Don't forget to share your creation:
#funcakesbyme