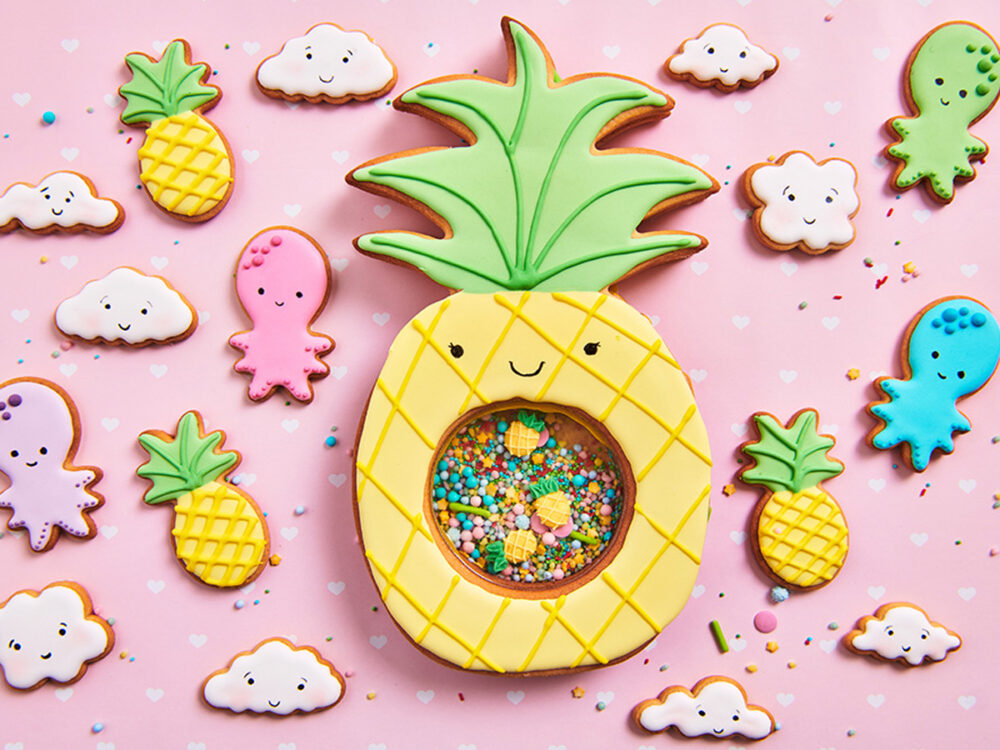 Kawaii pineapple cookie
Get ready for some cuteness overload! Have you ever noticed that anything with a face is just instantly super adorable? It's like a universal law or something! And speaking of cute, have you seen this kawaii pineapple cookie? It's so stinkin' adorable that we just had to whip up a batch and share them with everyone we know! I mean, who could resist this kawaii cookie? They're almost too cute to eat…almost!
What you need to make your kawaii pineapple cookie:
Ingredients
1 kg FunCakes Mix for Cookies
450 g FunCakes Mix for Royal Icing
FunCakes Food Colour Gel Bright Green
FunCakes Food Colour Gel Yellow
FunCakes Isomalt
FunCakes Sprinkle Medley Happy
FunCakes Sugar Decorations Tropical
FunCakes Food Pen Black
300 g unsalted butter
55 ml water
2 eggs (approx. 100 g)
Necessities
FunCakes Decorating Bags
Wilton Parchment paper
2x Wilton Decorating Tip #003
2x Wilton Standard Adapter/Coupler
Wilton Wide Glide Rolling Pin
Scrapcooking Cookie Cutter XXL S/S Pineapple
Prepare 1kg of FunCakes Mix for Cookies as indicated on the package, wrap in cling film and leave to set in the refrigerator for one hour.
Preheat the oven to 180°C (convection oven 160°C).
Knead the cookie dough from the refrigerator well and roll it out to a thickness of 2-3 mm and cut out 3 pineapples. Cut out a round from two pineapples in the same place. Bake the cookies for about 15-20 minutes until light brown. Let them cool down flat on the countertop.
Place a cookie with a hole in it on a piece of parchment paper on the countertop. Melt some FunCakes Isomalt as directed on the package and pour it into the hole of the pineapple. Let this dry thoroughly.
Prepare 450 g FunCakes Mix for Royal Icing as indicated on the package and divide it into 2 portions. Colour 1 portion light green and 1 portion light yellow with the Food Colour Gels. Dilute this coloured icing with some water. It should get yogurt thickness.
TIP: For royal icing, the 10-second rule applies! If your icing forms a smooth mirror in your tray within 10 seconds, then your icing is too thin and will drip off your cake. You can correct this by stirring in some stiff icing. If your icing is not smooth after 10 seconds, it is too thick and will not flow nicely on the cake. Correct this by adding water drop by drop until it reaches the desired yogurt thickness.
Put the diluted icing into decorating bags with a coupler and decorating tip #003 and decorate the pineapple with an even layer of icing. Let this dry for at least 3 hours before applying the stripes.
Put the leftover icing back into a clean dish and cover with cling film wrap, press the cling film ON the icing, this will prevent it from drying out! Before you use it again, colour it slightly darker with the colour gels and put it in decorating bags with a coupler and decorating tip #003.
Stick the decorated cookie, with hole, with a little diluted icing on the whole (bare) cookie. Sprinkle in the resulting hole some of the FunCakes Sprinkle Medley Happy and put a few Sugar Decoration Pineapples in it. Stick the decorated cake, with the isomalt heart, with some diluted icing on the other cakes and let dry well. With the edible pen, make a face on the cake.
Just a little while before you can enjoy your cookies. Don't forget to share your creation:
#funcakesbyme