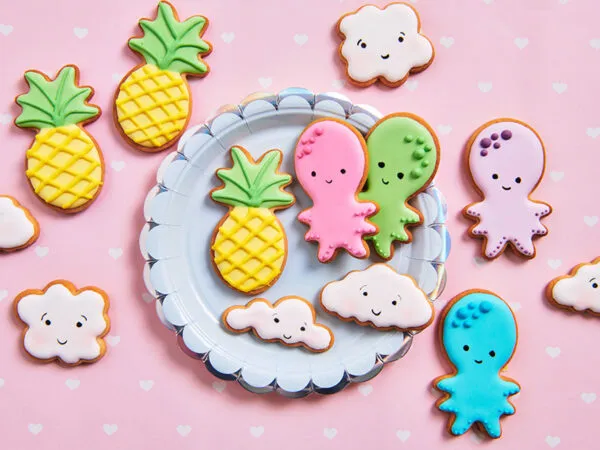 Kawaii octopus cookies
Get ready to explore a sea of sweetness with the kawaii octopus cookies! These cookies are the perfect way to add a pop of colour and cuteness to any dessert table. With a tasty cookie base and royal icing, these charming little sea creatures are almost too cute to eat (but you'll definitely want to!)
What you need to make your kawaii octopus cookies:
Ingredients
500 g FunCakes Mix for Cookies
900 g FunCakes Mix for Royal Icing
FunCakes Food Pen Black
FunCakes Sparkle Dust Glitter Rose
FunCakes Colour Dust White Snow
FunCakes Food Colour Gel Aqau
FunCakes Food Colour Gel Yellow
FunCakes Food Colour Gel Pink
1 eggs (approx. 50 g)
150 g unsalted butter
110 ml water + extra
Necessities
FunCakes Decorating Bags
Wilton Cookie Cutter Tropical set/3
Wilton Standaard Adapter/ Coupler (multiple)
Wilton Decorating Tip #002
Wilton Wide Glide Rolling Pin
Wilton Parchment Paper
PME Modelling Tools Scriber Needle
FMM Fluffy Cloud Cutters Set
Prepare 500 g FunCakes Mix for Cookies as indicated on the package, wrap in cling film and leave in the refrigerator for one hour.
Preheat the oven to 180°C (convection oven 160°C).
Knead the dough from the fridge well and roll it out to a thickness of about 2 mm and cut out pineapples and clouds. If you turn the pineapples over, they are the octopuses. Place this on a baking sheet lined with parchment paper and bake the cookies for about 11-16 minutes until light brown. Let them cool flat on the counter after baking.
Prepare 900 g of FunCakes Mix for Royal Icing as directed on the package and divide it among bowls (as much as you want colouring, including white). Dilute each dish of icing with some water until it reaches yogurt thickness and then colour it.
Put the dishes under a wet tea towel, this is against drying out and gives the icing a chance to rest for a while. You will see bubbles appear on the surface; this is due to stirring. Prick the bubbles and then put it in the decorating bag. If you don't prick the bubbles the bubbles will pop open while drying on your cookie and you can't correct this anymore.
TIP: For royal icing, the 10-second rule applies. If you have diluted the icing with water, check if it becomes a smooth mirror in your dish in 10 seconds. If this is faster than 10 seconds, then your icing is too thin and will drip off your cookie. You can correct this by adding some stiff icing. If it takes longer than 10 seconds, then your icing is too thick and will not flow nicely. Then correct it by adding some drops of water to it.
Put the diluted icing in decorating bags with a coupler and decorating tip #002. Spread the icing over all the cookies evenly. Using the needle tool, using a circular motion in the icing, direct the icing to the edges. Let this dry for at least 3 hours in the air before setting up the lines of the pineapple and making the speckles and suction cups on the octopus.
After this, let the cookies air dry for 24 hours before making the faces on them with the food pen.
Just a little while before you can enjoy your cookies. Don't forget to share your creation:
#funcakesbyme