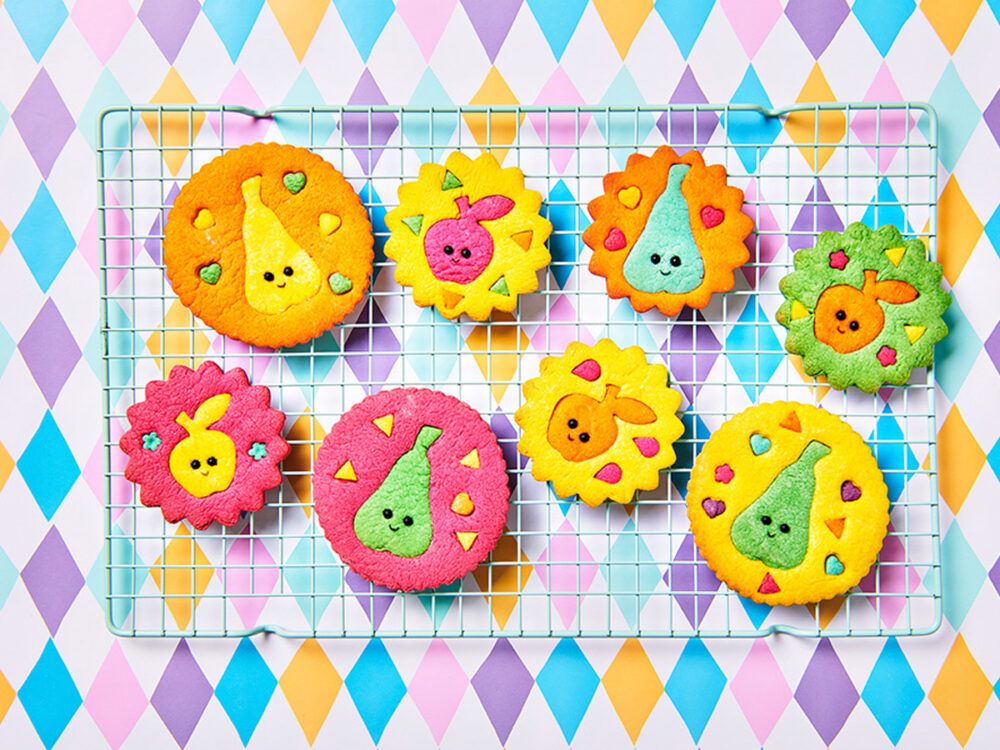 Kawaii fruit cookies
Kawaii, fruit, cuteness and cookies are the perfect combination! These kawaii fruit cookies are the perfect, day-off or afternoon activity with the kids. Make all kinds of figures and let them create their own kawaii cookies.
What you need to make your kawaii fruit cookies:
Ingredients
500 g FunCakes Mix for Cookies
FunCakes Food Colour Gel Set/8
FunCakes Sugar Pearls Medium Black
FunCakes Edible Food Pen Black
1 egg (approx. 50 g)
150 g unsalted butter
Necessities
Wilton -Perfect Height- Rolling Pin 22,5cm
Wilton 101 Cookie Cutter Set
PME Flower Blossom Plunger Cutter Set/4
Cookie Cutter Apple 5cm
Cookie Cutter Pear 6cm
Patisse Plunger Cutter Heart Set/3
Cookie Cutter Drops Set/5
Prepare 500 g FunCakes Mix for Cookies as indicated on the packege. Divide it is pieces and colour each piece with the FunCakes Food Colour Gel of your choice. Wrap in cling film and leave to it in the fridge for an hour.
Knead the dough out of the fridge quickly and roll it out to a thickness of about 2 mm, no thicker.
First cut out all the 'round' shapes and place them on a baking tray lined with parchment paper. Cut out apples and pears from these shapes and carefully remove them from the dough. Also use the heart and blossom plunger and the smallest drop shape to cut these shapes out of the dough.
 Carefully put another colour of dough back in all the openings. Press into the apples and pears FunCakes Sugar Pearls Medium Black. Place the baking tray with the biscuits in the fridge for half an hour, this will prevent the biscuits from sprouting during baking.
Preheat the oven to 180°C (convection oven 160°C) and bake the cookies for about 10-12 minutes. Make sure the edges do not get too brown, so keep an eye on them!
After baking, let the cookies cool down. When the cookies have cooled down, give them a mouth using the FunCakes Edible Pen Black.
Just a little while before you can enjoy your cookies. Don't forget to share your creation:
#funcakesbyme