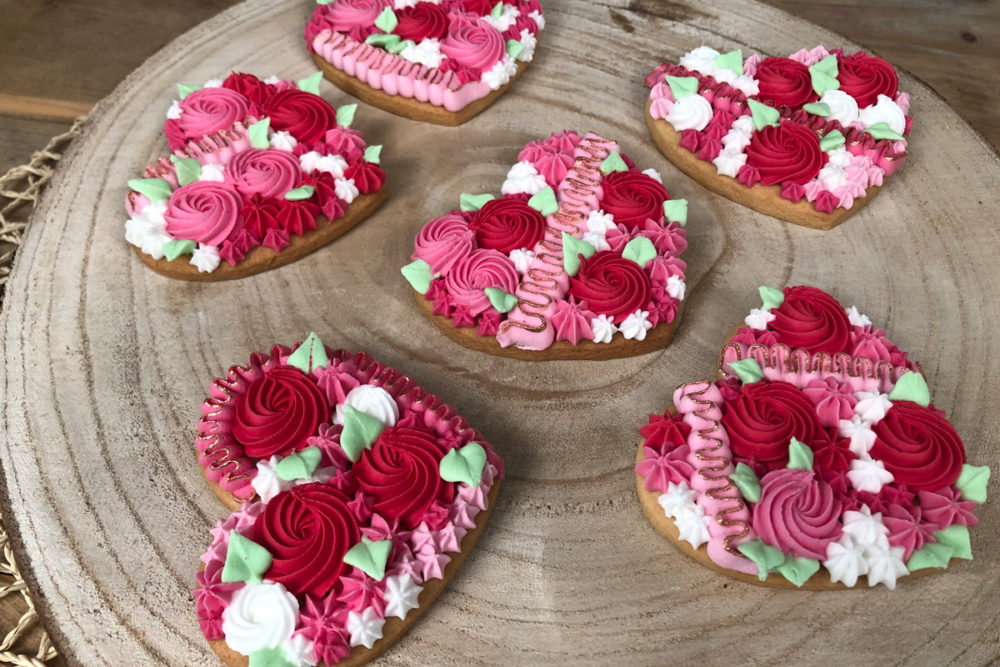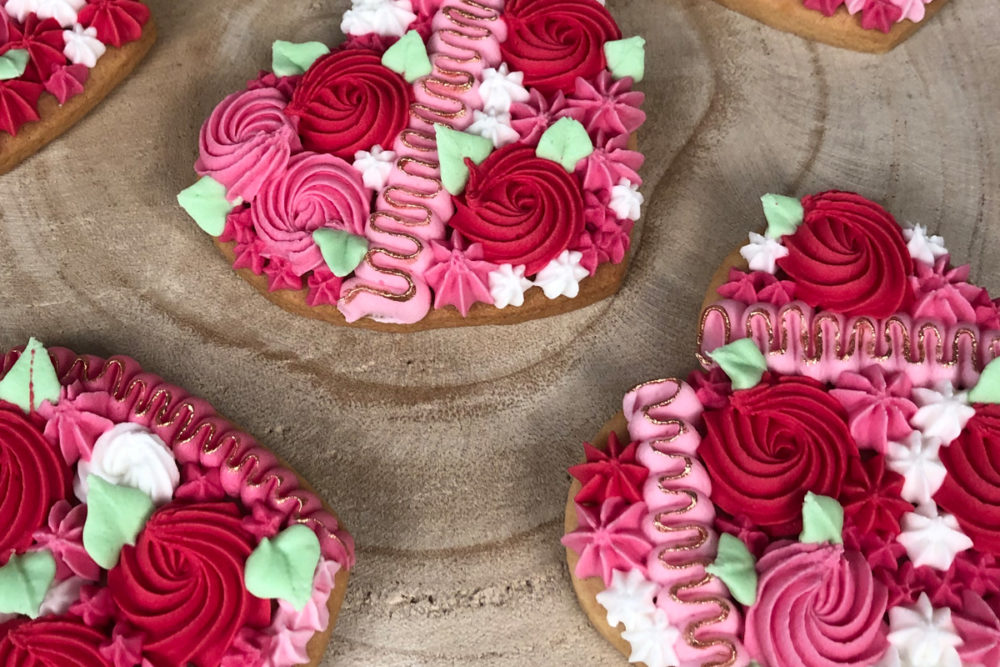 Heart Cookies for Mother's Day
Happy Mothers Day! Show with these Heart Cookies for mama that you love your mother infinite. It is really trending right now and of course delicious.
What you need to make your heart cookies for mother's day:
Ingredients
500 g FunCakes Mix for Cookies
200 g FunCakes Mix for buttercream
FunCakes Flavour Paste White Choco
FunCakes FunColours Gel Pink
FunCakes FunColours Gel Red
FunCakes FunColours Gel Bright Green
FunColours Metallic Food Paint Gold
Rejuvenator Spirit
200 ml water
1 egg (aprox. 50 g)
400 g unsalted butter
Necessities
FunCakes Magic Roll Out Powder
FunCakes decorating bags
Wilton Parchment paper
Wilton -Wide Glide®- Rolling Pin
Wilton Tip #032 Open Star
Wilton Tip #018 Open Star
Wilton Tip #021 Open Star
Wilton Tip #102 Petal
Wilton Tip #352 Leaf / Blad
Multiple Wilton Couplers
Dekofee Profi Pensil 1
Cookie Cutter heart 10 cm
Foil
Prepare 500 grams of FunCakes Mix for Cookies as indicated on the package. Let it rest for at least 1 hour in the refrigerator.
Prepare 200 g of FunCakes Mix for Buttercream as indicated on the package and add to taste the FunCakes flavour paste. Divide the buttercream into multiple portions. Colour in various shades of pink, red and green. Cover a baking plate with a sheet of parchment paper and reheat the oven to 180 ° C (convection oven 160 ° C).
Knead the dough from the refrigerator well and roll it out on a with FunCakes Magic Roll-Out Powder covered worksurface to a thickness of 2-3 mm and cut out enough hearts. Place the hearts on the baking tray a little distance apart and bake the cookies in 12-15 minutes until golden brown. Let the cookies cool down on a cooling grid.
Put the red buttercream in a decorating bag with coupler and tip #21 and the green buttercream in a decorating bag with a coupler and tip #352. The rest of the colours can be divided over the various tips. You can switch colours by removing the tip from the coupler and placing it on a different color of cream.
Use the red buttercream to make a few larger rosettes on the cookies. Spray a zigzag on the cookies with tip #102 (with the thick side of the tip). Fill in the cookies with the other pink shades of cream. With the green cream add a petal here and there between the "flowers".
Mix the golden ginger dust and some rejuvenator spirit to create a paint and very carefully colour the top of the zigzag gold. You can also let the cream set in the fridge first and then apply the paint.
Just a little while before you can enjoy your cookies. Don't forget to share your creation:
#funcakesbyme