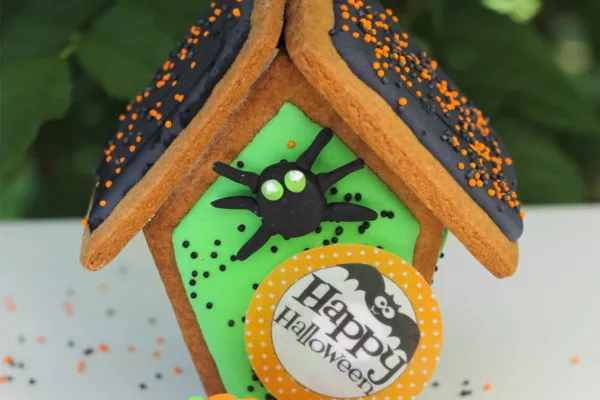 Halloween cookie cottage
Want to make a statement with your Halloween cookies? Why not make this delicious Halloween cookie house. The spiders and ghosts have to live somewhere. Also nice to make with your children!
1 hour and 30 min. preparing
What you need to make your halloween cookie cottage:
Ingredients
500 g FunCakes Mix for cookies
500 g FunCakes mix for Royal Icing
FunCakes Fondant Green
FunCakes Fondant Orange
FunCakes Fondant Black
FunColours Paste Food Colour Green
FunColours Paste Food Colour Orange
FunColours Paste Food Colour Black
150 g unsalted butter
60 ml water
1 egg (approx. 50 g)
Necessities
FunCakes decorating bag
FunCakes Nonpareils Halloween
Cottage cookie cutter
Preheat the oven at 180°C (convection oven 160°C).
Prepare 500 g FunCakes Mix for Cookies as indicated on the package. Wrap it in cling film and let it set in the fridge for at least an hour.
Roll the dough out on a floured surface (0.5 cm thickness). Cut with the elements of the cake cottage the dough and bake them in the middle of the preheated oven for approx. 12 minutes till golden yellow. Let the cookies cool down.
Prepare the FunCakes Icing Sugar as indicated on the package. Mix the icing for 7-10 minutes on low speed to a stiff, white icing. The icing is ready when it is bright white, has lost its shine and you can pull peaks that don't fall back.
Tip! If using a hand-held mixer be careful to ensure that it does not jam!
To use the icing as frosting on the cookies, you have to adulterate the icing. Add per 200 gram icing 1 teaspoon of water.  Make sure you keep a bowl of the solid consistency icing. This will be the "glue"  to put the cookies cottage together.
Divide the icing over 4 bowls and add in 3 bowls the food colouring. Fill the decorating bags with the icing and decorate the cookies items with the icing and the nonpareils. Let it dry overnight.
"Glue" the following day the cottage together with the solid consistency icing. Finish the cottage off with some pumpkins and spider made of fondant. Or use your own creativity.
Just a little while before you can enjoy your cookies. Don't forget to share your creation:
#funcakesbyme