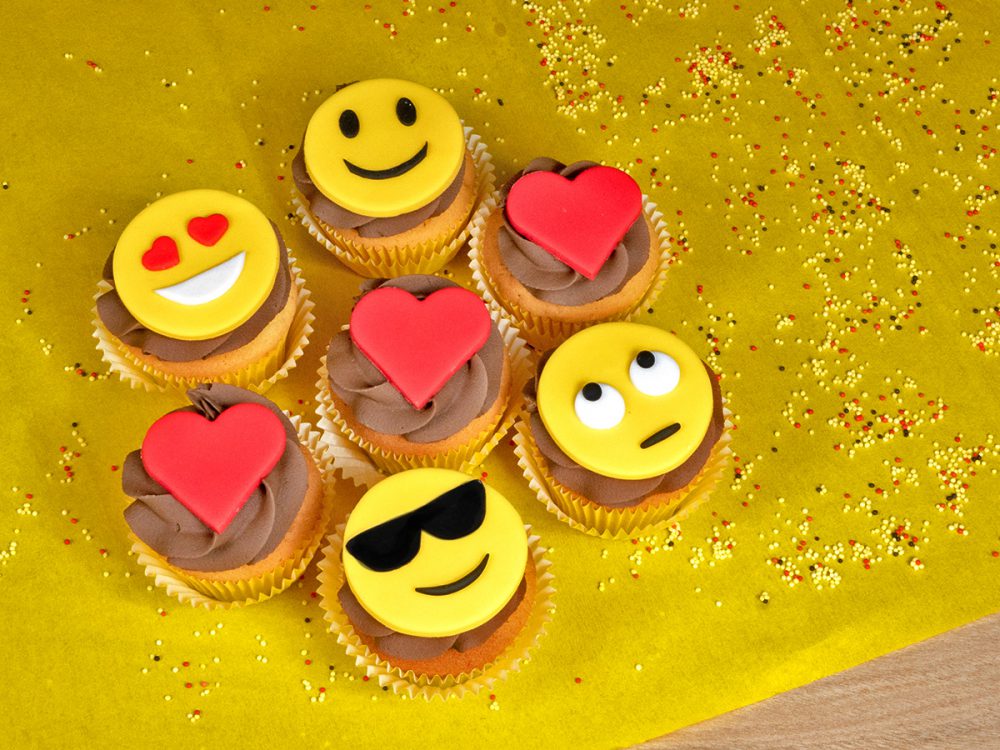 Emoji cupcakes
Express your feelings with these emoji cupcakes!
What you need to make your emoji cupcakes:
Ingredients
500 g FunCakes Mix for Cupcakes
200 g FunCakes Mix for Buttercream
FunCakes Flavour Paste -Whipping Cream-
FunCakes Edible FunColours Gel - Brown
FunCakes Edible FunColours Gel - Yellow
FunCakes Edible FunColours Gel - Orange
300 g FunCakes Fondant -Bright White-
Small amount of FunCakes Fondant -Raven Black-
Small amount of FunCakes Fondant -Fire Red-
FunCakes Edible Glue
500 g unsalted butter
5 eggs (approx. 250 g)
200 ml water
Necessities
FunCakes Disposable Decorating Bags
FunCakes Baking Cups -Yellow-
FunCakes Magic Roll-Out Powder
Wilton Recipe Right® Muffin Pan
Wilton Decorating Tip #1M Open Star Carded
Wilton Decorating Tip Round #2A
Wilton -Perfect Height- Rolling Pin 22,5cm
Wilton Chrome Plated Cooling Grid
PME Miniature Oval Plunger Cutter set/4
PME Modelling tools, Cutting Wheels
Patisse Cookie Cutter Round 6 cm
Cookie Cutter Heart in Heart 4,5 cm
PME Miniature Round Plunger Cutter set/3
Preheat the oven to 180°C (convection oven 160°C).
Prepare 500 grams of FunCakes Mix for Cupcakes as indicated on the package. Place the baking cups in the muffin pan and divide the batter into the baking cups to half fill the cups. Bake the cakes for 18-20 minutes until golden yellow and take them out of the muffin pan. Let them cool down completely on the kitchen counter.
Prepare 200 grams of FunCakes Mix for Buttercream as described on the package. Flavour the buttercream to taste with the whipping cream flavour paste and colour it brown with the colouring. Place tip #2A and tip #1M each in a decorating bag and fill with the cream.
Pipe on some cupcakes a 'poopy' using tip #2A and on the other cupcakes a rosette using tip #1M. Place in the fridge.
Knead 260 grams of white fondant well and colour it with the orange and yellow colouring in the correct emoticon colour. Roll out the fondant on a with Magic Roll-out Powder covered work surface and cut out rounds. Use 40 grams of white fondant for the eyes and the mouths. Use the other colours of fondant and the cutting wheel to make the scarp hearts, the pupils, eyebrows, sunglasses and more. Paste the pieces with some edible glue on the yellow rounds to finish emoticons.
Place the emoticons on the rosettes and paste the eyes and mouths on the poopy cupcakes. You don't have to use any glue.
Tip! Go for an entire Emoji sweet table with our related recipes.
Just a little while before you can enjoy your cupcakes. Don't forget to share your creation:
#funcakesbyme