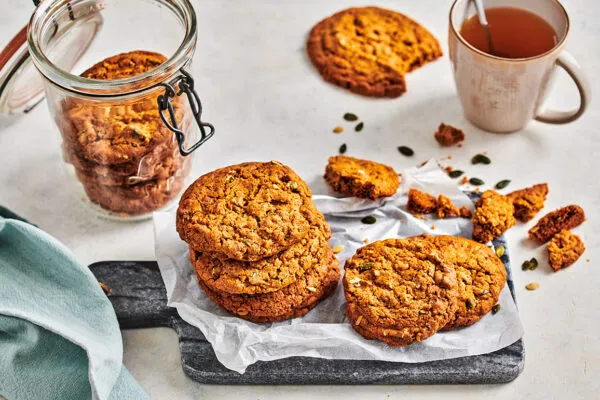 Crunchy spelt cookies
Enjoy these delicious crunchy spelt cookies with this super easy recipe. Once you've tasted how delicious they are, you'll want to make them every day!
What you need to make your crunchy spelt cookies:
Ingredients
500 g FunCakes Mix forCrunchy Spelt Cookies
150 g butter in cubes
20 g egg
15 ml water
Necessities
Wilton Parchment Paper Roll
Prepare 500 g Mix for Crunchy Spelt Cookies according to the instructions on the packet. Use a flat hook for mixing.
If you like, add a handful of FunCakes Chocolate Drops or Chunks to the dough or some speculaaskruiden for a surprising cookie.
Shape the dough into a long roll with a diameter of about 5 cm, wrap it in plastic foil and leave it to set in the fridge for an hour.
You can freeze the dough for later use. Wrap it in plastic foil and in this way it will stay good for 3 months in the freezer.
Preheat the oven to 180 °C (convection oven 160 °C) and line a baking tray with parchment paper.
Cut slices of about 1 ½ to 2 cm thick from the roll and place them on the baking tray. Leave enough space between the cookies, because they will run out. If necessary, bake in two batches if you cannot fit them on the baking tray in one go. Bake the cookies for 19-22 minutes until brown.
You can also freeze the cookies. Put them in a ziplock bag and they will keep in the freezer for 3 months. Leave them to defrost on the counter.
Just a little while before you can enjoy your cookies. Don't forget to share your creation:
#funcakesbyme