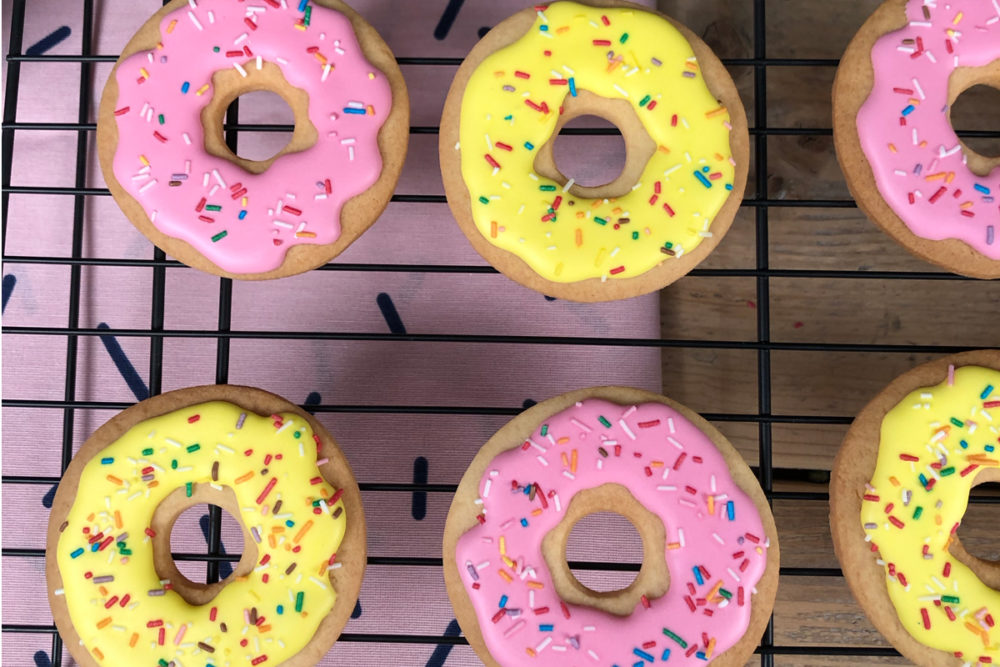 Cookie donuts
Discover this combination between cookies and donuts. The shape of a donut and the taste of a cookie. Start baking and start enjoying!
What you need to make your cookie donuts:
Ingredients
500 g FunCakes Mix for Cookies
450 g FunCakes Mix for Royal Icing
FunCakes Sugar Strands Colour mix
FunColours Gel Pink
FunColours Gel Yellow
150 g unsalted butter
1 egg (aprox. 50g)
70 ml water
Necessities
FunCakes decorating bags
FunCakes Magic Roll-Out Powder
Wilton decorating tip #003
Wilton Cookie Cutter Rings Set
Wilton Parchment Paper
Wilton -Wide Glide- Rolling Pin
Plastic foil
Prepare 500 g of Funcakes Mix for Cookies as indicated on the package. Wrap it in plastic foil and let it rest in the fridge for at least an hour.
Preheat the oven to 180°C (convection oven 160°C).
Knead the dough well until smooth. Roll out the dough on a work surface dusted with Magic Roll-Out Powder to a 2–3 mm thickness. Cut out the cookies with the large and small cutters. Bake the cookies for 10–12 minutes. Let the cookies cool down completely before decorating.
Prepare 450 g of FunCakes Mix for Royal Icing as indicated on the package. Divide the icing into small quantities over different bowls and colour it to choice. Dilute each bowl of  icing with a few drops of water until it reaches yoghurt thickness. Put decorating tip #003 in a decorating bag and fill with the icing. Repeat this for the other colour. Glaze the cookies and sprinkle the sugar strands on top. Let this air dry overnight.
Just a little while before you can enjoy your cookies. Don't forget to share your creation:
#funcakesbyme