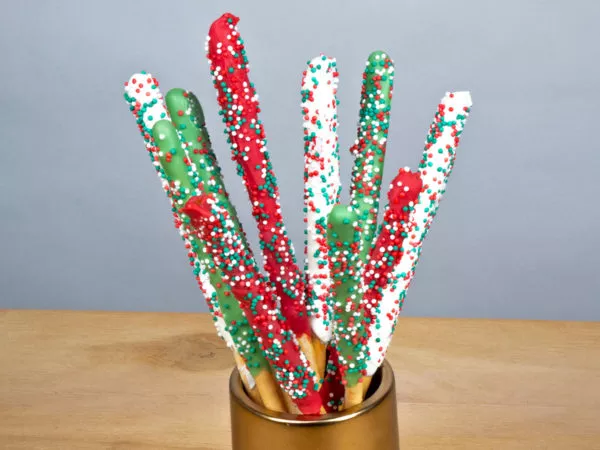 Christmas sticks
Christmas is one of the most busy seasons of all. Their is so much to do like decorating the house, buying presents, spending time with family or friends and don't forget all the baking and cooking. That's why we created this easy Christmas sticks recipe.
What you need to make your christmas sticks:
Ingredients
FunCakes Deco Melts Green
FunCakes Deco Melts Red
FunCakes Deco Melts White
FunCakes Nonpareils Christmas
Breadsticks
Necessities
Wilton Parchment Paper
Glass bowls
Small high measuring cup or long drink glass
Melt the Deco Melts at max. 450W each in a different bowl. Stir well every 15 – 20 seconds. Stop heating when the melts are almost completely melted (small bits of melts still visible). Keep stirring until the melts are smooth.
Pour the melted melts in the high cup or glass and dip the breadsticks into the melts. Let them leak and immediately sprinkle the nonpareils over them.
Place the breadsticks on a with parchment paper covered baking tray and let them harden in the fridge for 15 minutes.
Just a little while before you can enjoy your treats. Don't forget to share your creation:
#funcakesbyme