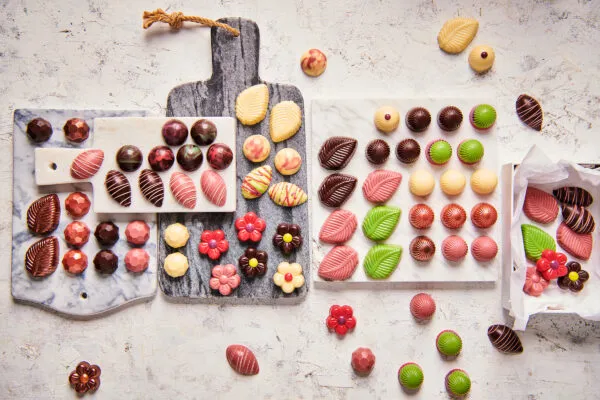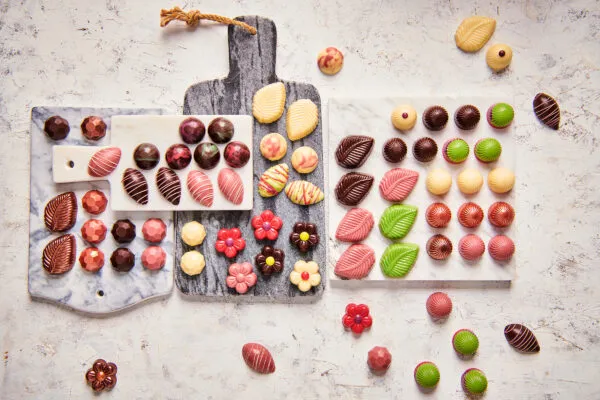 Chocolate bonbons in various flavours
Have you ever thought about making your own chocolate bonbons, but you didn't know how? Then this is the recipe for you! Make delicious chocolate bonbons in different flavours and fillings. Decorate them with a drizzle or some edible Sparkle Dust and you can start your own chocolatier!
2 hour and 45 min. preparing
What you need to make your chocolate bonbons in various flavours:
Ingredients
480 g FunCakes Chocolate Melts Dark
480 g FunCakes Chocolate Melts White
480 g FunCakes Chocolate Melts Milk
480 g FunCakes Chocolate Melts Ruby
150 g FunCakes Rich Caramel
125 g FunCakes Mix for Buttercream
FunCakes Sparkle Dust Golden Ginger
FunCakes Sparkle Dust Ruby
FunCakes Flavour Paste of your choice
150 g unsalted butter
125 ml water
Necessities
FunCakes Chocolate Mould Flower
FunCakes Chocolate Mould Diamond
FunCakes Chocolate Mould Leaf
FunCakes Chocolate Mould Olive
FunCakes Chocolate Mould Twist Swirl
FunCakes Decorating Bags 30 cm pk/10
Wilton Dusting Brush Set/2
PME Scraper / Pastry cutter straight
Scrapcooking Digital Thermometer
Melt 400 g chocolate au bain-marie. When the chocolate is almost melted, remove the pan with chocolate from the stove and from the pan with water. Stir the visible pieces into the warm chocolate. Then add the remaining 80 g melts and stir them into the warm chocolate. Then bring the temperature back to the processing temperature. For dark 31°C, milk 30°C, white and ruby 28-29°C. This listens very closely. Use the chocolate thermometer for this. Repeat for all types of chocolate.
These are important steps before you start. Keep to these processing temperatures for the chocolate: all types of chocolate melt at 45°C. If you do not comply with this, your chocolates will fail and will not come out of the mould. You can also temper the chocolate. Read how in our blog.
Pour the chocolate into the mould, tap the full mould a few times on the counter to allow the air bubbles to rise to the surface. Empty the mould and scrape the edges clean. Place the mould in the fridge for 25-30 minutes.
Prepare 125 g FunCakes Mix for Buttercream according to the instructions on the package, flavour with the flavour paste of your choice and place in a decorating bag.
Fill the half chocolates with a little bit of buttercream or FunCakes Rich Caramel which you have slightly heated in the microwave. Make sure the filling does not rise above the mould. Let the filling set in the fridge.
Finally, fill the mould with chocolate and scrape it off with the scraper. Put this back into the fridge and leave to cool down thoroughly.
Carefully tap the chocolates out of the mould on your countertop. Powder some of the bonbons with a soft brush and the FunCakes Sparkle Dust. You can drizzle another colour of chocolate over other bonbons. Let this harden in the fridge again.
Just a little while before you can enjoy your . Don't forget to share your creation:
#funcakesbyme