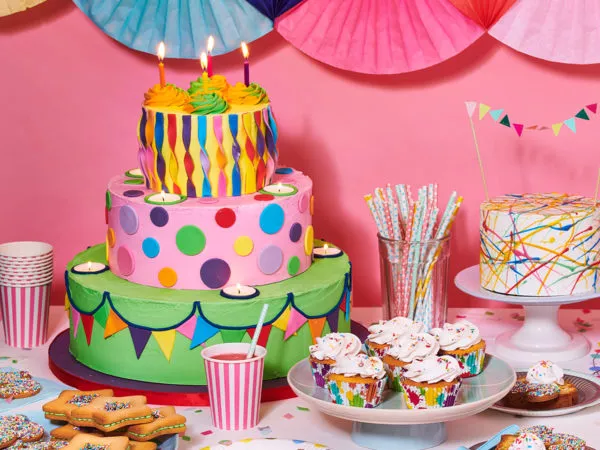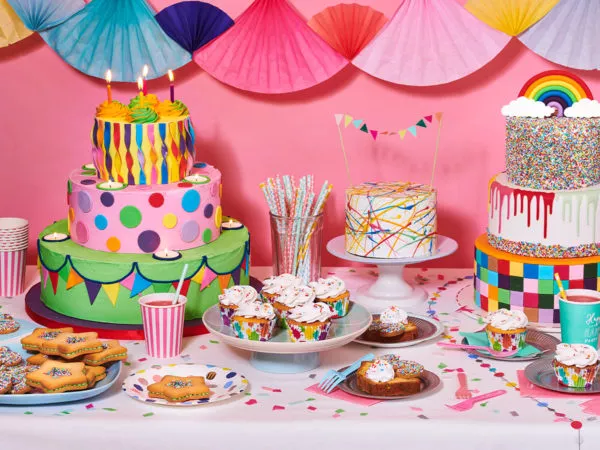 Birthday cake for at school
It's your birthday and that means treats are on you! With this cake you are completely ready and best of all, you can reuse this cake.
What you need to make your birthday cake for at school:
Ingredients
1,5 kilo FunCakes Mix for Royal Icing
1 kilo FunCakes Fondant -Bright White-
FunCakes Edible FunColours Gel
FunCakes Clear Piping Gel
165 ml water
Necessities
FunCakes Cake Dummy Round 10 cm – Ø 35 cm-
FunCakes Cake Dummy Round 10 cm – Ø 25 cm-
FunCakes Cake Dummy Round 10 cm – Ø 15 cm-
FunCakes Magic Roll-Out Powder
FunCakes Decorating Bags
Wilton Decorator Preferred Spatula Angled
Wilton Birthday Candles Tall & Short
Wilton -Perfect Height- Rolling Pin
Wilton Decorating Tip #1M
PME Round Cutter
FMM Bunting Cutter
FMM Ribbon Cutter
Brush
Apple drill
8 waxine lights
Use an apple drill to remove 4 holes in the largest dummy and 4 holes in the middle large dummie to the size of the waxine lights.
Prepare 1,35 kilo FunCakes Mix for Royal Icing as indicated on the package. Divide into three unequal portions. Do this based on the size of the dummies. Color the largest portion green, the medium-sized portion pink and the smallest portion yellow. Keep a little royal icing behind for the tufts on the top of the cake.
Spread a layer of royal icing on the dummies with a palette knife, then smoothen and let it dry. Repeat with a second layer for better coverage. Stack the dummies together with some royal icing that serves as glue to keep the cake from moving.
Knead the fondant well, divide it into 8 portions and colour it with the gels. For the flag line you roll out various fondant colours to a thickness of about 1 – 2 mm and use the bunting cutter to cut out the flags. Take a small piece of colour of your choice, and roll it into a thin line with your hands. This will serve as the line that holds the flags. Glue the line with some piping gel against the cake. Then glue the flags with some piping gel against the line and add some fondant lines around where the waxine lights will be.
Roll out different colours of fondant again and cut out different circle sizes with the round cutters. Glue this with piping gel against your middle cake.
Assemble the multi ribbon cutter with a recess between the discs of about 0.5 cm. Roll out the fondant colours very thinly and lay two contrasting colours on each other. Now use the multi ribbon cutter to cut out the pieces of fondant. Glue the twisted pieces of fondant against the cake with some piping gel.
Colour the royal icing that you have kept behind in two colours of your choice and put this together in a piping bag with decorating tip #1M. Spray generous tufts on top of the cake and insert small candles. Let it dry well again.
Just a little while before you can enjoy your cakes. Don't forget to share your creation:
#funcakesbyme