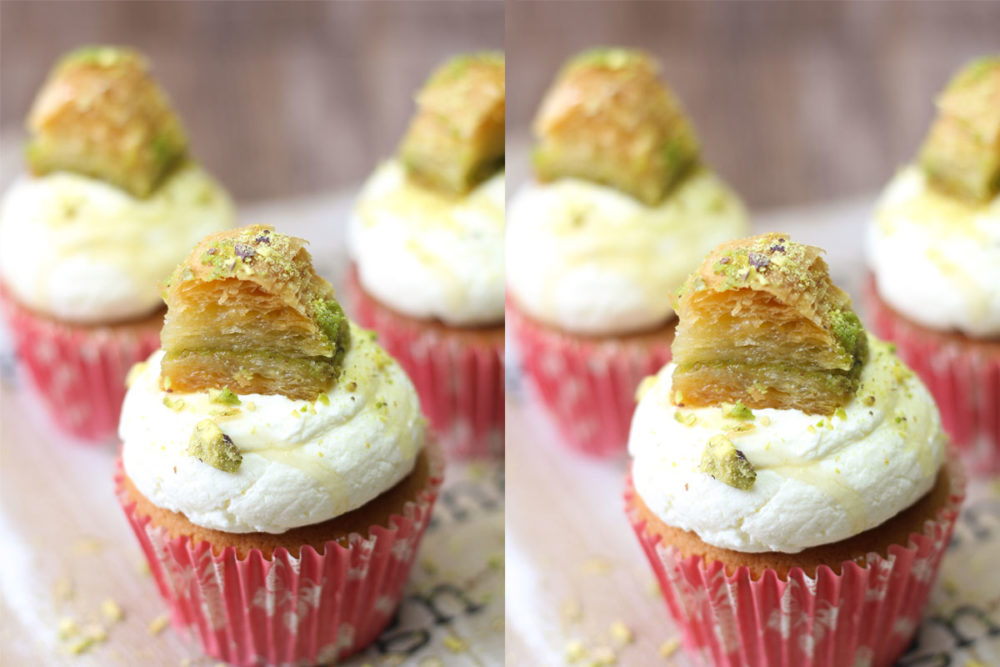 Baklava cupcakes
Baklava and cupcakes don't necessarily seem to go very well together, but just wait until you taste it! This recipe is for anyone who wants to do things a little differently and combine two treats.
What you need to make your baklava cupcakes:
Ingredients
500 g FunCakes Mix for Cupcakes
125 g FunCakes Mix for Buttercream
450 g filo pastry
700 g unsalted butter
300 g caster sugar
300 ml water
300 g unsalted pistachios
300 g walnuts
125 ml honey
120 g sugar
2 ½ tsp cinnamon
5 eggs (approx. 250 g)
3 tsp cinnamon
Lemon zest
Necessities
FunCakes Baking Cups
FunCakes Decorating Bags
Wilton Decorator Preferred Muffin Pan
Wilton Cooling Grid
Preheat the oven to 160°C (convection oven 140 °C).
Mix 300 grams of caster sugar, 125 grams of honey, 2 ½ teaspoons of cinnamon and 300 ml of water in a pan. Heat the pan and stir the syrup until the sugar is dissolved. Let this cook for approx. 20 minutes. Add a bit of lemon zest to bring some flavour to the syrup. Strain the liquidfrom the syrupandset it aside.
Chop 300 grams of pistachios and 300 grams of walnuts and grate them. Mix the nuts, 120 grams of sugar and the lemon zest in a bowl. Melt 300 grams of butter on low heat. Lubricate the baking pan with butter. First, fill the pan with a layer of filo pastry, then a layer of the nut mixture and then a bit of melted butter. Finish with a layer of filo pastry. Repeat this until the pan is full. Coat the top layer with a bit of butter and put it in the oven for 35 minutes. After baking, let it cool down completely.
Preheat the oven to 180°C (convection oven 160°C).
Prepare 500 grams of FunCakes Mix for Cupcakes as indicated on the package. Line the baking cups in the muffin pan and fill the baking cups with the batter. Bake the cupcakes 18 – 20 minuten in the middle of the preheated oven. Let the cupcakes cool down by using a cooling grid.
Prepare 125 grams of FunCakes Mix for Buttercream as indicated on the package. Fill a decorating bag with the buttercream, cut off the tip and pipe swirls on the cupcakes. Decorate the cupcakes with a piece of baklava and some honey.
Just a little while before you can enjoy your . Don't forget to share your creation:
#funcakesbyme