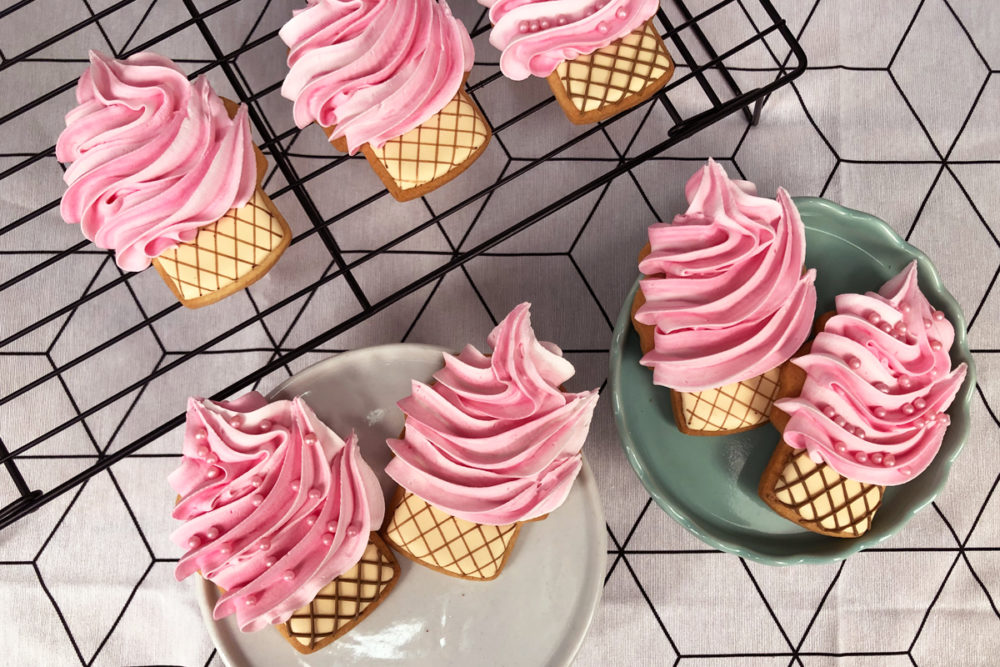 Soft ice cream cookies
Make your own ice cream stand at home with the soft ice cream and popsicle cookies. Good to make at home together and of course delicious.
1 hour and 30 min. preparing
What you need to make your soft ice cream cookies:
Ingredients
500 g FunCakes Mix for Cookies
450 g FunCakes Mix for Royal Icing
75 g FunCakes Mix for Enchanted Cream ®
FunColours Paste Food Colour Ivory
FunColours Gel Pink
FunColours Brush Food Pen Brown
100 ml water
1 egg. (approx. 50 g)
150 g unsalted butter
Necessities
FunCakes Decorating Bags
FunCakes Magic Roll-Out Powder
Wilton Tea Party Cookie Cutter Set/3
Wilton parchment paper
Wilton -Wide Glide- rolling pin 50 cm
Wilton tip #003 Round
Wilton tip #1M Open Star
Wilton Standard Adaptor/Coupler
Clingfilm
Cocktail sticks
Prepare 500 g of FunCakes Mix for Cookies as indicated on the package, wrap the dough in plastic wrap and allow to set in the refrigerator for at least an hour
Preheat the oven to 180 ° C (convection oven 160 ° C).
Get the dough out of the fridge, knead well and roll it out to a thickness of 2-3 mm on a work surface dusted with Magic Roll-Out Powder . Cut out cupcakes with the cookie cutter. Place the cookies on the baking tray a little distance apart and bake the cookies for 12-15 minutes until golden brown. Let the cookies cool on a cooling rack.
Prepare 450 g of FunCakes Mix for Royal Icing as indicated on the package. Take 2 large tablespoons and dilute it with a little water to yogurt thickness. Add the water drop by drop, the icing should rather be a little too thick than too thin. Cover the rest of the icing with plastic wrap and place a wet tea towel on top.
Put the diluted icing in a decorating bag with an adaptor and tip #003. Fill the bottom of the cookie with thin icing, if necessary use a cocktail stick to push the icing to the edges. Let this dry overnight.
When it is dry, draw a grid on the biscuit with the brown edible marker. Make sure the icing is completely dry when you do this, , otherwise you will puncture it with the marker!
Prepare 75 grams of FunCakes Mix for Enchanted Cream ® as indicated on the package. Colour the light pink with the FunCakes gel. A nice effect is if your cream does not color completely evenly, but a little marbled. Put this in a piping bag with tip # 1M fill the top of the cookies and make a nice swirl
Just a little while before you can enjoy your cookies. Don't forget to share your creation:
#funcakesbyme