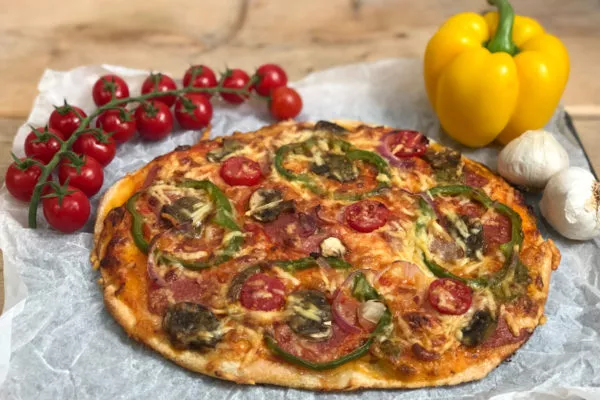 Pizza
Who doesn't love pizza? A delicious meal entirely to your own taste. Easy to make in your own kitchen.
What you need to make your pizza:
Ingredients
625 g FunCakes Pastry Flour Deluxe
12 g FunCakes Instant Yeast
350 ml luke warm water
15 g olive oil
12 g salt
Semolina
Jar of pasta sauce
Paprika
Mushrooms
Onions
Tomatoes
Salami
Grated cheese
Pesto
Or your own favorite topping
Necessities
Wilton – Wide Glide – rolling Pin 50 cm
Wilton Parchment paper
Put the FunCakes Pastry Flour Deluxe, salt, yeast, olive oil and water in a mixing bowl and knead the dough with the dough hook on the middle position in 10-12 minutes to a nice smooth dough. Let the dough rest for 15 minutes after kneading.
Divide the dough into 4 equal pieces of 250 grams and round the pieces smooth. Place a sheet of parchment paper on a baking tray, sprinkle generously with flour and place the puffed dough balls on top. If necessary, cover with a clean ironed tea towel that you have sprinkled on the inside with flour and let the dough rise in a warm place for 2 hours.
Tip! You can use the oven for this: put the oven at 30 ° C and put a bowl of water on the bottom.
Meanwhile cut all ingredients for the pizza.
Preheat the oven for half an hour at 250 ° C (convection oven 230 ° C) with a baking tray inside.
Sprinkle your work surface with semolina, put a dough ball on top, sprinkle the ball with a little bit of semolina, press the ball flat and roll out further with a rolling pin to a cloth of about 2-3 mm thickness. Rolling out on semolina is really important! This ensures that you get a nice crispy crispy crust and bottom. Do not use flour, because it burns a lot during baking, your bottom does not become very crispy and the pizza can also remain a bit damp.
Place the dough sheet on a sheet of baking paper and spread 4 tablespoons of pasta sauce over it (leave 1 cm free from the edge), it does not have to be a very thick layer, you can safely see the bottom through it. Top the pizza with the other ingredients and top with grated cheese.
Place the pizza (with parchment paper) on the hot baking tray and bake for about 7-12 minutes until golden brown. The thicker the bottom, the longer it must bake.
Just a little while before you can enjoy your . Don't forget to share your creation:
#funcakesbyme