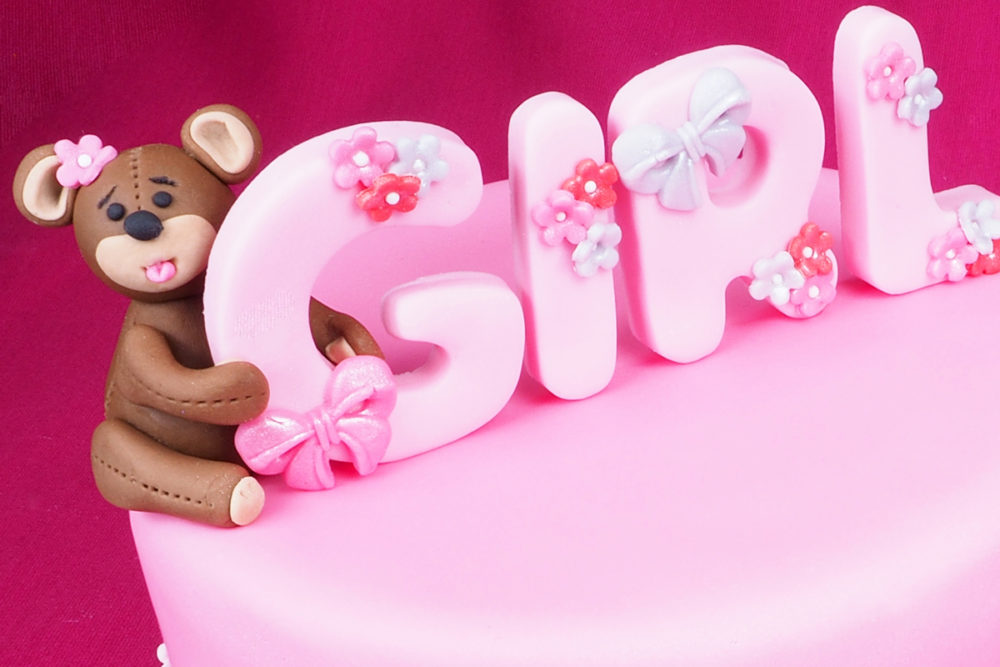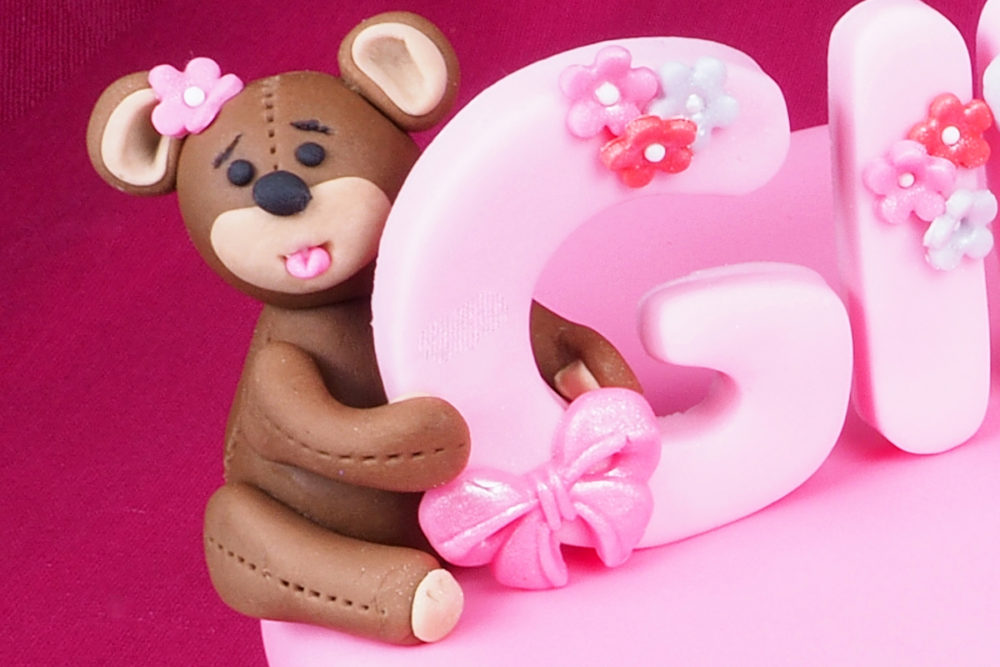 Lettertopper babygirl
Do you want to throw a gender reveal party or you wanna show what gender the baby is? Make this cute babygirl lettertopper.
What you need to make your lettertopper babygirl:
Ingredients
350 g FunCakes Modelling Paste – White
FunCakes Edible FunColours Gel – Brown
FunCakes Edible FunColours Gel – Roze
FunCakes Edible FunColours Gel – Paars
FunCakes Edible FunColours Gel – Rood
FunCakes Edible FunColours Brush Food Pen – Zwart
FunCakes Musketzaad – Wit
FunCakes Fondant Black
FunCakes Fondant Brown
Necessities
First impression Molds Small Bow
Wilton A-B-C and 1-2-3 Cutter
PME Flower Blossom Plunger Cutter
PME Modelling tools Quilting
PME Bone tool
Cocktail sticks
Brush
Color 225 grams FunCakes modeling paste light pink with FunColours gel. Roll this out to a thickness of 6 mm, cut out the letters and insert a cocktail stick at the bottom of the letter until halfway through.
Tip! Let the letters dry for at least a day before using them.
Color 125 gram FunCakes modeling paste dark brown. You divide the other modeling paste and color it red, lilac and dark pink. Roll out the paste very thinly and cut out small flowers. Stick a white musket seed in the heart of the flower. Use the bow template to make a few bows. Stick the bows and the small flowers on the letters with some edible glue.
For the head, turn a ball between your hands and place it on the cocktail stick with a little glue. For the ears, roll two small brown balls and two smaller light brown balls. You push this together with the bone tool and stick it on the head.
For the muzzle use a small piece of light brown fondant that you stick on the head. Make the eyes and the nose from black fondant and the eyebrows with the black marker.
With the quilting tool you run serrated seams over the side and back of the body and head. Finally, make a mouth with the back of the quilting tool and make a tongue out of a piece of pink fondant. Possibly place a flower against the ear.
Place the letters upright in the cake and form the bear's front legs around the first letter. Finally put the bear there and stick the front legs against the body aa
Just a little while before you can enjoy your . Don't forget to share your creation:
#funcakesbyme