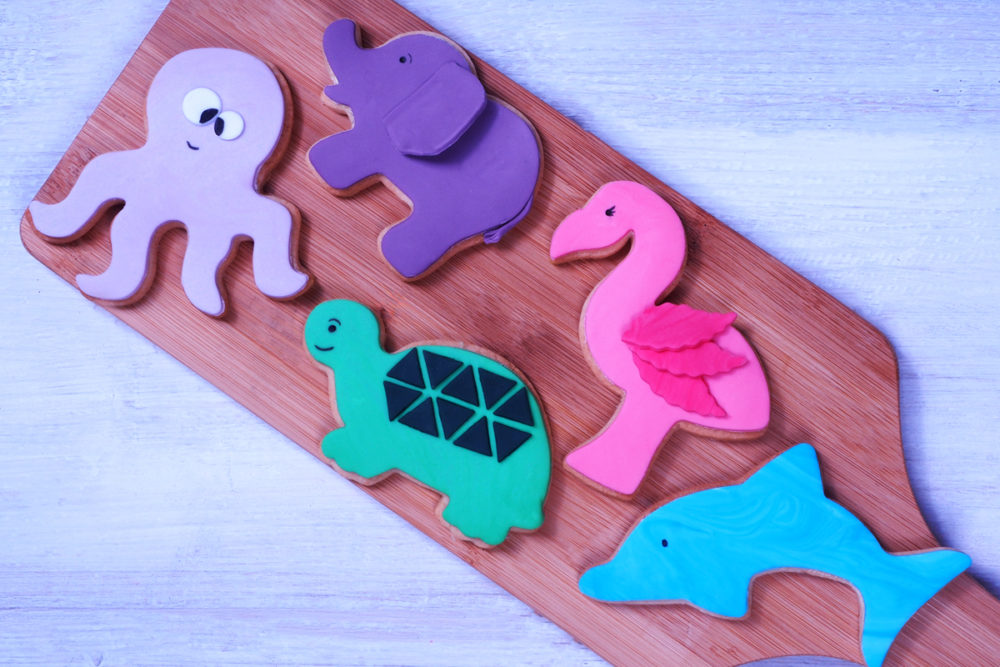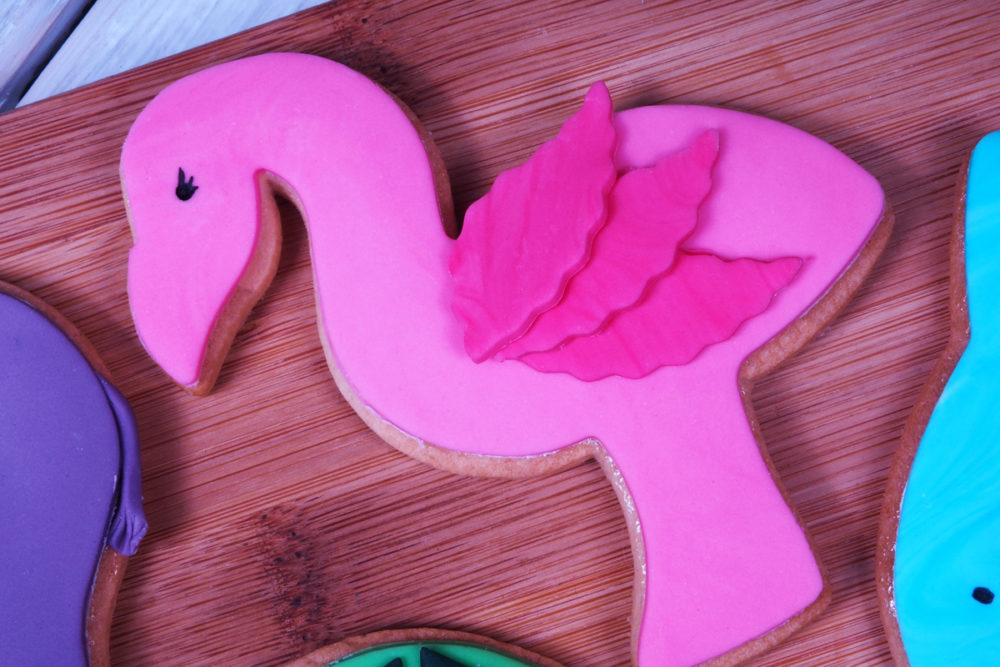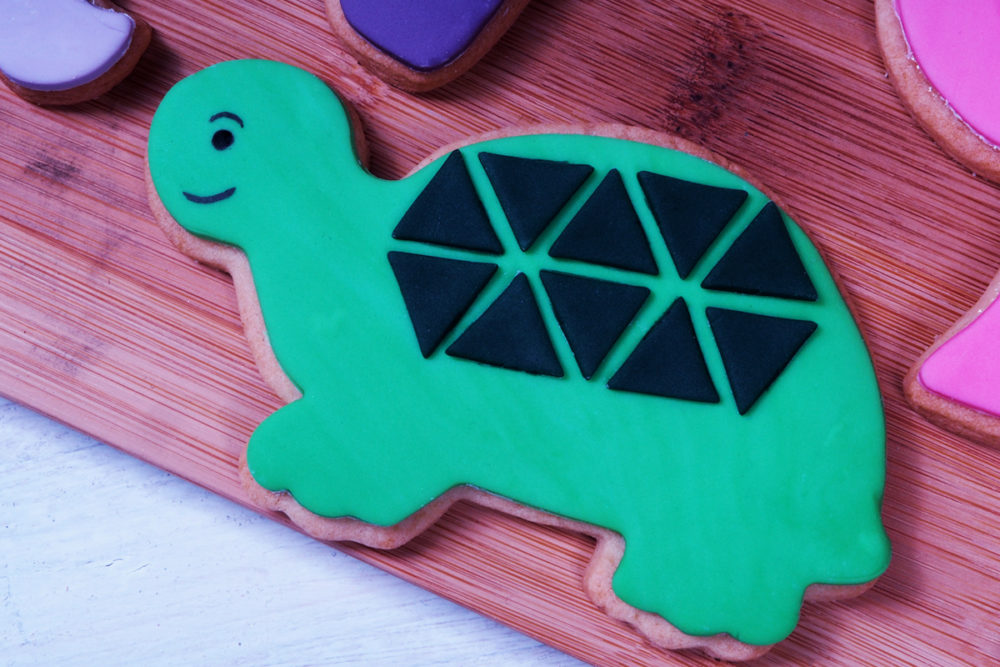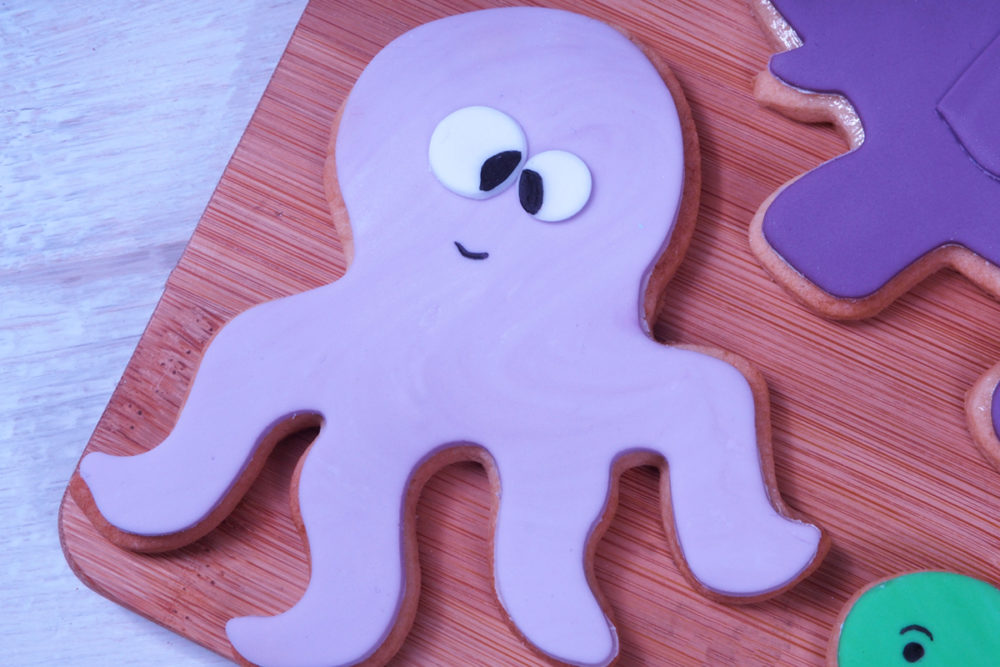 Animal fondant cookies
You can make these cute animal cookies with the kids. A real beast of things, just like being in the zoo.
What you need to make your animal fondant cookies:
Ingredients
500 g FunCakes Mix for Cookies
600 g FunCakes Fondant – Bright White
FunCakes Edible FunColours Gel – Pink
FunCakes Edible FunColours Gel – Aqua
FunCakes Edible FunColours Gel – Mint Green
FunCakes Edible FunColours Gel – Purple
FunCakes Edible FunColours Brush Food Pen – Black
150 g unsalted butter
1 egg (aprox. 50 g)
Necessities
Wilton Cutter Set Animals Pals
Wilton Piping Gel
Wilton -Wide Glide- Rolling Pin
Wilton parchment paper
PME Rose Leaf Cutter
Plastic foil
Decorating Brush
Prepare 500 grams of FunCakes Mix for Cookies as indicated on the package. Cut out the desired animals using the Wilton cutters and place them on a with baking paper covered baking plate. Bake the cookies for 8-12 minutes. Let them cool down on the kitchen counter afterwards.
Tip! Remaining dough can be saved in the freezer for later.
Divide the fondant into 4 portions and colour these pink, blue, mint green, lila and purple with the gels. Roll out the fondant on a with icing sugar covered work surface and cut out the same animals as you did for the cookies. Add a thin layer of piping gel on the cookies and paste the fondant on top of them.
For the flamingo knead a bit of extra colouring through the pink fondant to make the wings. Use the rose leaf cutter to cut out these 3 wings and paste these on the flamingo. For the turtle make some green fondant a bit darker, cut out little triangles and paste these on the turtle. Then cut out half circles out of the blue fondant which you paste on the head of the elephant with a little piece of paper in between the circles and the elephant. This way you'll create a bit of relief. Finally draw the eyes and mouths with the black pen.
Just a little while before you can enjoy your cookies. Don't forget to share your creation:
#funcakesbyme