New baking mixes, low in sugar
Available now! Our new range of sugar reduced baking mixes. We have launched our 5 must-have baking mixes for Cupcakes, Sponge Cake, Enchanted Cream®, Buttercream and Crème Patisserie in a version that's tasty but healthier. You can recognize these mixes by the 'low sugar' icon.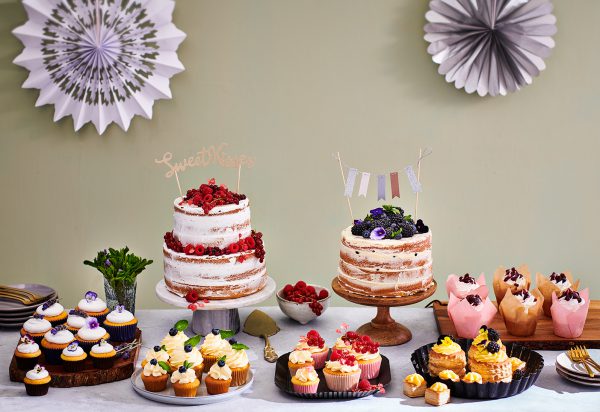 A conscious and tasty choice
We bakers crave sweets and love that amazing smell of freshly baked cakes. We all know that also means we take up quite some sugar. Eating completely sugar free is impossible, as also fruits, dairy, cereals and some vegetables contain sugar. And there's nothing wrong with that! But by adding soda, sweets, and yes… unfortunately also cake to our diet, we take in another portion of sugar. We, as FunCakes, strive to be as transparent as possible about our products and their ingredients. That's why we have never made it a secret they contain quite some sugar. A guilty pleasure every once in a while never hurt nobody, right? However, we also understand you might want to cut the sugar a bit in your diet. But to quit baking… that shouldn't be the consequence, right?
That's what we thought! So we are introducing 5 new sugar reduced baking mixes. Enabling you to have a healthier option while still enjoying those delicious home made cakes and fillings!
What's the difference?
Expect our low sugar range to have the same quality, same workability and a fantastic taste, just as you are used to from us. Without having to give in on these aspects, we have produced baking mixes that contain 40-85% less sugar. But how did we replace this sugar? Cause let's be honest, it's also the sugar that makes it as delicious as it is ;).
Don't you worry, our sugar reduced baking mixes are super tasty too! We have managed to replace the sugar by ingredients as natural as possible that still give these cakes and fillings a sweet taste. The new Mix for Cupcakes and Sponge Cake contain 40% less sugar, which we replaced by dietary fiber. The mixes for Crème Patisserie, Buttercream and Enchanted Cream® are even reduced to respectively 70, 80 and 85% less sugar, whereby the sugar has been partially replaced by dietary fiber and partially by sorbitol. Sorbitol is a natural sugar that's coming from several kinds of fruits. It's an extensive sweetener, that's less sweet than sugar and affords less calories. Thanks to these dietary fiber and sorbitol we have succeeded in producing 5 mixes that give delicious, sweet flavours in a healthier way.
Lactose free
Apart from low in sugar, the mixes for Cupcakes and Sponge Cake are also lactose free! This means they aren't only an healthier option, they are also an option for people with a lactose intolerance.
Is this something for you?
Do you love your relax moments with a piece of cake, but are you also a conscious eater and do you therefore often skip a sweet treat? Then this range of products is exactly what you are looking for as you can keep on enjoying these lovely moments without having to worry about the sugars.