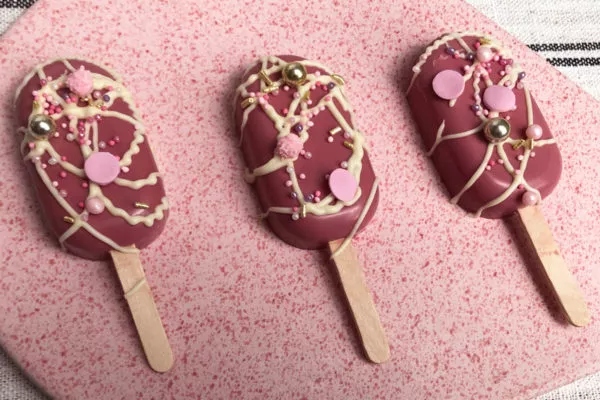 Ruby Cakesicles
A real baking trend! Cakesicles. Make now the Ruby cakesicles with chocolate and a bunch of spinkles.
What you need to make your ruby cakesicles:
Ingredients
250 g FunCakes Chocolate Metls Ruby
150 g FunCakes Chocolate Melts White
FunCakes Sprinkle Medley Glamour Pink
Leftover cake
Necessities
FunCakes decorating bags
Wilton Decorator Preferred Spatula curved 22,5 cm
Silikomart Ice Cream Mould Mini Classic
Flat brush
Crumble the cake and add some melted FunCakes Chocolate Melts White. Knead this until you have a firm "dough". DO NOT add too much chocolate, it will be too weak.
Tip! For this recipe you use leftover cake, if you do not have this you can bake a cake
Melt the FunCakes Chocolate Melts Ruby and scoop a large spoon in the mold. With a brush you spread the FunCakes Chocolate Melts Ruby in the mold and against the edges. Make sure everything is well covered and you don't see any "smears". If this is the case, add some FunCakes Chocolate Melts Ruby. Put the sticks in the mold and put it in the fridge for 10 minutes or until the chocolate has hardened.
Remove the mold from the refrigerator and carefully remove the sticks. Press some cake "dough" into the mold. Make sure you do not come out too high, preferably you come out a little lower than the edge of the mold. Now put the ice cream sticks back into the cakesickles.
Add a generous spoonful of FunCakes Chocolate Melts Ruby to the "dough" and then smooth it with a spatula. Put them in the freezer for 15 minutes so that they get reasonably hard and are easy to take out of the mold.
Reheat any leftover white chocolate if necessary and put it in a decorating bag. Cut off a small point and drizzle the chocolate over the cakesicles. Decorate immediately with the medley. It is best to do this individually. Because the cakesicles are frozen, they are very cold which quickly sets the drizzle to solidify.
Just a little while before you can enjoy your pops. Don't forget to share your creation:
#funcakesbyme