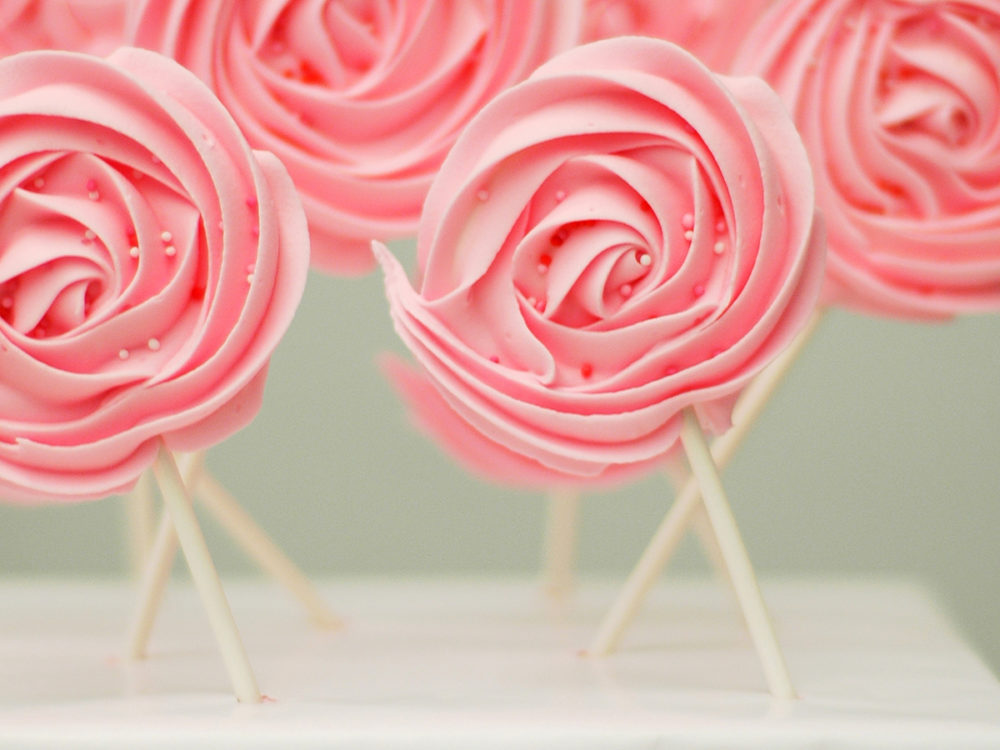 Meringue pops
Meringue pops are actually just simple meringue's but on a stick. This easy recipe is great for those with kids or the ones who don't want to spend hours in their kitchen trying to create something absolutely delicious!
1 hour and 25 min. cooking
What you need to make your meringue pops:
Ingredients
60 g FunCakes Egg White Powder
250 g FunCakes Icing Sugar
FunCakes Nonpareils Lots of Love
FunCakes FunColours Colour paste Pink
Necessities
FunCakes Decorating Bags
Wilton Decorating Tip #1M
Wilton Parchment Paper
Wilton Cookie Treats Sticks
Preheat the oven on 85°C (convection oven 75°C).
Mix 60 grams of egg white powder with 360 grams of water in a degreased mixing bowl until the water has absorbed the powder. Add 40 grams of icing sugar to the mixture. Mix the egg whites with the mixer on the highest stand until they are foamy. Add while mixing, little by little 210 grams of icing sugar. Mix this until it is a solid white mixture, where you can pull firm peaks of. Add a bit of pink coloring and mix it a bit for a lovely equal color.
Place a piece of baking paper on a flat baking plate. Place tip #1M in the decorating bag and fill it with the mixture. Spray beautiful round rosettes of approx. 12 cm on the baking paper. Carefully stick the cookie sticks in the bottom of the rosettes and sprinkle them lightly with some nonpareils.
Bake the meringues in approx. 75 – 85 minutes. The meringues should hold their color and feel firm after baking. Remove the meringues from the baking and let them cool down.
Just a little while before you can enjoy your pops. Don't forget to share your creation:
#funcakesbyme