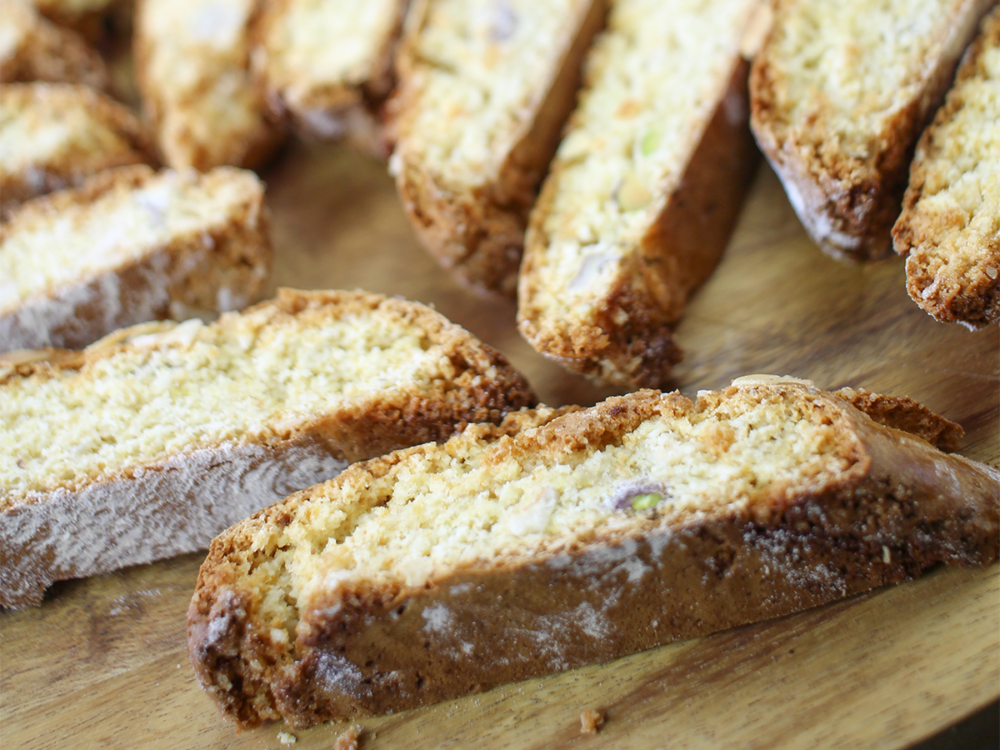 Mandarijnen cantuccini
Delicious fresh cookies with almond! A real go to snack and of course delicious with coffee.
What you need to make your mandarijnen cantuccini:
Ingredients
125 g FunCakes Icing Sugar
125 g FunCakes Sliced Almonds
1½ tsp FunCakes Baking Powder
FunCakes Flavour Paste Vanilla
FunCakes Flavour Paste Mandarin
250 g flour
125 g sugar
75 g hazelnuts
50 g pistachios
3 eggs (approx. 100 g)
1 tsp salt
Necessities
Wilton Parchment Paper
Baking tray
Preheat the oven to 200°C (convection oven 180°C).
Mix 250 g flour, 2 eggs, 125 g sugar, 125 g FunCakes Icing Sugar, 1 teaspoon salt, 1 teaspoon vanilla flavoring, 1 tablespoon tangerine flavoring and 1½ teaspoons baking powder into a cohesive dough. Then stir 125 g sliced ​​almonds, 75 g hazelnuts and 50 g pistachios into the dough. Keep some sliced ​​almonds aside for the top.
Divide the dough into quarters and make four rolls of dough. Do this on a floured work surface. Place the rolls on the baking paper and brush with the beaten egg. Sprinkle some sliced ​​almonds on top. Bake the cookies for about 20-25 minutes.
Remove the cookies from the oven and immediately cut them into oblique slices, put them back on the baking tray and return them to the oven. Turn the oven back to 130°C and bake the cookies for another 10 minutes.
Just a little while before you can enjoy your cookies. Don't forget to share your creation:
#funcakesbyme