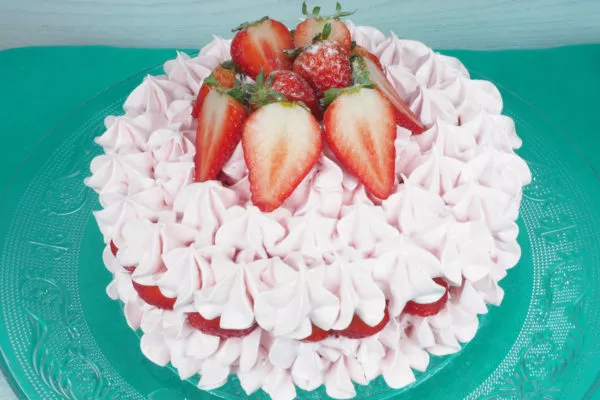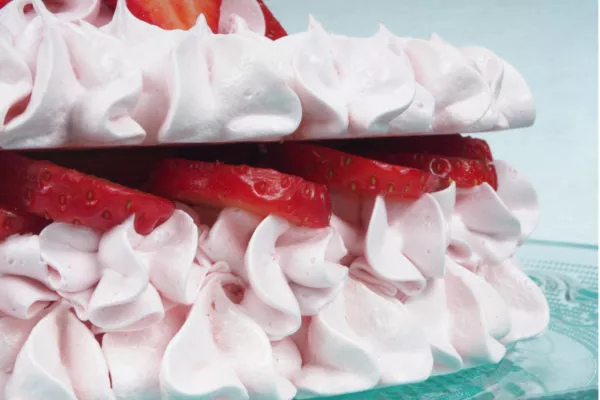 Strawberry meringue pie
Whoever thought meringue couldn't make up for delicious cake layers has never tried this strawberry meringue pie!
What you need to make your strawberry meringue pie:
Ingredients
125 g FunCakes Icing Sugar
150 g FunCakes Mix for Enchanted Cream®
FunCakes Flavour Paste Zesty Strawberry
FunColours Gel Pink
125 g sugar
100 ml water
100 ml melk
10 g cornstarch
4 egg whites
Strawberries
Necessities
FunCakes decorating bags
Wilton Tip #1M
Wilton parchment paper
Wilton cooling grid
Preheat the oven to 110 ° C (convection oven 100 ° C).
Mix the FunCakes Icing Sugar, sugar and cornstarch in a bowl. Beat the 4 egg whites on the highest speed of the mixer. Add the sugar mixture in parts. When everything is added, beat it on the highest speed in 6-8 minutes until it's shiny. Add some pink colouring gel while mixing.
Draw a circle of 20 cm on 2 sheets of baking paper with pencil and turn the sheet upside down to make sure pencil circle does not come into contact with your foam.
Spoon the foam into a decorating bag with # 1M and fill the circles with small tufts. Bake the meringues for 2 hours in a preheated oven. Let them cool down on a cooling grid.
Prepare 125 g of FunCakes Mix for Enchanted Cream® as indicated on the package and add to taste the strawberry flavour paste. Put this in a decorating bag with tip #1M and spray tufts of Enchanted Cream® on the bottom layer. Place strawberry slices tile like on top of the meringue. Carefully place the second slice of foam on top and only spray some Enchanted Cream® in the middle, against which you put some sliced strawberries.
Just a little while before you can enjoy your cakes. Don't forget to share your creation:
#funcakesbyme