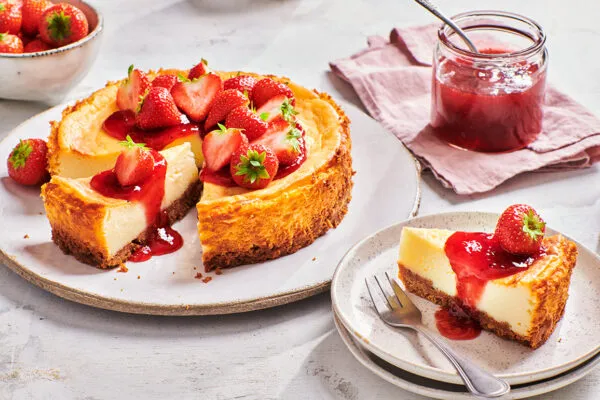 Cheesecake with cookie crumb crust and strawberries
The perfect basic recipe for a delicious cheesecake. Making your own cheesecake is not that difficult at all. Certainly not by using the FunCakes Mix for Cheesecake. Add some strawberries or raspberries as topping to finish it off!
1 hour and 10 min. cooking
What you need to make your cheesecake with cookie crumb crust and strawberries:
Ingredients
250 g FunCakes Mix for Cheesecake
250 g whipped cream
250 ml water
200 g cookie crumb crust of your choice
200 g cream cheese (e.g. Philadelphia)
90 g melted butter
Strawberry jam
Strawberries
Necessities
Wilton Parchment Paper Roll
Patisse Ceramic Springform Ø20cm
Preheat the oven to 180°C (convection oven 160°C).
Choose your favourite crumb crust as the base. Mix the crumb crust with 90 g melted butter. Place a sheet of baking paper on the bottom of the springform pan and draw the edge around it. Place the crumb crust in the springform pan, spread evenly and press down. Leave it to set in the fridge for about 15 minutes.
Prepare 250 g FunCakes Mix for Cheesecake according to the instructions on the package. Spatula this on the crumb crust and bake the cheesecake in the oven for 60-70 minutes until done. Leave it to cool on the counter.
Spread some strawberry jam on top of the cheesecake and top with fresh strawberries.
Just a little while before you can enjoy your cakes. Don't forget to share your creation:
#funcakesbyme