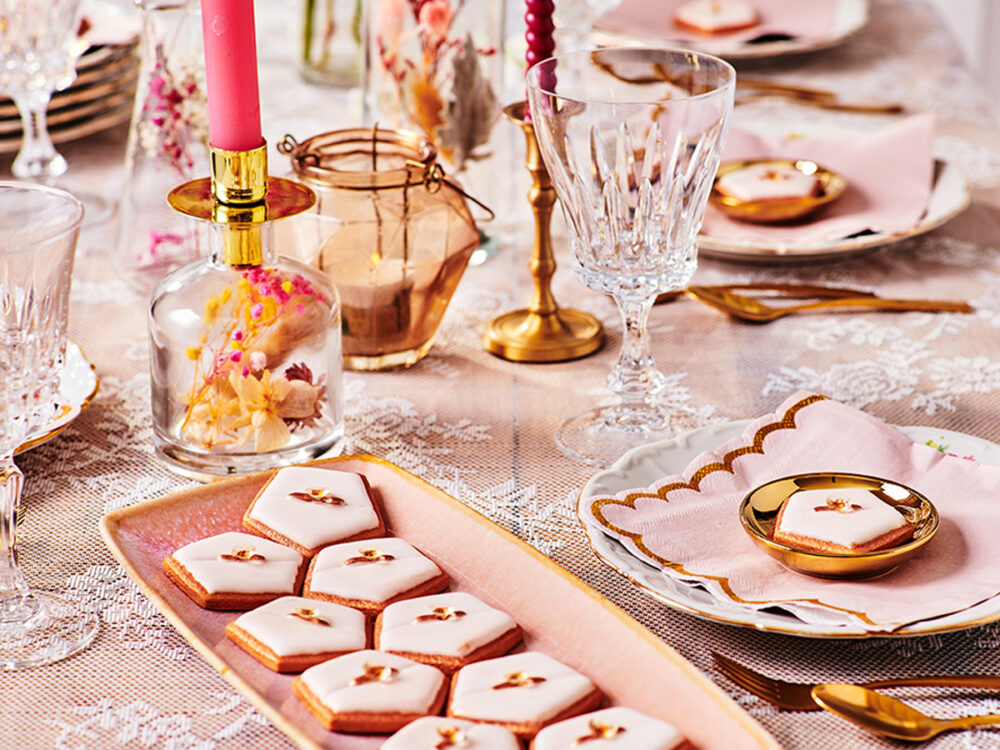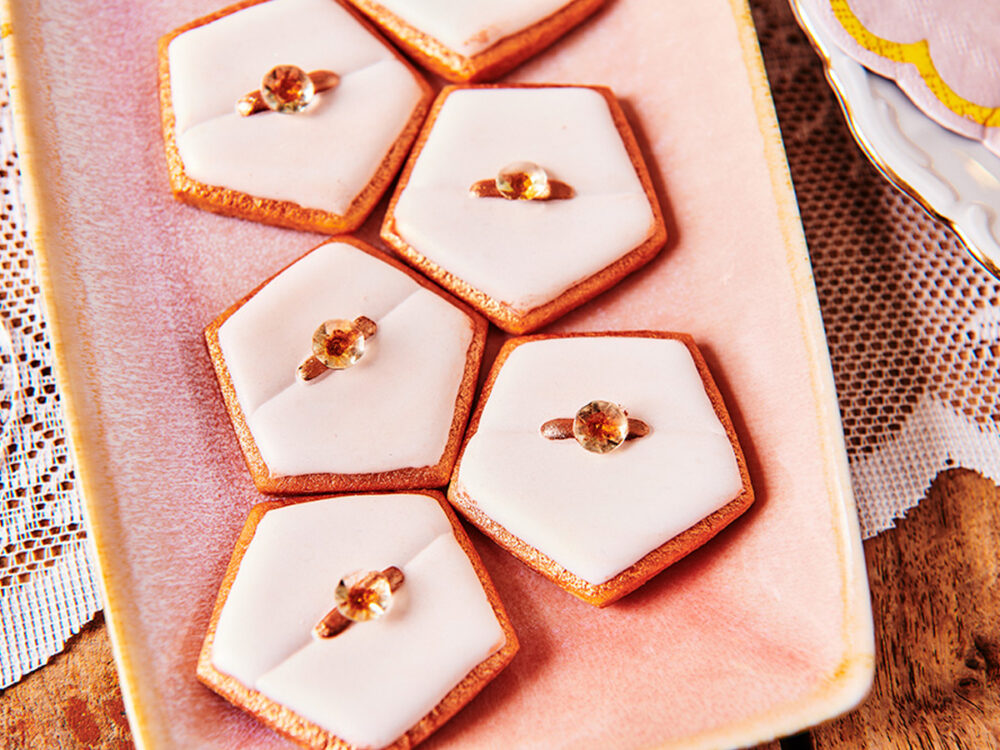 Wedding cookies
Are you getting married, are you celebrating an engagement or having a bridal party? Then these cookies are the perfect treat or gift. Make your own wedding or engagement ring into a cookie with our Royal Icing, Jelly Diamonds and Sprakle Dust.
2 hour and 30 min. preparing
1 hour and 30 min. waiting
What you need to make your wedding cookies:
Ingredients
500 g FunCakes Mix for Cookies
450 g FunCakes Mix for Royal Icing
FunCakes Metallic Food Paint Dark Gold
FunCakes Sparkle Dust Golden Ginger
FunCakes Jelly Diamonds Clear
FunCakes Edible Glue
FunCakes Food Colour Paste Ivory
150 g unsalted butter
55 ml water
1 egg (approx. 50 g)
Necessities
FunCakes Decorating Bags
Wilton Decorating Tip #003
Wilton Standard Adaptor/Coupler
Wilton Wide Glide Rolling Pin 50cm
PME Football/soccer pattern cutters
Prepare 500 g FunCakes Mix for Cookies as indicated on the package, wrap in cling film and leave to set in the refrigerator for one hour.
Preheat the oven to 180 °C (convection oven 160 °C).
Knead the dough from the fridge and roll it out to a thickness of about 2 mm and cut out shapes with the cutter. Place these on a baking tray lined with parchment paper and bake the cookies for about 10-15 minutes until light brown. Let them cool down on the counter.
Prepare 450 g FunCakes Mix for Royal Icing as directed on the package. Thin the icing with a little water to yogurt thickness and colour it with the FunCakes Food Colour Paste Ivory.
TIP! The 10-second rule applies to the icing. If you have thinned your icing it should form a smooth mirror in your dish in 10 seconds. If this happens too quickly, your icing will be too thin and will drip off your cookies. You solve this by stirring in a little stiff icing. If it takes longer than 10 seconds your icing is too thick and will not flow nicely on your cookie. In this case, add some extra drops of water.
Put the icing in a decorating bag with coupler and tip #003 and cover one half of the cookie with it and let it dry for 1.5 hours. After this you coat the other half. This way you will see a seam running down the middle. Again, let this dry for 1.5 hours before putting a small line of icing in the middle.
When the cookies are as good as dry press a small hole in the seam with the back of a brush and paint it with FunCakes Metallic Food Paint Dark Gold. Put in the hole a little bit of FunCakes Edible Glue and here you stick a Jelly Diamond.
With a brush and the Sparkle Dust Golden Ginger make the edges of the cookies gold.
Just a little while before you can enjoy your cookies. Don't forget to share your creation:
#funcakesbyme