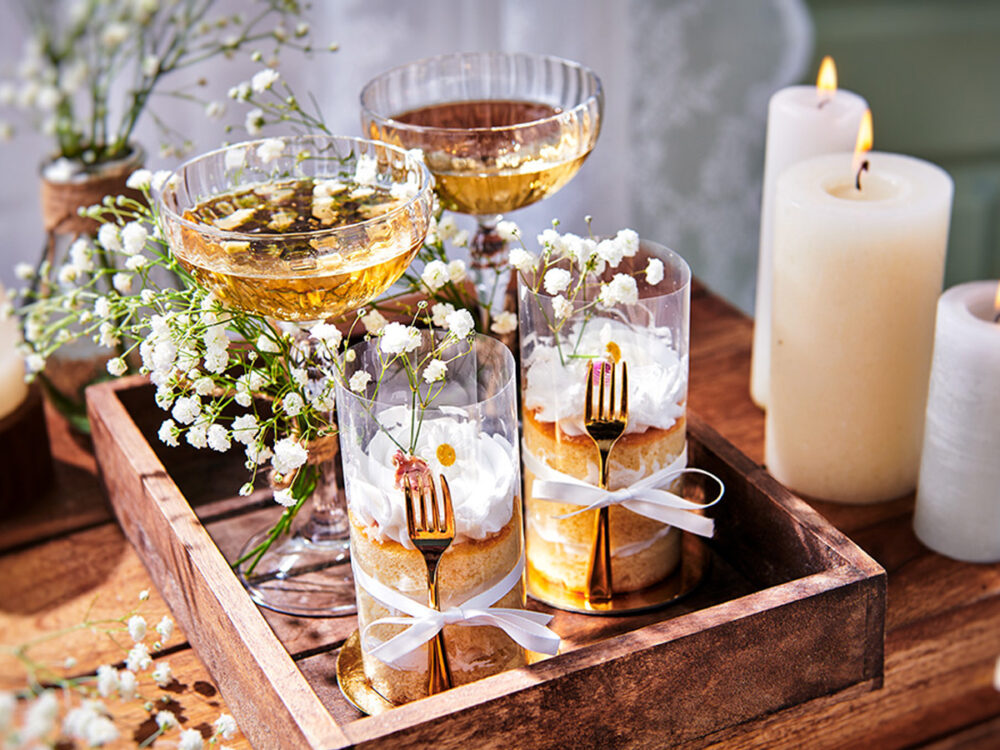 mini wedding cakes
Get ready for a delightful journey with our mini wedding cakes! These adorable treats are here to add a sprinkle of magic and sweetness to your special day. Experience a miniature wedding celebration with each delectable bite, as layers of pure bliss dance on your taste buds.
What you need to make your mini wedding cakes:
Ingredients
500 g FunCakes Mix for Sponge Cake Deluxe
200 g FunCakes Mix for Enchanted Cream
FunCakes Flavour Paste Mascarpone
FunCakes Deco Melts White
FunCakes Edible Flowers
FunCakes Bake Release Spray
200 ml milk
8 eggs (approx. 400 g)
50 ml water
Baby's Breath
Chamomile
Necessities
FunCakes Decorating Bags
FunCakes Acetate Foil
Wilton Decorating Tip #1m Open Star Carded
Wilton Cake Leveler
Wilton Recipe Right Non-Stick Cooling Grid
PME Deep Oblong Pan 27,5 X 37,5 X 7,5cm
Patisse Cookie Cutters Round 8cm
Tape
Ribbon
Small forks
Preheat the oven to 180°C (convection oven 160°C).
Prepare 500 g FunCakes Mix for Sponge Cake Deluxe as indicated on the package. Grease the baking pan with baking spray and spatula the batter into it. Bake the cake for 35-40 minutes. Let the cake cool down by using a cooling grid.
Prepare 200 FunCakes Mix for Enchanted Cream as directed on the package and flavour with the mascarpone Flavour Paste. Put it in a Decorating bag with tip #1M.
Cut the sponge cake with the cake leveler 2x and cut out rounds from each slice with the cutter. You will use 3 rounds of cookie per cake.
Cut acetate foil and place it around the inside of the cutter and stick with a piece of tape. Place a slice of cookie inside and swirl a rosette of cream on top. Place another slice of cookie on top and swirl another rosette of cream on top. Finish with a slice of cookie and again pipe a nice rosette of cream on top.  Now carefully remove the ring and continue with the rest of the cakes.
Melt the FunCakes Deco Melts White in the microwave as directed on the package, dip the tips of the chives in this and let harden.
Decorate the cakes with some gypsum herb, a dried rosebud and a chamomile flower. Tie the forks with a pretty ribbon.
Just a little while before you can enjoy your desserts. Don't forget to share your creation:
#funcakesbyme