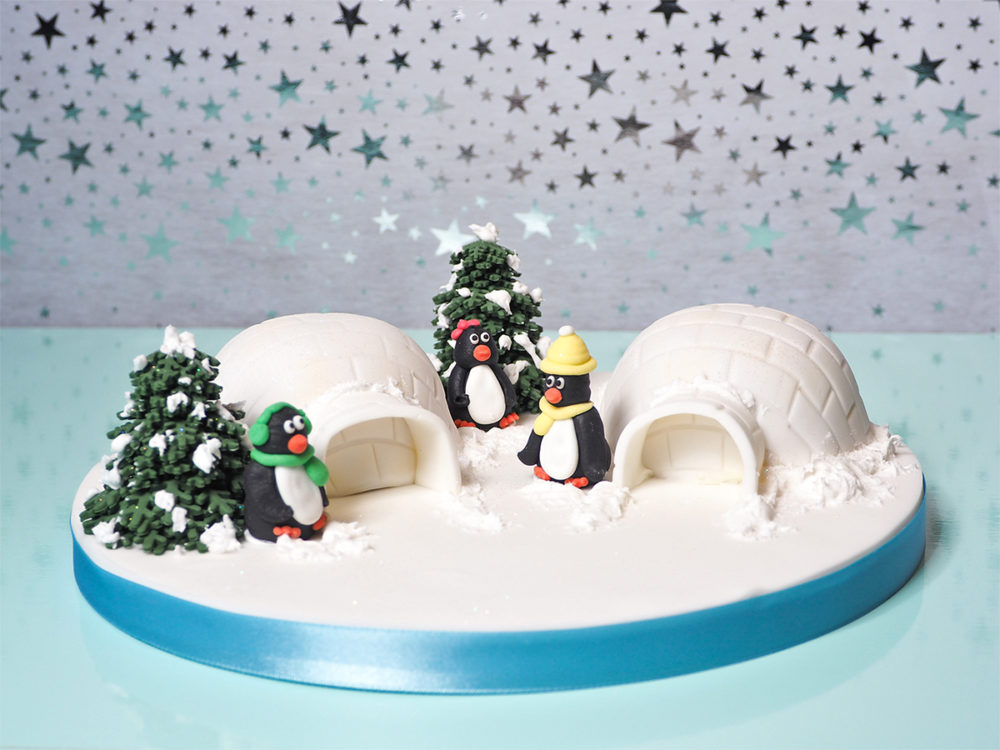 Mini igloo cakes
As kids everyone wanted to build their own igloo during the winter season but nowadays we like to make things a lot easier so we created a igloo cakes.
What you need to make your mini igloo cakes:
Ingredients
250 g FunCakes Mix for Cupcakes
100 g FunCakes Mix for Royal Icing
700 g FunCakes Fondant Bright White
FunCakes Sugar Decoration 3D Penguins
FunCakes Edible FunColours Gel - Holly Green
FunCakes Edible Glue
FunCakes Clear Piping Gel
2 ½ eggs (approx. 125 g)
125 g unsalted butter
Apricot jelly (warmed)
Necessities
FunCakes Magic Roll-Out Powder
FunCakes Cake Drum Round Ø 25cm
FunCakes Bake Release Spray
Wilton -Perfect Height- Rolling Pin
Wilton Cooling Grid
4 PME Ball Pan (Hemisphere) Ø10 cm
PME Impression Mats Brick
PME Snowflake Plunger Cutter
PME Flower Foam Pad
PME Modelling tools Cutting Wheels
Brush
Preheat the oven to 180°C (convection oven 160°C).
Prepare 250 grams of FunCakes Mix for Cupcakes as indicated on the package. Grease the pans with the bake release spray and divide the batter over the pans. Bake them in 20-25 minutes until golden. Let the cool down on a grid after baking.
Cover the cakes with the warm apricot jelly. Knead 700 grams of white fondant well and roll this out on a with icing covered work surface until it has a thickness of 2 mm. Place the fondant on the foam pad and press the impression mat with the brick imprint on the fondant, repeat this. Use the fondant to cover the cakes. Use the cutting wheel to cut a strip of 2 bricks wide and paste this with some edible glue to the front of the cakes to create an igloo.
Colour the remaining fondant dark green and roll this out untill it has a thicnkess of 1 – 2 mm. Cut out a lot of snowflakes in all the different sizes using the plunger cutters. For every tree you need approx. 6 snowflakes of each size. Glue  them on top of each other.
Prepare 100 grams of FunCakes Mix for Royal Icing as indicated on the package. Cover the drum with the piping gel and then cover it with the white fondant. Place the cakes on the covered drum and make snow edges along the igloo using royal icing and a brush. Glue the trees and the penguins with some royal icing on the drum and add some snow to the trees.
Just a little while before you can enjoy your cakes. Don't forget to share your creation:
#funcakesbyme