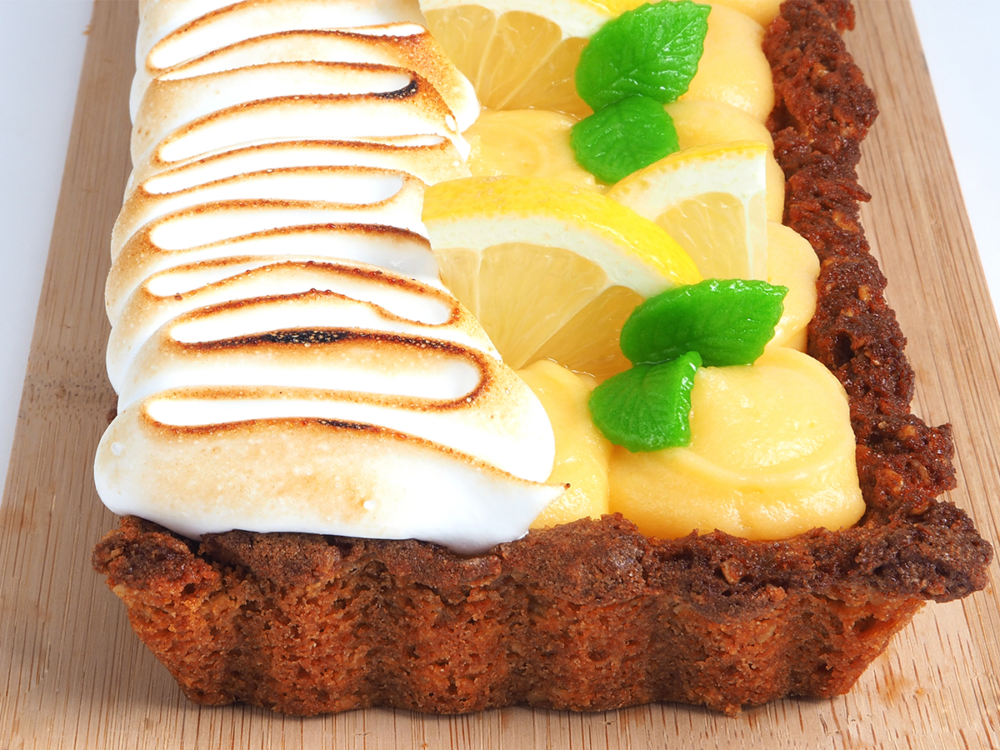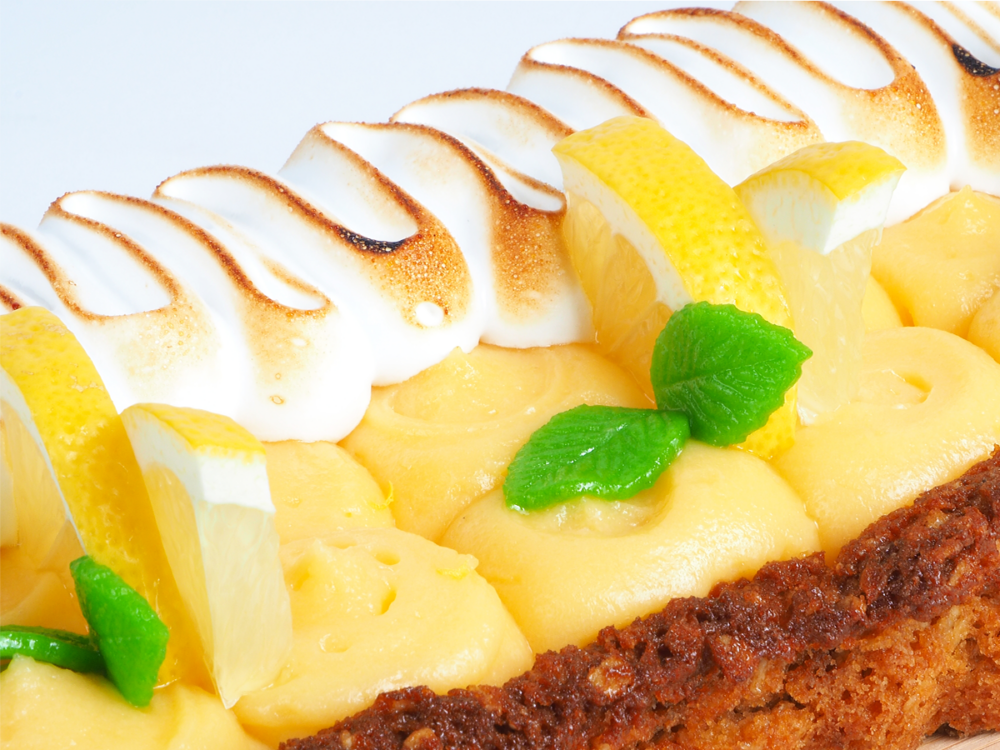 Lemon meringue cake
A fresh and crunchy bite. A lemon meringue cake with a delicious creamy filling. Perfect for a quick treat, with coffee or tea or simply as a tasty snack!
What you need to make your lemon meringue cake:
Ingredients
500 g FunCakes Mix for Cookies
200 g FunCakes Mix for Crème Patisserie
6 g FunCakes meringue powder
FunCakes marzipan - Grass Green
556 ml of water
200 g unsalted butter
120 g fine granulated sugar
1 egg (approx. 50 g)
1 jar of lemon curd
1 lemon
Necessities
FunCakes Decorating bags
FunCakes Magic Roll-Out Powder
FunCakes Bake Release Spray
Patisse Silver-Top Quiche Pan
Crème brulée burner
Wilton decorating tip #125
Wilton decorating tip #1A
PME Small rose petal plunger
Cling film
Prepare 500 g of FunCakes Mix for Cookies according to the instructions on the package. Wrap the dough in cling film and place in the refrigerator for 1 hour.
Preheat the oven to 200°C (convection oven 180°C).
Knead the dough and roll it out on a floured work surface to about 3 mm thick. Cover the greased tartlet molds with this. Bake the tartelettes for about 20 minutes.
Place a bowl with 200 g of FunCakes Mix for Crème Patisserie on the kitchen scale and set the scale to 0. Add a whole jar of lemon curd and then make up to 550 g with water. Stir this well. If you think the filling is a bit too thick, you can add some more water, but make sure it doesn't get too thin! Fill a decorating bag with tip # 1A with the cream and place in the refrigerator.
Place 6 g meringue powder and 56 ml water in a fat-free bowl, mix by hand first and let it rest for a while. Then mix at high speed to a firm white foam. Then add the fine granulated sugar in a thin stream while turning and keep mixing until the foam starts to form nice stiff peaks. Put this foam in a decorating bag with tip # 125.
First, remove the lemon curd cream from the refrigerator and fill the whole cake with large caps of cream. Then pipe the foam over half of the cake in a zigzag motion. Roll out the green marzipan thinly and cut out rose petals. Cut lemon slices into 4 wedges and decorate your cake together with the leaves.
As a finishing touch, burn the foam slightly with the crème brulée burner. If you don't have a crème brulée burner, put the cake under the hot grill for a short while.
Just a little while before you can enjoy your cake. Don't forget to share your creation:
#funcakesbyme