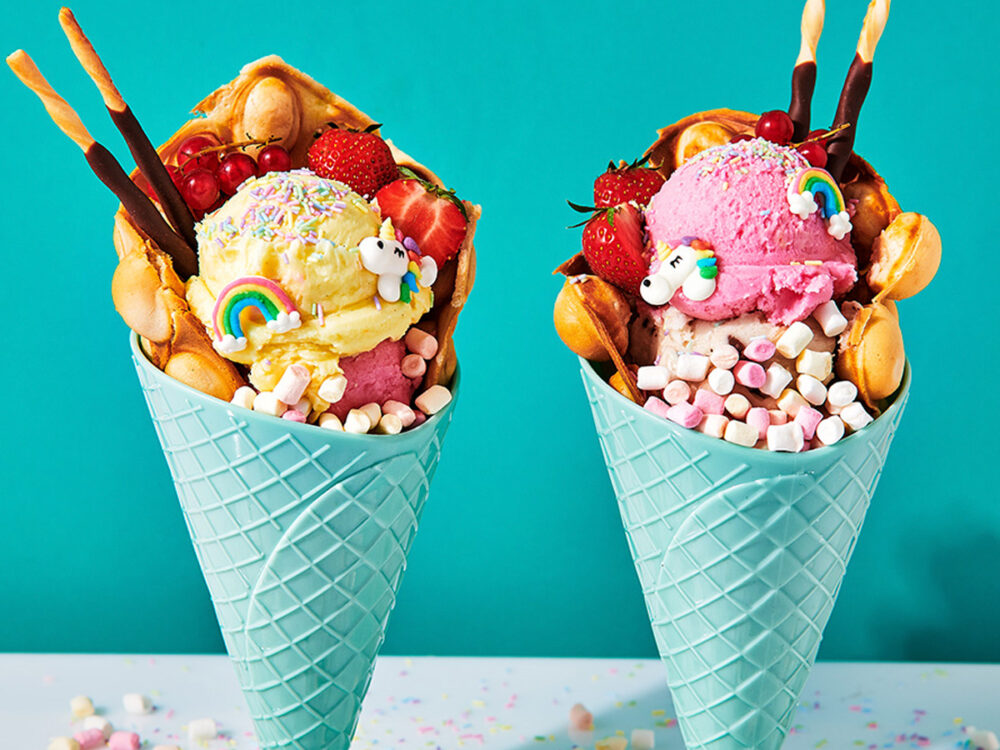 Bubble waffle with ice cream
Brace yourselves for the ultimate waffle revolution: Bubble Waffles! Experience the perfect blend of textures as you bite into crispy-edged, fluffy-centered waffles filled to the brim with creamy ice cream. With colorful sprinkles and sugar decorations, these Instagram-worthy and trending bubble waffles will leave you craving even more!
What you need to make your bubble waffle with ice cream:
Ingredients
100 g FunCakes Mix for Enchanted Cream®
10 g FunCakes Baking Powder
1 tbsp FunCakes Flavour Paste Vanilla
FunCakes Flavour Paste of your choice (for the ice crean)
FunCakes Food Colour Gels
FunCakes Sugar Strands Pastel
FunCakes Micro Marshmallows
FunCakes Sugar Decorations Unicorn & Rainbow
FunCakes Bake Release Spray
375 ml milk
300 g flour
175 ml whipped cream
50 g caster sugar
50 g melted butter
2 eggs (approx. 100 g)
Salt
Strawberries and berries
Chocolate sticks
Necessities
Bestron Bubblewaffle maker
Ice cream cone mould
Ice cream scoop
Put 100 g FunCakes Mix for Enchanted Cream® together with 175 ml whipping cream and 75 ml whole milk in a bowl and stir with the whisk until lump-free. Divide into 2 equal portions and flavour with the FunCakes Flavour Paste of your choice. Colour the ice cream with the FunCakes Food Color Gel of your choice. Place the trays in the freezer for 24 hours.
Sift 300g flour and a pinch of salt over a bowl and add 10g FunCakes Baking Powder and 50g white caster sugar. Add the eggs 1 at a time. Pour in the 300 ml of milk and stir with the whisk until you have a smooth batter. Finally add the 50g melted butter and the tablespoon of FunCakes Flavor paste vanilla.
Spray the waffle maker with FunCakes Bake Release Spray and pour in some batter. Bake the waffles for about 3-4 minutes until light brown and immediately place them in the ice cream scoop.
Scoop the ice cream into the waffles and decorate with the FunCakes Sugar Strands Pastel, FunCakes Micro Marshmallows and Sugar Decoration Unicorn. Garnish with some fresh fruit and chocolate sticks.
Just a little while before you can enjoy your treats. Don't forget to share your creation:
#funcakesbyme