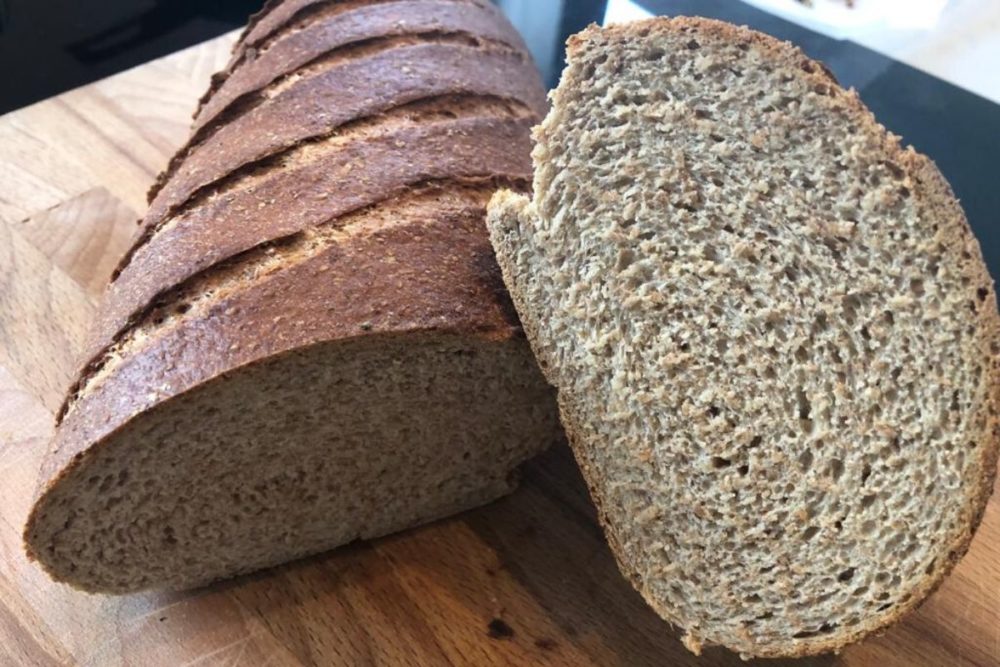 Wholemeal bread
What could be better than a homemade wholemeal bread? Fresh from your own kitchen with a wonderful scent. Cut the bread into slices and put it on the table for a delicious breakfast or lunch. Make it all your own with sesame seeds, oat flakes or another topping for bread.
1 hour and 30 min. waiting
What you need to make your wholemeal bread:
Ingredients
500 g FunCakes 100% Whole Wheat Flour
7 g FunCakes Dried Yeast
25 g FunCakes Bread Improver brown/whole wheat
330 ml water (30°C)
10 g salt
Potentially sesame seeds or oat flakes
Necessities
Wilton cooling grid
Clingfilm
Add all ingredients to a bowl, making sure the salt and the yeast don't touch each other in the bowl before kneading. Knead the ingredients for 10-15 minutes to a nice, firm dough. When using a mixer, place the dough hook on the mixer and mix for 12 minutes on medium speed.
Tip! Check if the dough has been kneaded sufficiently by taking a small ball of dough and stretching it out as far as possible to the point where you can almost see through the dough. If it doesn't break,  the dough is ready.
Make a ball of the dough. Place it back into the bowl and cover with clingfilm. Let it rise on a warm spot for 30-45 minutes until it has doubled in size. You can also use the oven for this. In that case, put the oven on 30°C (top and bottom heat) and place a bowl with water in the oven.
After this 'ball rise', flatten the dough with your hands into one large slice of approx. 30×20 cm. It's important at this stage to release all the air out of the dough. Roll the dough tightly bit by bit. Each time you roll, make sure to really close the seam with your fingers before you roll further.
Potentially make the top a bit wet with water and add sesame seeds or oat flakes.  Place the dough on top of a with baking paper covered baking plate, making sure the final seam is on the bottom. Let it rise for another 90 minutes, the same way as the first time.
preheat the oven to 240°C (top and bottom heat) and bring the temperature back to 220°C immediately after you've place the bread in the oven. Bake the bread for approx. 30 minutes until the crust is nicely brown and you get a hollow sound when you knock on the bottom of the bread. Let the bread cool down by using a coolin grid.
Just a little while before you can enjoy your bread. Don't forget to share your creation:
#funcakesbyme