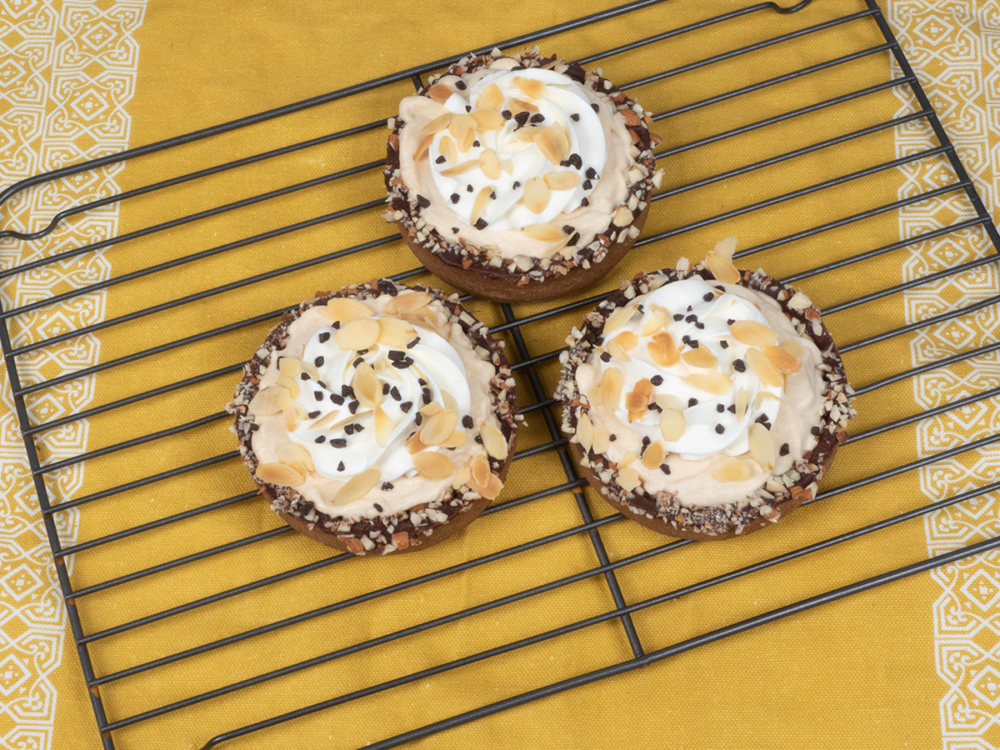 Spiced biscuit tartelettes
Almond paste, chocolate, Enchanted Cream and almond flakes. That sounds like a combination not to forget! Treat yourself, friends or family to these irresistible tartelettes.
What you need to make your spiced biscuit tartelettes:
Ingredients
500 g FunCakes Mix for Cookies
50 g FunCakes Mix for Bavarois -Natural-
250 g FunCakes Almond paste
75 g FunCakes Mix for Enchanted Cream®
50 g FunCakes Chocolate Melts Dark
FunCakes Mini Chocolate rocks Dark
FunCakes almond flakes
FunCakes Ceramic Baking Beans
FunCakes Speculoos Spices
250 g whipped cream
200 g unsalted butter
135 ml water
50 ml milk
2 eggs (approx. 100 g)
finely chopped almonds
Necessities
FunCakes Magic Roll-Out Powder
FunCakes Bake Release Spray
FunCakes decorating bags
Wilton Mini Springform pan set / 3
Wilton - Wide Glide - Rolling pin
Wilton baking paper
Wilton Tip #1M (2x)
Round cutter (the size of the spring form)
Brush
Prepare 500 g of FunCakes Mix for Cookies as indicated on the package. Add the speculoos spices to the dough to taste. Wrap the dough in plastic wrap and place in the refrigerator for 1 hour.
Preheat the oven to 200 ° C (convection oven 180 ° C).
Beat the whipped cream well. Mix the FunCakes Mix for bavarois with 60 ml water and carefully fold it into the whipped cream immediately. Let this stiffen in the refrigerator.
Spray the baking tins with the FunCakes Bake Release Spray. Knead the dough and roll it out on a floured work surface to about 3 mm thick. Cut out circles with the cutter and place them on the bottom of the shapes. Then cut long strips of 2 cm wide and cover the sides of the baking tins. Place a layer of baking paper over the dough and place the ceramic baking beans on top so that the dough does not rise. Bake the tartelettes for about 15-20 minutes. Let them cool in the spring form.
Melt the dark chocolate in the microwave. Use the brush to coat the bottom and sides of the tartellete with a layer of chocolate. Push the chopped almonds into the chocolate on top along the edge and place in the fridge to stiffen.
Mix the almond paste with an egg and put it in a decorating bag. Cut off a tip and pipe a thin spiral on the bottom. Put the bavarois in a decorating bag with tip #1M. Spray generous rosettes on the food.
Prepare 75 g of Mix for Enchanted Cream® as indicated on the package. Fill a decorating bag with tip 1M. Pipe a beautiful rosette Enchanted Cream on the bavarois. Decorate the tartelettes with browned sliced ​​almonds and the chocrocks.
Just a little while before you can enjoy your treats. Don't forget to share your creation:
#funcakesbyme