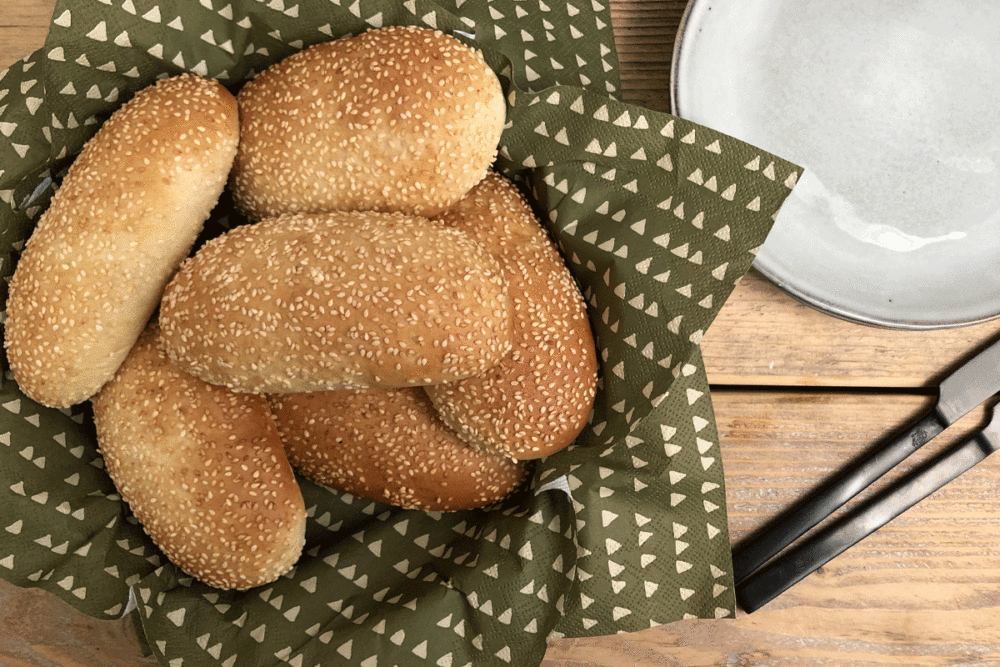 Soft white sesame buns
The wonderful smell of buns in the oven …. Hmm. It's really party time with these sesame buns. A lovely light soft bun with sesame seeds as a topping.
1 hour and 10 min. waiting
What you need to make your soft white sesame buns:
Ingredients
500 g FunCake Wheat Flour
10 g FunCakes Instant Yeast
230 ml water
50 g unsalted butter
1 egg (approx. 50 g)
10 g white caster sugar
sesame seeds
Necessities
Wilton parchment paper
Patisse Silicone Baking Brush
Place all ingredients except the sesame seeds in a mixing bowl and knead on the middle setting with the dough hook for 15 minutes into a smooth dough.
Divide the dough into 12 pieces of about 70 grams and make them round. Place the balls on a baking tray covered with baking paper and let them rest for 10 minutes under a clean towel.
Then press the balls flat on a with some flour dusted work surface and roll them up firmly into dots. Brush the top of the ends with some water and roll them through the sesame seeds. Make sure the closing seam is at the bottom. Put them back on the baking tray lined with parchment paper
Fill a tin with boiling water and place it on the bottom of the oven and set the temperature of the oven to 30 ° C. Put the baking tray with the bins in the oven and let them rise for 1 hour, the volume should double.
Preheat the oven to 230 ° C (convection oven 215 ° C).
Put a new tin with boiling water on the bottom again. Bake the buns for 8-10 minutes until light brown and done.
Just a little while before you can enjoy your bread. Don't forget to share your creation:
#funcakesbyme