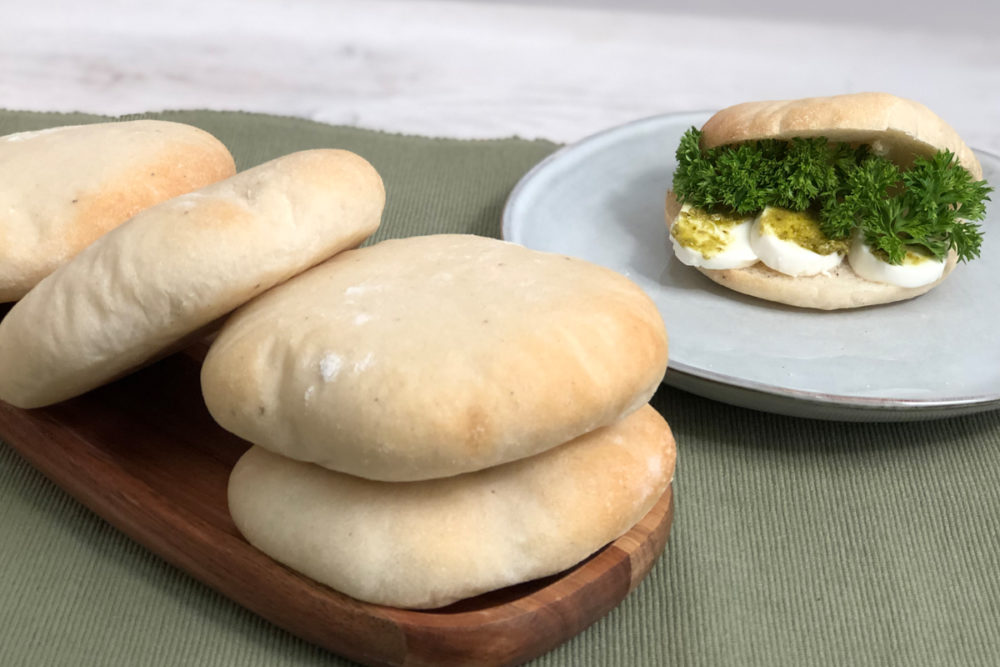 Pita bread
Pita sandwiches are very easy to make and perfect to fill with, for example, salad, shawarme and a tasty sauce!
1 hour and 30 min. waiting
What you need to make your pita bread:
Ingredients
500 g FunCakes Wheat Flour
7 g FunCakes Instant Yeast
10 g salt
3 tablespoons olive oil
Pepper
300 ml lukewarm water (30 ° C)
Necessities
Wilton – Wide Glide – Rolling Pin 50cm
Wilton parchment paper
Cling film
Place all ingredients in a mixing bowl. Make sure that the yeast and salt do not touch each other in the bowl, sprinkle both on another side of the bowl. Mix with the dough hook on the middle position in 10-12 minutes to a smooth dough.
Tip! To check whether your dough is good, take a small piece out of the bowl and try to pull an almost transparent membrane from it. If not, put it back under the mixer for a few minutes.
Cover the bowl with plastic wrap and let the dough rise in a warm place for 1 hour. You can also use the oven for this, put the oven at 30 ° C with a bowl of water on the bottom and let the dough rise covered.
Sprinkle your work surface with flour and knead your dough well by hand. Form a long roll and divide it into 12 equal parts. Make balls of the dough into balls and roll them out thinly on a floured work surface. Try to keep them round. Place them on a baking tray lined with baking paper and let the rolls rise for another 30 minutes.
Preheat the oven to 210 ° C (convection oven 190 ° C).
Bake the rolls for 4-6 minutes in the preheated oven. If the pitas bulge and color a little, then they are done.
Just a little while before you can enjoy your bread. Don't forget to share your creation:
#funcakesbyme