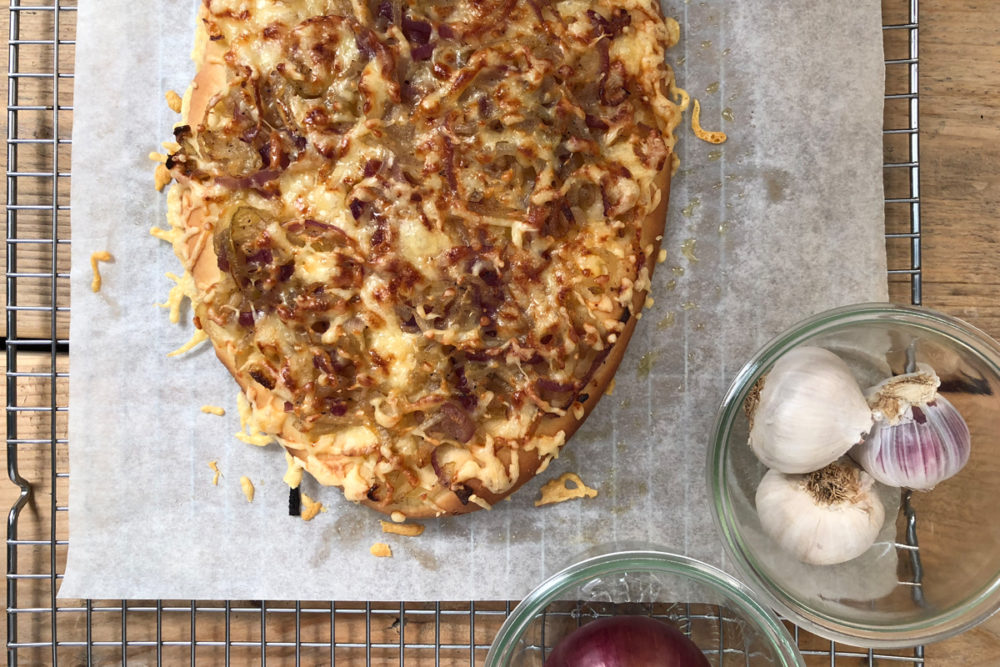 Onion bread
Bring an onion flavor back into your bread along with some garlic and cheese. A delicious bread full of flavor in combination with a drink or as a snack.
1 hour and 15 min. waiting
What you need to make your onion bread:
Ingredients
250 g FunCakes Wheat Flour
4 g FunCakes Instant Yeast
1 teaspoon salt
125 ml lukewarm water
1 tablespoon butter
1 tablespoon sugar
3 onions (in half rings)
Garlic clove
½ teaspoon of onion powder
Grated matured / spicy cheese
Peper/ salt
Necessities
Wilton – Wide Glide – Rolling Pin 50cm
Wilton parchment paper
Place the 250 g FunCakes Wheat Flour, salt and yeast in a mixing bowl. Sprinkle the salt and yeast on both sides of the bowl. Heat the milk and let the butter melt in it. Add this to the flour and knead the dough in the middle position with the dough hook into a smooth dough. Cover the bowl with plastic wrap and let the dough rise in a warm place for 45 minutes. You can also use the oven for this: set the temperature at 30 ° C with a bowl of water on the bottom
Fry the onions and garlic together with some onion powder and salt / pepper in some butter, soft and glassy. They should not brown.
Sprinkle your work surface with some flour and roll out the dough into an oval slice of about 0.5-1 cm and place it on a baking tray lined with baking paper. Divide the onions over the bread and sprinkle with grated cheese. Let this rise for another 30 minutes.
Preheat the oven to 200 ° C (convection oven 180 ° C).
Bake the onion bread in about 25-30 minutes until golden brown.
Just a little while before you can enjoy your bread. Don't forget to share your creation:
#funcakesbyme