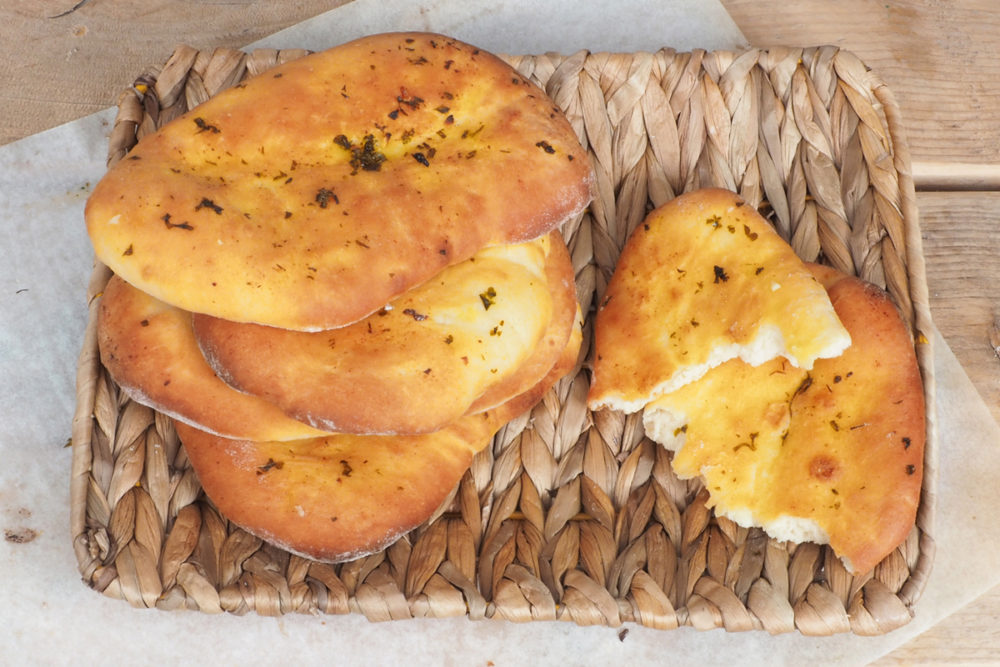 Naan bread with garlic and parsley
With a few ingredients you bake these delicious naan breads with garlic and parsley. With a nice crispy crust and a delicious taste, you have a meal to enjoy.
What you need to make your naan bread with garlic and parsley:
Ingredients
500g FunCakes Wheat Flour
7 g FunCakes Instant Yeast
2 teaspoons of sugar
10 g salt
150 g unsalted butter
175 g full yogurt
175 ml lukewarm water
3 garlic gloves
Parsley
Necessities
Wilton – Wide Glide – Rolling Pin 50cm
Wilton Parchment paper
Patisse Silicone Spatula 27cm
Place the FunCakes wheat flour, FunCakes yeast, sugar, salt, 50 g melted butter, full yogurt and the water in a mixing bowl and knead with the butterfly on medium speed for 10 minutes into an elastic dough. The dough is sticky, but it should be. If it really sticks, you can add a little extra flour.
Cover the mixing bowl with cling film and let it rise in a warm place for 1 hour. You can also use the oven for this. Put the oven at 30 ° C with a bowl of water on the bottom.
Generously dust your kitchen counter with the FunCakes flour and pour the dough onto it. Knead it by hand well. Divide the dough into 8 pieces and roll out each piece on flour into a 1 cm thick oval shape.
Preheat the oven to 250 ° C (convection oven 230 ° C).
Melt 100 g of butter and mix it with the chopped garlic and parsley and spread it over the rolls. Bake the rolls for 6-9 minutes until golden brown and done. When they come out of the oven, brush the naans again with the melted garlic butter.
Just a little while before you can enjoy your bread. Don't forget to share your creation:
#funcakesbyme