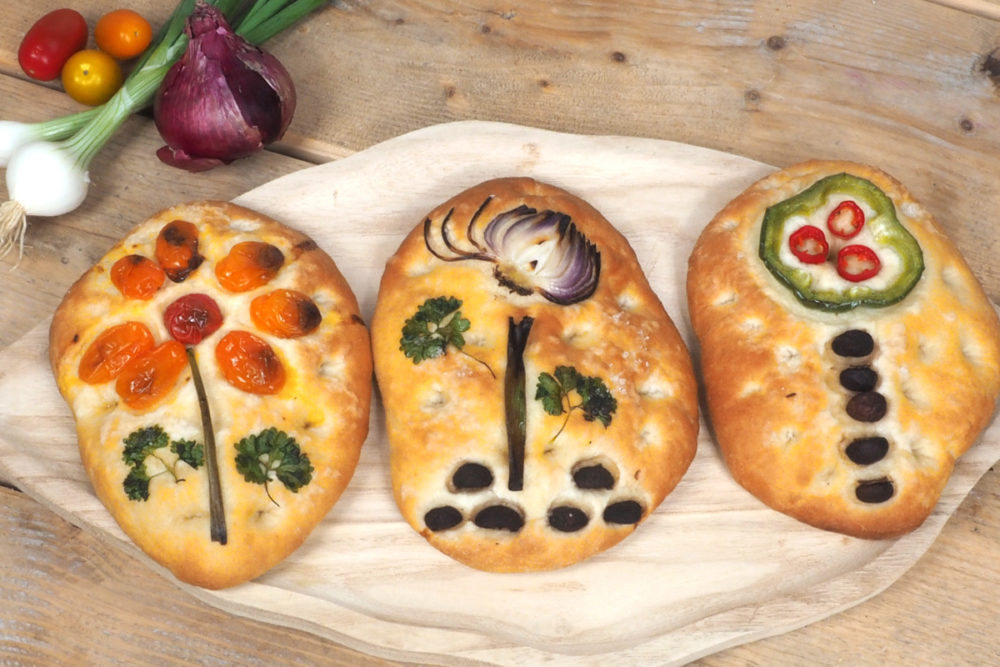 Mini focaccia's with vegetables
Maybe you also started baking your own bread, but did you also came across the newest trend? With vegetables you can change your bread into real pieces of art! Also perfect to have the kids use vegetables in a fun and creative way.
What you need to make your mini focaccia's with vegetables:
Ingredients
500 g FunCakes Wheat Flour
10,5 g FunCakes Instant Yeast
10 g salt
15 g sugar
300 ml of lukewarm water
Olive oil
Sea salt flakes
Cherry tomatoes
Red onion
Green pepper
Red pepper
Chestnut mushrooms
Parsley
Spring onion
Necessities
Wilton –Wide Glide– Rolling Pin 50cm
Wilton Non-Stick Parchment paper Pre-Cut
Patisse Silicone Baking Brush 27cm
Place the 500 g FunCakes Wheat Flour , FunCakes yeast and salt in a mixing bowl. Make sure that the yeast and salt don't touch each other in the bowl, so sprinkle it on two sides of the bowl. Dissolve the sugar in lukewarm water and pour into the mixing bowl. Using the dough hook, mix the dough at medium speed in 12 minutes to a smooth dough.
Tip! Do the windowpane test to check if the dough is sufficiently kneaded. If you can pull an almost transparent membrane from a small piece, then it's ok.
Cover the dough in the bowl with plastic wrap and let it rise in a warm place for 30 minutes. You can also use the oven for this. Put the oven at 30°C and place a bowl of water on the bottom.
After 30 minutes, remove the dough from the bowl and knead it well by hand for 1 minute. Divide it into 4 pieces and roll it out on a floured work surface to about 1 cm thickness. Coat the top with olive oil
Now make your own mini paintings on the dough with the vegetables. Let this rise uncovered for 30 minutes.
Preheat the oven to 230°C (convection oven 220°C).
Before placing the focaccias in the oven, push pits into the dough and sprinkle with the sea salt flakes. Bake the focaccias for about 15 minutes until light brown and cooked through.
Just a little while before you can enjoy your bread. Don't forget to share your creation:
#funcakesbyme