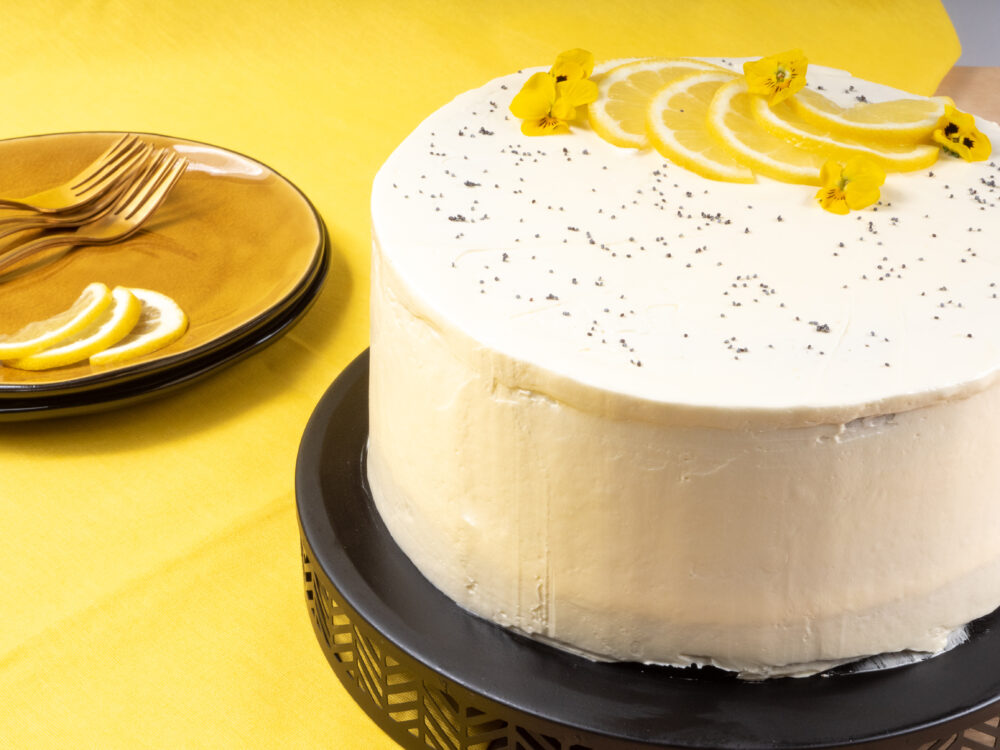 Lemon Meringue Poppy Seed cake
A delicious neutral cake with buttercream, meringue, lemon edible violets and some poppy seeds. Suitable for any occasion and super easy to make!
What you need to make your lemon meringue poppy seed cake:
Ingredients
250 g FunCakes Mix for Sponge Cake Deluxe
200 g FunCakes Mix for Buttercream
FunCakes Flavor Paste Lemon Meringue
250 g unsalted butter
225 ml of water
4 eggs (approx. 200 g)
Lemon
Edible violets
Poppyseeds
Necessities
FunCakes Bake Release spray
Wilton Cooling Grid
Wilton Basic Turntable
Wilton Cake Leveler 25cm
Wilton Deep Round Baking Pan 20cm
Wilton Side Scraper
Preheat the oven to 175°C (convection oven 160°C).
Prepare 250 g of FunCakes Mix for Biscuit Deluxe as indicated on the package and spoon the poppy seeds through the batter as you see fit. Put the batter in the greased baking pan and bake it for about 30-35 minutes. Let the cake cool using a cooling rack.
Cut the cake twice with the cake saw and fill the cake with the lemon buttercream. Then also decorate the cake on the outside with a thin layer of buttercream. Use the side scraper to get it nice and tight.
Put the cake in the fridge for half an hour so that the buttercream can stiffen and then cover it again with a thick layer of lemon buttercream. Then smooth it again with the side scraper.
Cut some thin slices of lemon, cut them in half and place in a fan on the cake. Decorate with some edible violets and poppy seeds.
Just a little while before you can enjoy your cakes. Don't forget to share your creation:
#funcakesbyme