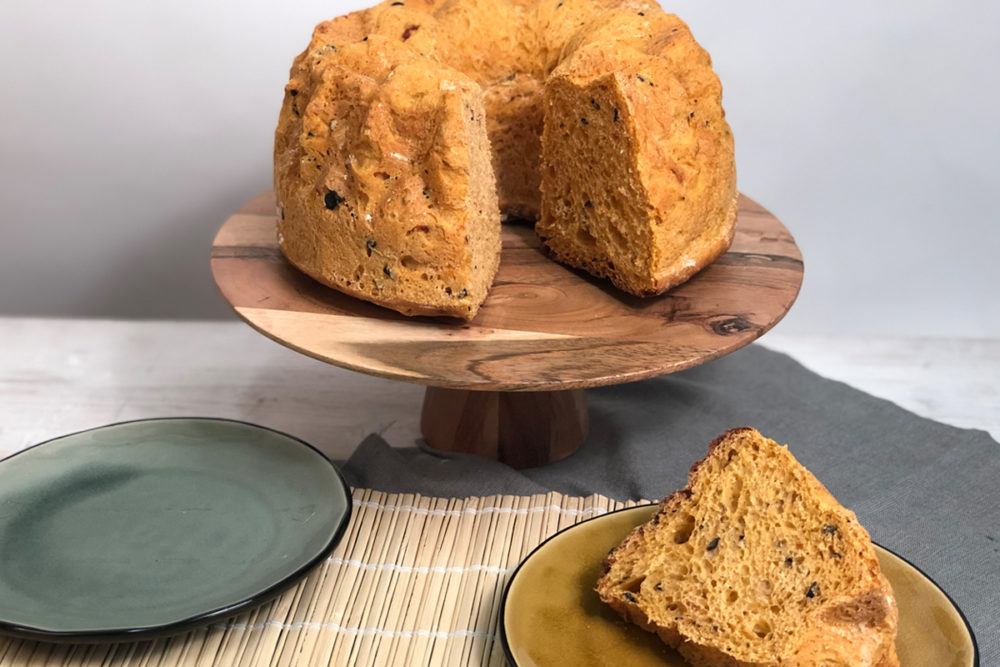 Italian turban bread with sundried tomatoes and olives
A delicious turban bread with a rich taste of vegetables and other ingredients.
2 hour and 15 min. waiting
What you need to make your italian turban bread with sundried tomatoes and olives:
Ingredients
500 g FunCakes Wheat Flour
25 g FunCakes Bread Improver White
7 g FunCakes Instant Yeast
300 ml water
50 g spicy grated cheese
10 g salt
2 cloves of minced garlic
Black olives in pieces
Sundried tomatoes in oil in pieces
pizza seasoning
Necessities
FunCakes Bake Release Spray
Wilton cooling grid
Kaiser Geomatric Bundt Pan 25cm
Put all ingredients (including the cheese, tomato pieces and olive pieces) in a mixing bowl and mix this at medium speed with the dough hook in 12 minutes to a smooth dough. Make sure that the salt and yeast do not touch each other in the bowl, sprinkle this on both sides of the bowl.
Tip! The dough is good if you can pull an almost transparent membrane from a small ball. If not, put it back under the mixer.
Flour the mixing bowl, put the ball of dough back and let it rise in a warm place for 30-45 minutes. You can use the oven for this, put the oven at 30 ° C with a bowl of water on the bottom.
Sprinkle your work surface liberally with flour and place the dough on top. Push the air out with flowered hands. Try to keep a circle of about 20-25 cm. Spray the turban shape with baking spray. Make a hole in the middle of the piece of dough and place it in the turban shape. Let this rise for another 90 minutes. The dough should be above the rim.
Preheat the oven to 240 ° C (convection oven 220 ° C).
Once the bread is in the oven, bring the temperature back to 220 ° C (convection oven 210 ° C) and bake the bread for 25-30 minutes until golden brown and crispy. Allow to cool out of the mold on a cooling rack.
Just a little while before you can enjoy your bread. Don't forget to share your creation:
#funcakesbyme