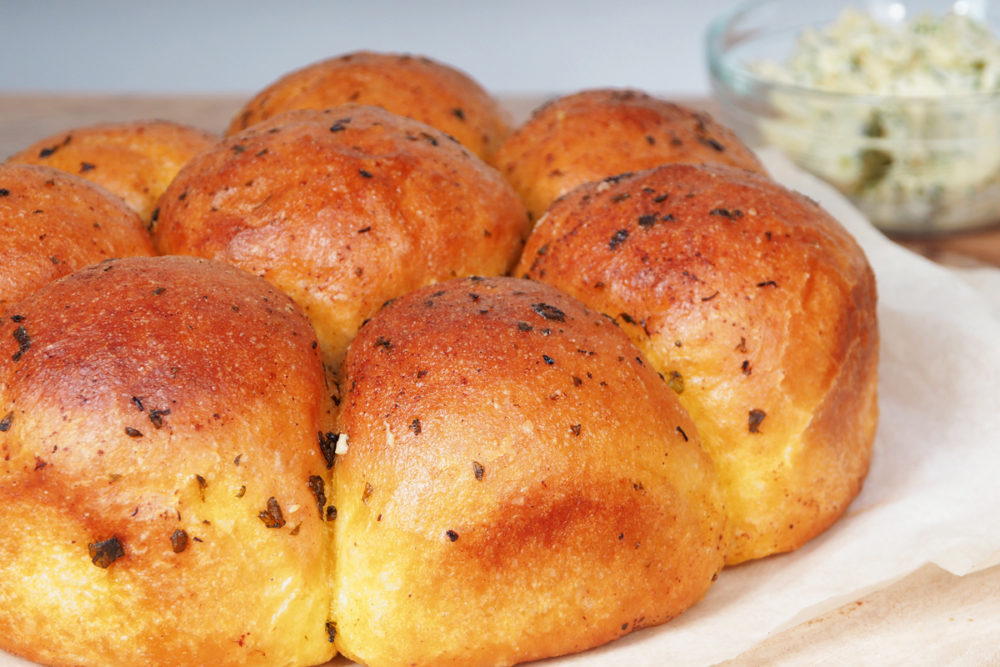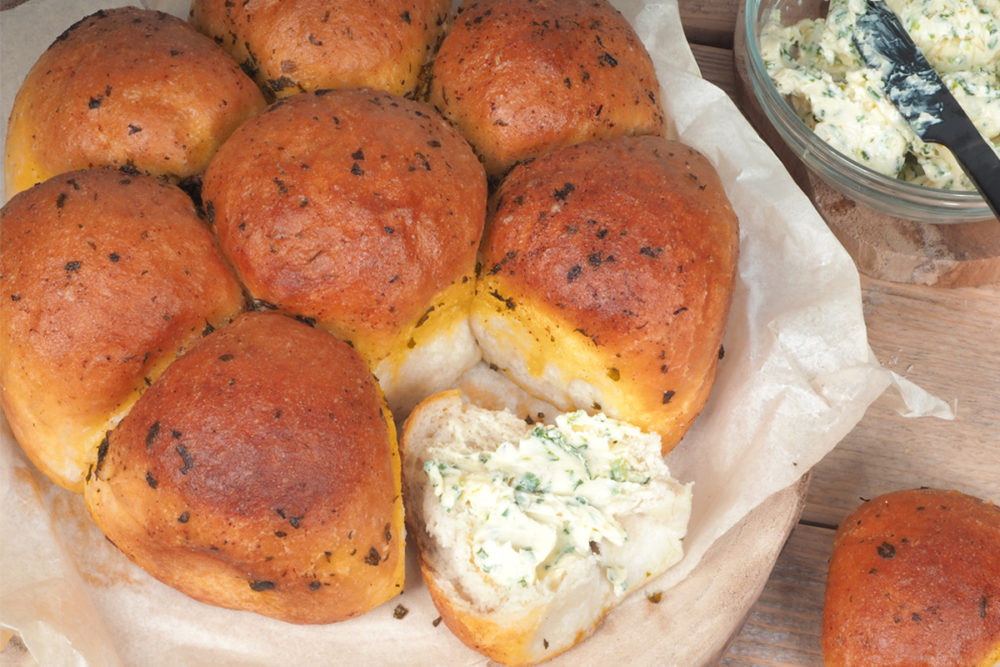 Garlic break bread
A real must-have for your wine and dine: a breaking bread. Doesn't only look nice, it's also very convenient as everybody just breaks off a piece. Combine it with some spreads and a good wine and it'll feel like being in your favourite restaurant
2 hour and 12 min. waiting
What you need to make your garlic break bread:
Ingredients
500 g FunCakes Wheat Flour
7 g FunCakes Instant Yeast
25 g FunCakes Bread Improver White
10 g salt
290 ml lukewarm water (30 ° C)
100 g unsalted butter
2 garlic cloves
Half a bunch of parsley
Necessities
FunCakes Bake Release Spray
Wilton Parchment Paper
Patisse Springform Ø24cm
Patisse Silicone Baking Brush 27cm
Cling film
Place the 500 g FunCakes Wheat Flour, 7 g FunCakes Instant Yeast, 10 g salt, 25 g FunCakes Bread Improver and 290 ml lukewarm water in a mixing bowl and mix with dough hook at medium speed in 12 minutes to a smooth dough. Make sure the yeast and salt do not touch each other in the bowl, so sprinkle it on two sides of the mixing bowl.
Tip! Do the windowpane test to check if the dough is sufficiently kneaded.If you can pull an almost transparent membrane from a small piece, then it's ok.
Form the dough into a tight ball and put it back in the mixing bowl. Cover with cling film and let the dough rise in a warm place for 30-45 minutes. You can also use the oven for this. Put the oven at 30°C with a bowl of water on the bottom.
Remove the dough from the bowl and press the air out onto a floured work surface. Divide the dough into 8 equal pieces and roll into tight balls. Place a sheet of parchment paper on the bottom of the springform pan and placethe edge on top, greased with FunCakes Bake Release Spray. Place one ball in the center of the springform pan and  the other 7 with some space in between around it.
Melt the butter in a pan and add the chopped parsley and garlic to directly after. Rub the dough generously with the butter and let it rise for 90 minutes. The bread should be twice as big and now the bread rolls should touch  each other.
Preheat the oven to 240 ° C (convection oven 220 ° C) and as soon as the bread is in the oven, reduce the temperature to 220 ° C (convection oven 210 ° C). Bake the bread in about 25 minutes. Halfway through the baking time, spread the bread once with the garlic butter and after the bread comes out of the oven, spread it again with the butter.
Just a little while before you can enjoy your bread. Don't forget to share your creation:
#funcakesbyme