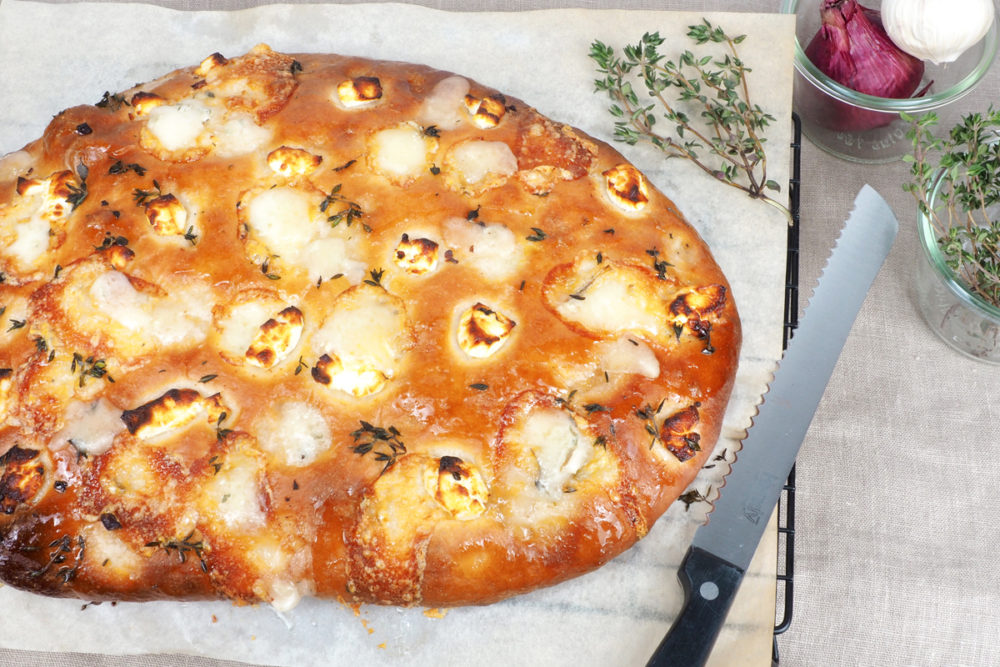 Focaccia with gorgonzola and goat cheese
A focaccia with gorgonzola, goat cheese and honey as a topping. A delicious piece of bread with a surprising and fantastic taste.
1 hour and 15 min. preparing
What you need to make your focaccia with gorgonzola and goat cheese:
Ingredients
500 g FunCakes Wheat Flour
10,5 g FunCakes Instant Yeast
300 ml lukewarm water
Olive oil
Sea salt flakes
10 g salt
15 g sugar
Gorgonzola
Soft goat cheese
Sprigs of thyme
Honey
Necessities
Wilton –Wide Glide- Rolling Pin 50cm
Wilton Bakpapier Wilton Parchment paper
Patisse Silicone Baking Brush
Place the 500 g FunCakes Wheat Flour, 10 g salt and the 10,5 g FunCakes yeast in a mixing bowl. Make sure the salt and yeast don't touch each other in the bowl, so sprinkle both on another side of the bowl. Dissolve the sugar in 300 ml lukewarm water and add this to the flour in the mixing bowl. Mix with dough hook at medium speed in about 6-8 minutes to a smooth dough.
Remove the dough from the bowl, sprinkle the inside of the bowl with some flour and put the dough back. Let the dough rise, covered with plastic wrap, at room temperature for 30 minutes. You can also let your dough rise in the oven. To do this, put the oven at 30°C and place a cup  of water on the bottom. Now put your bowl of dough in the oven and let it rise for 30 minutes.
Remove the dough from the bowl and knead by hand for 1 minute. Cover a baking tray with a sheet of parchment paper and roll out the dough to a thickness of 2-3 cm. Lightly coat the top with olive oil, put pieces of goat cheese and gorgonzola on top and sprinkle some thyme over it. Let this rise for another 30 minutes.
Now preheat the oven to 230°C (convection oven 220°C). Before putting it in the oven, push pits in the dough here and there with your finger and bake the bread for 15-20 minutes until nicely brown and cooked through.
Heat a bit of honey in the microwave until it becomes nicely thin and liquid and spread it over the bread with a brush when it comes out of the oven.
Just a little while before you can enjoy your bread. Don't forget to share your creation:
#funcakesbyme