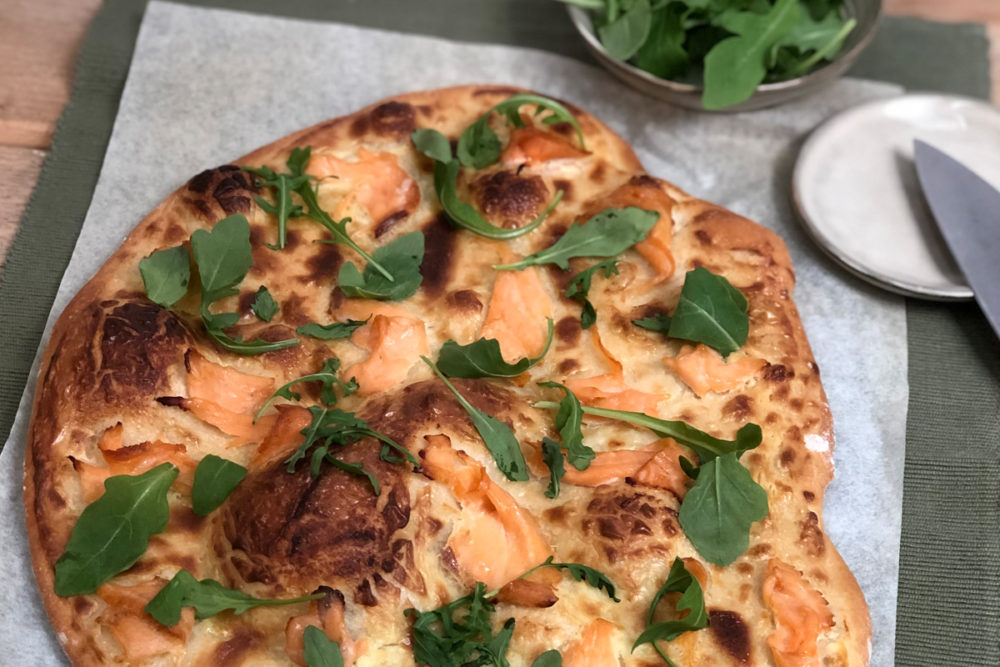 Flammkuchen with salmon and arugula
Flammkuchen with salmon and arugula. A delicious meal made in no time!
What you need to make your flammkuchen with salmon and arugula:
Ingredients
300 g FunCakes Wheat Flour
4 g FunCakes Instant Yeast
180 ml lukewarm water
2 tablespoons of olive oil
Salt
Creme fraiche
Smoked salmon
Arugula
Necessities
Wilton – Wide Glide – Rolling Pin 50cm
Wilton parchment paper
Place the wheat flour in a bowl and add the salt and yeast. Sprinkle each on a different side of the mixing bowl. Add the water and oil and knead on the middle position with the dough hook in 10-15 minutes to a smooth dough. The dough can be a bit sticky.
Tip! Test the dough to make sure it is good by taking a small piece and pulling it apart until you get a sort of transparent membrane. If not, put it back in the mixer.
Let the dough rise In a bowl covered with plastic wrap,  in a warm place for 1 hour. You can also use the oven for this. Put the oven at 30 ° C with a bowl of water on the bottom.
Remove the dough from the bowl and divide it into 2 pieces. Roll out each piece very thin on a floured work surface to make the bottom nice and crispy.
Preheat the oven to 230 ° C (convection oven 210 ° C).
Place the rolled dough on a baking tray lined with parchment paper and spread a thin layer of crème fraiche on it. Tear the slices of salmon into smaller pieces and place them on the flammkuchen. Bake the flammkuchen crispy in about 15-18 minutes. After baking, put some arugula on top as a topping.
Just a little while before you can enjoy your bread. Don't forget to share your creation:
#funcakesbyme