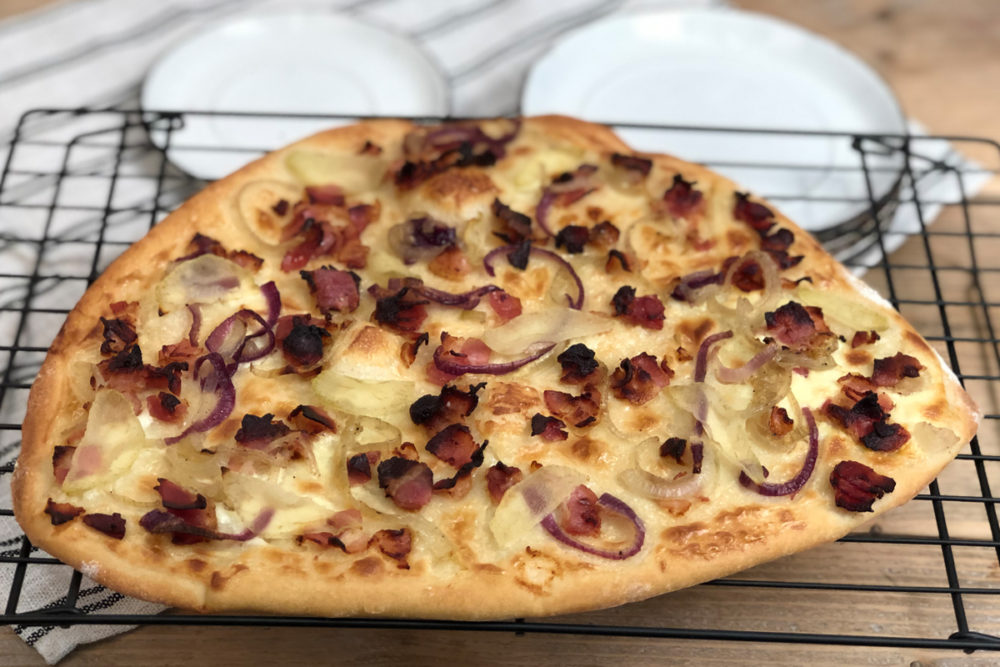 Flammkuchen with bacon and onion
Flammkuchen with bacon and onion has never been easier! It resembles the pizza, but the thin crispy base covered with crème fraîche makes it slightly different.
What you need to make your flammkuchen with bacon and onion:
Ingredients
300 g FunCakes Wheat Flour
4 g FunCakes Instant Yeast
180 ml lukewarm water
2 tablespoons of olive oil
1 Apple
1 onion
Salt
Creme fraiche
Slices of bacon
Necessities
Wilton – Wide Glide – Rolling Pin 50cm
Wilton parchment paper
Place the wheat flour in a bowl and add the salt and yeast. Sprinkle each on a different side of the mixing bowl. Add the water and oil and knead on the middle position with the dough hook in 10-15 minutes to a smooth dough. The dough can be a bit sticky.
Tip! Test the dough to make sure it is good by taking a small piece and pulling it apart until you get a sort of transparent membrane. If not, put it back in the mixer.
Let the dough rise In a bowl covered with plastic wrap,  in a warm place for 1 hour. You can also use the oven for this. Put the oven at 30 ° C with a bowl of water on the bottom.
Remove the dough from the bowl and divide it into 2 pieces. Roll out each piece very thin on a floured work surface to make the bottom nice and crispy.
Preheat the oven to 230 ° C (convection oven 210 ° C).
Place the rolled dough on a baking tray lined with parchment paper and spread a thin layer of crème fraiche on it. Divide the onion and apple slices over the crème fraiche. Cut the slices of bacon into pieces and spread this over the flammkuchen. Bake the flammkuchen crispy in about 15-18 minutes.
Just a little while before you can enjoy your bread. Don't forget to share your creation:
#funcakesbyme