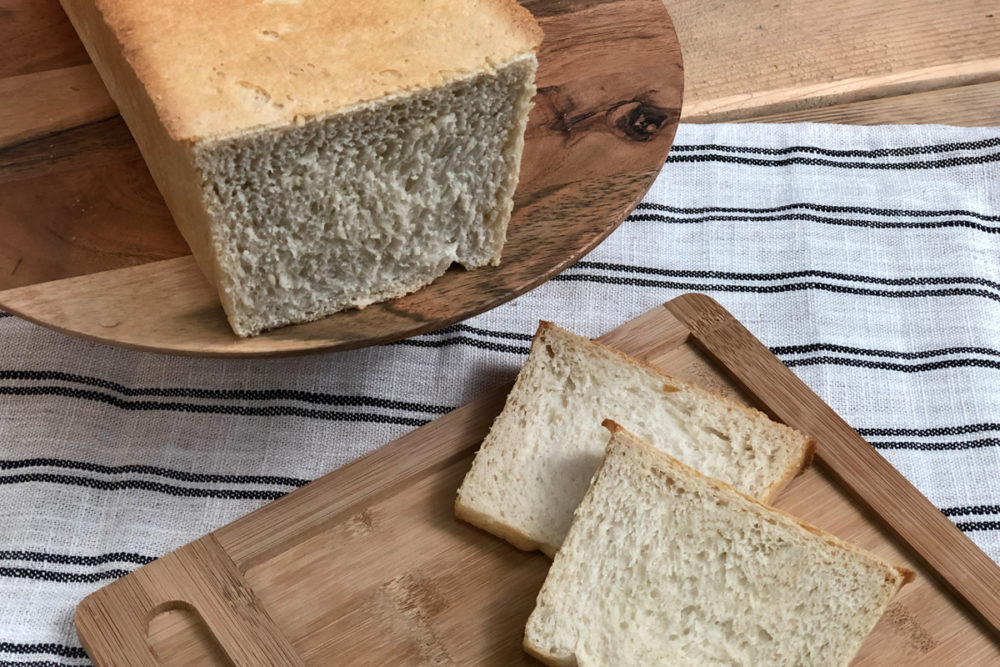 Casino white bread
A simple casino white bread, but just as tasty! Delicious bread or make a sandwich for example. Delicious and super easy!
2 hour and 15 min. waiting
What you need to make your casino white bread:
Ingredients
400 g FunCakes Wheat Flour
5,5 g FunCakes Instant Yeast
20 g FunCakes Bread Improver White
230 ml water (30°C)
8 g salt
Necessities
FunCakes Bake Release Spray
Wilton cooling grid
Patisse Profi Pullman Loaf Pan with lid 30cm
Cling film
Place the 400 g FunCakes Wheat Flour, 20 g FunCakes Bread Improver White<, 5½ g FunCakes Instant Yeast, 8 g salt and 230 ml lukewarm water in a mixing bowl. Make sure the salt and yeast do not touch each other in the bowl, sprinkle both on another side. Mix the dough with the dough hook on the middle position in 12 minutes until a nice smooth dough that comes off the bowl.
Tip! If you can pull a nice almost transparent membrane from a small ball, your dough is ready, if not put it back for a few minutes under the mixer.
Bolt the dough tightly and put it back in the bowl. Cover with plastic wrap and let rise in a warm place for 30-45 minutes.
Tip! You can also use the oven for this: Put your oven at 30 ° C with a bowl of water on the bottom.
Generously spray the baking pan with baking spray, don't forget the lid! After this 'ball gray', you press the dough flat on a work surface sprinkled with some flour so that all the air goes out. Try to make a lap of about 15×25. Roll the dough tightly and place the roll with the closing seam down in the baking tin. Slide the lid on and let the dough rise for 90 minutes. Do not remove the lid during the proofing process!
Preheat the oven to 240 ° C (convection oven 230 ° C).
As soon as you put the bread in the oven, bring the temperature back to 220 ° C (convection oven 210 ° C) and bake the bread for 30 minutes. Remove the lid from the pan and let the bread cool for 5 minutes, then pour it on a wire rack to cool.
Just a little while before you can enjoy your bread. Don't forget to share your creation:
#funcakesbyme