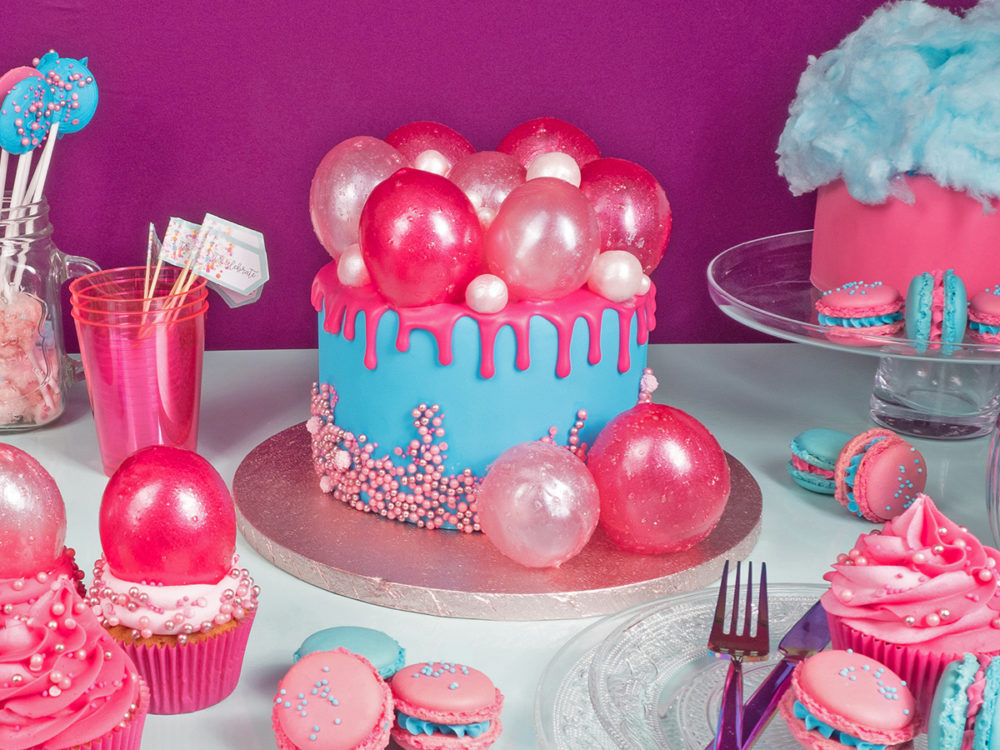 Bubblegum cake
Bubblegum was our ultimate guilty pleasure in the past and that is why we have made our own bubblegum cake. The bigger bubbles you could blow the better and we were okay with it if the bubble cracked and then stuck huge to your half face. What was your ultimate guilty pleasure?
What you need to make your bubblegum cake:
Ingredients
150 g FunCakes Mix for Sponge Cake
125 g FunCakes Mix for Buttercream
450 g FunCakes Flavoured Fondant - Bubblegum Blue
1 jar FunCakes Dip 'n Drip – White
FunCakes FunColours Gel – Pink
FunCakes FunColours Sparkle Dust – Pearl White
FunCakes Sugar Pearls – Metallic Pink
FunCakes Confetti – Metallic Pink
FunCakes Mimosa - Pink
FunCakes Gelatine Powder
150 g unsalted butter
140 ml water
3 eggs (approx. 150 g)
Crisco
Necessities
FunCakes Bake Release Spray
FunCakes Decorating Bags
FunCakes Magic Roll-Out Powder
FunCakes Dummy
Wilton Piping Gel
Wilton Cooling Grid
Wilton Cake Leveler
Wilton Decorator Preferred Spatula Angled
Wilton -Wide Glide- Rolling Pin
PME Extra Deep Round Baking Pan Ø 15 x 10 cm
Water balloons
Toothpicks
Adhesive tape
Inflate several water balloons and close well. Grease the balloons with crisco and attach them with adhesive tape to a tooth pick. Add 3 table spoons of gelatine powder and 6 table spoons of water to a bowl and stir well until the lumps have disappeared. This is a thick jelly. Heat for about 10 seconds on full power in the micro wave, add some pink colouring and sparkle dust powder to it and stir well. The jelly should be fluid but not too hot! Dip the balloons into the gelatine and stick them into the dummy to let them dry well. Make sure they don't touch each other. When the gelatine gets too thick and it becomes hard to dip the balloons into it, then heat it shortly again in the microwave. Make as many balloons as you need, maybe even a few extra in case some break. The quantities in this recipe should be enough for 8 bells.
Tip! It is very important to prepare the gelatine balloons two days in advance, to make sure they have dried well before you will be using them.
Then puncture the balloon and carefully remove them for the gelatine bells. You may want to cut the edges with scissors a bit to make them look better. The balloons are now hard but still fragile, so be careful with them!
Preheat the oven to 180°C (convection oven 160°C).
Prepare 150 grams of FunCakes Mix for Sponge Cake as indicated on the package. Grease the baking pan with Bake Release Spray and fill with the batter. Bake for 30 – 35 minutes and release right after baking on a cooling grid.
Prepare 125 grams of FunCakes Mix for Buttercream as indicated on the package. Cut the sponge cake twice using a cake leveller and fill and cover with buttercream.
Knead 450 grams of fondant well and roll out on a with Magic Roll-Out Powder covered work surface until a 3mm thickness. Cover the cake with it and remove the remaining fondant. Use the remaining fondant to make small and large balls and roll these through the dust powder.
Mix the pearls with the confetti, cover the edge of the cake with a bit of piping gel and attach the pearls and confetti to it by hand. Put a pink mimosa in between here and there.
Colour the Dip 'n Drip hard pink and heat for a bit in the micro wave (10 seconds is enough). Fill a decorating bag with it and cut a small tip off. Let it drip along the edge of the cake and fill the top of the cake with it as well. While the drip is still soft, place the gelatine bells carefully on top of the cake. Place a fondant ball in between here and there.
Just a little while before you can enjoy your cakes. Don't forget to share your creation:
#funcakesbyme