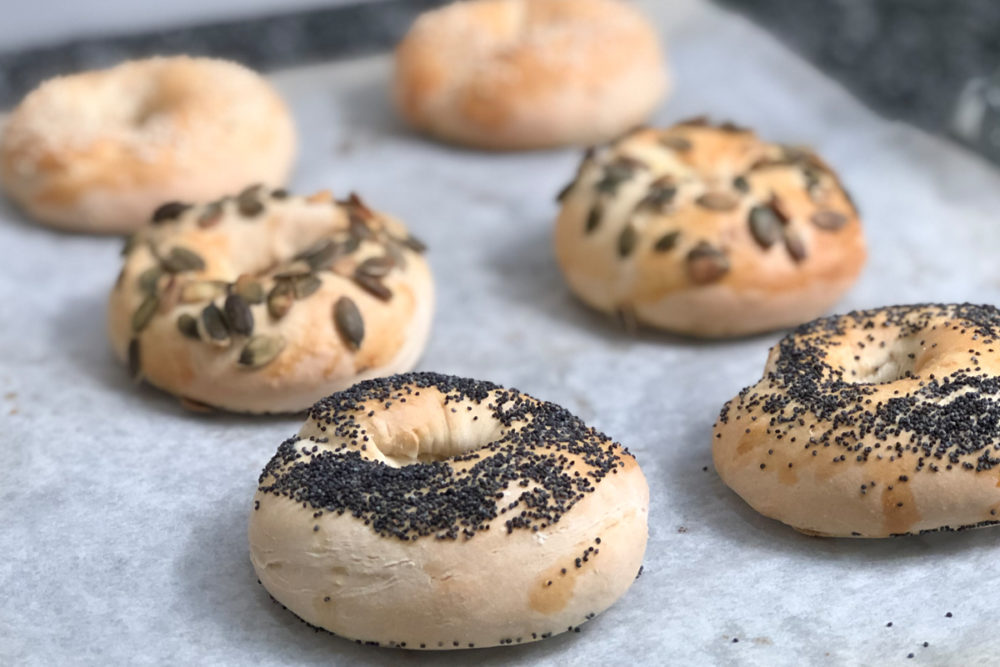 Bagels
Always wanted to make bagels? This easy recipe can certainly help you with that! It is less difficult than you think. Finish these bagels with a delicious filling and or topping and it is as if you are in your favorite restaurant!
What you need to make your bagels:
Ingredients
400 g FunCakes Wheat Flour
16 g FunCakes Baking powder
350 ml full yogurt
Salt
Pumpkin seeds
Poppy seeds
Sesame seeds
Egg white
Necessities
Wilton Parchment paper
Patisse Silicone Spatula 27cm
Place the FunCakes wheat flour, baking powder, pinch of salt and the full yogurt in a mixing bowl and place under the mixer with a dough hook. Turn this into a stiff but slightly sticky dough in 10 minutes.
Sprinkle your work surface with a little flour and quickly knead the dough by hand. Press it flat and cut into 8 equal parts. Roll out each piece of dough into a sausage of about 15-20 cm. Tape the ends of the dough with a little water and place the bagels on a baking tray lined with parchment paper.
Tip! You can also vary the toppings. Try grated cheese or provencal herbs
Preheat the oven to 210 ° C (convection oven 190 ° C).
Beat the egg white a little with a drop of water and coat the top of the bagels with it. Sprinkle some sesame, poppy seeds and pumpkin seeds over it immediately.
Bake the bagels in a preheated oven for about 25 minutes until they are nice and light brown.
Just a little while before you can enjoy your bread. Don't forget to share your creation:
#funcakesbyme